Spartans boss Dougie Samuel on winning Lowland League, SPFL chase but locals more important, heart attack wake-up call
The first thing I do when I meet Dougie Samuel is congratulate him on Spartans winning the Lowland League, bringing the little Edinburgh club one step closer to their dream. The second thing I do is tease him about his dinky man-bag.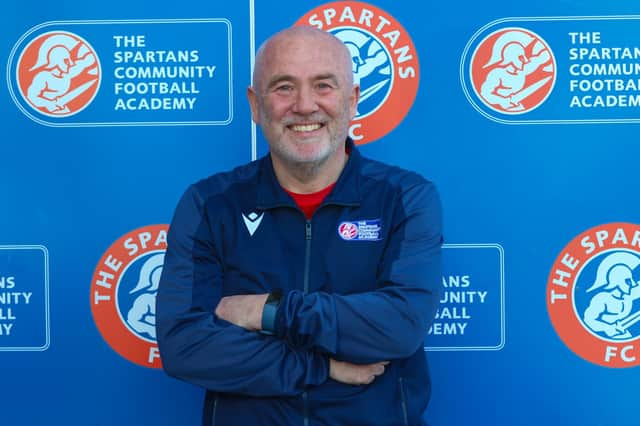 Only just sat down, he briefly thinks he's lost it. He did lose it the other day in Inverleith Park which prompted a jibe from an old childhood pal. "I ran back to the bench and the bag was still there. 'Lucky that you walk round posh parks now,' my mate said. 'Where we grew up it would have been gone.'"
Some socio-geographical context may be required here: this swathe of green is bounded by chi-chi Stockbridge and equally desirable Comely Bank at the south end and an avenue of capital's most handsome Georgian villas to the north. Samuel, meanwhile, is a product of the "Bananay Flats".
That's Bananay as in Banana, the curved multi-storey block in Leith held up by some as 1960s architecture gone wonkily wrong, a brutalist beauty according to others, a structure too emblematic not to be written into Irvine Welsh's Trainspotting - but for our man it was home and where he learned the values which have served him well. Which, by happy accident, chime with Spartans' values.
And then Samuel, who takes all the ribbing with a chuckle, puts context round the bag: "My two daughters bought it for me so I wouldn't forget to carry my medication. You see, not long after the last time we won the Lowland in 2018 I suffered a heart attack.
"I've not shared this with many folk," he continues, "but over the last six weeks as we've been going for the title I think I've had this living trauma with recollections of before when I was working long hours, unhealthy diet, not enough exercise. In my mind I created this narrative: 'Gosh, that was when I almost killed myself.'"
He was at least trying to get fitter when it happened. "I collapsed midway through a spinning class, fell off my bike right next to my wife Elaine. She was shocked, having lost her dad to a heart attack when she was young. But, strange as this may sound, it was one of the best things that's ever happened to me.
"In the hospital when I came round after the operation I asked a nurse: 'If heart attacks were like earthquakes and there was a Richter scale for them, where would this one be?' She said: 'There's no such thing as a good heart attack. You're very lucky to be here.' Even then I was trying for some deflection, trying to define what had happened to me as something almost acceptable, a nearly inevitable consequence of the stresses of football management. But then it dawned on me that I had to change. Reflect on what really mattered and make some different choices."
Samuel, 57, missed the start of the following season in what was then the Betfred Cup but set himself a target of a return for the tie away to Queen's Park. "I wanted to see Spartans run out at Hampden, which was magic." Now, more magic is in the wind. Next Saturday his men take on the winners of today's Highland League showdown between Buckie Thistle and Brechin City for the right to knock at the door of big-time Scottish football and demand a place via the Pyramid Playoffs. The manager comes to the biggest games in this special club's brief history with a new perspective: "I've lost weight now. I've a better work-life balance now. I see more of my family now. I'm trying my very best in the day job to make a difference in our wee patch of the world and for Spartans but, you know, there are more important things in life."
The "wee patch of the world" is the hectic chunk of the capital to the north of Ferry Road. Some Edinburgh snobs might classify this area as "the other side of the tracks" but they'd be well advised not to utter the words within earshot of Samuel. Ferry Road runs right down to Leith and Cables Wynd House, to give his childhood home its proper name, where a neighbour was John "Yogi" Hughes, a friend to this day. Of these two proud Leithers, one eventually became a Hibernian hero and the other shared the dream but had to be content playing midfield for Bonnyrigg Rose, Whitehill Welfare and, finishing up, Spartans.
Back then Spartans were just another bunch of honest toilers on the amateur scene. Then the visionary chairman, Craig Graham, had his dream of them becoming more than a football club. Doubling back along Ferry Road there's Pilton, Drylaw, Granton, Muirhouse - all housing schemes which at that time were badly in need of a break. I tell Samuel that, growing up comfortably middle-class, I knew nothing of these areas until in the 1980s being despatched by my newspaper to report first on homes riddled with damp and then the heroin scourge. There's a wry smile and he says: "Debi McCulloch, our women's head coach, puts it like this: Edinburgh is really good at hiding its poverty."
McCulloch is also No 2 to the position Samuel has held since before he became the men's manager, that of CEO of the football academy. Beyond the men, women and para football teams, 700 youths play in the white and red (including my 16-year-old son). Beyond them, more than 2,000 get to kick a ball around Ainslie Park's 4G. Such swish facilities were beyond the wildest imaginings of the likes of Derek Riordan, Garry O'Connor and Mickey Weir when these future Hibees were growing up locally, and the same for Gordon Strachan, Spartans' patron - although, Irvine Welsh, a neighbour in Muirhouse, once told me that the Scotland legend owed his dribbling prowess to having to dodge the broken glass and dog poo as a kid.
Just a hefty goal-kick away is the first of four lush playing fields belonging to private schools, arranged one after the other in what Samuel calls "the golden mile", a reminder of how life and opportunity can work out differently for some, although he's not remotely chippy about this. And Spartans can offer a chance in football and also in life. "We have an educational pathway from nursery through to college," he explains. "There's alternative schooling for teenagers who might come from challenging backgrounds and are at risk of exclusion. They're taught academic subjects, English and Maths. There's cooking, art therapy and obviously physical activity. But most importantly for kids who - let's not sugar-coat this, are at risk of ending up in jail - they get lots of one-on-one support from staff who're non-judgemental and there to help them reveal to themselves hidden talents and strengths."
Spartans have some of their own. During the pandemic they summoned a heroic effort, when other community facilities were shut, to provide food, clothing, quiet rooms for homework and open space for children who'd been going stir crazy without gardens. This is the foundation and Samuel says: "I could talk to you all day about the work they do." For the Covid aid and also services to football he was awarded the MBE in the Queen's final Birthday Honours, though typical of the man he says it was a prize to be shared among many on both teams.
Let's get back to the football. When Samuel talks about "other things" being more significant in the grander scheme he means those good works and is also referring to his own health and well-being and that of his nearest and dearest. But Spartans and their head coach are perfectly serious about their ambitions to play with the big boys. A few years ago Craig Graham told me of the frustrations of a club with charity at its heart struggling to compete with rivals able to flex more financial muscle such as the since-promoted Kelty Hearts and East Kilbride. What's changed? "We altered our constitution to allow for a share issue and that brought investment which has turned the dial," says Samuel. "We stepped up recruitment, targeted players like Cammy Russell and Brad White and then with a bit of good fortune Blair Henderson, the all-time League Two top goalscorer, became available and we were able to offer him a contract. That's been a game-changer, demonstrating we weren't content with finishing third or fourth."
Last Saturday at home to Cowdenbeath Henderson netted the title-clinching strike. "All the Spartans kids scurried out of the stand to join in the celebrations behind the goal - it was like a march of ants," beams Samuel. A confluence of club and community, his twin passions. Strachan was quick to offer his congratulations, and so too Marc McNulty, the Scotland striker and partner of Samuel's eldest daughter Jade, now playing in California.
Another of his mentors is Tony Mowbray. "Right from the start when he managed Hibs I was impressed by his intelligence, humility and the fact he wasn't like the traditional football boss," says Samuel, who even though he wouldn't claim them for himself, possesses the same qualities. He mentioned to my old press-box chum David Hardie of Edinburgh's Evening News when they were standing in a playground waiting for their kids how much he'd love the chance to observe a Hibee training session. Right away Hardie called Mowbray and the pair were soon bonding over the philosophies of US basketball coaches John Wooden, Vince Lombardi and Phil Jackson. "I was down seeing Mogga at Sunderland recently. We're still good friends."
Jackson might be Samuel's go-to guy for the most inspiring quotes. One such is: "Love is the force that ignites the spirit and binds teams together." More meaningful still, however, are the words of wisdom passed on by his father, Douglas Snr, in the Bananay Flats. "Dad's mantra was: 'Never look down on anyone, but don't let anyone look down on you.' I have great memories of living there among working-class people who cared and looked out for each other and I learned great values from my parents - hard work, respect, integrity. They fed my dreams and encouraged me to be the best version of myself.
"Dad was a Unison branch secretary and Mum a home help. They lived lives built around giving and serving others and I guess for me the gene comes from the example they set: be kind, be nice, success doesn't need to be achieved at the expense of others. I owe them everything and mean it most sincerely that they're my heroes."
Now I know what you might be thinking: what's an all-round good guy like Dougie Samuel doing in cut-throat management? Won't Pyramid success by its very nature be at the expense of the opposition? Of course, but Spartans, don't forget, are more than a football club.
"The world won't end if we lose a match on a Saturday," he says. "Football's important, it matters, but the work of the foundation every day is more important. In the beginning, the Spartans aspiration was for a project for the community which could be viewed as Premiership class and that's been achieved. Some might argue it's been at the expense of the football but I think the club are much richer and embedded here in a more authentic way because of all the time, effort and investment to get what we do for the community right.
"But Spartans will play in the pro leagues, it will happen and I really hope this is the year." Samuel for sure is ready. A deep social conscience is to be admired but he's not above some daft superstition. "I've got my lucky scarf which I've worn for every game since mid-November last year when we went on a great run. I've got my lucky pants - blue Calvins - and then there's my lucky pebble." He fishes around in the man-bag and produces a tiny stone. "It comes from Dunbar. I was jumping the waves near the 'bridge to nowhere' with my gorgeous grandson Freddie and he picked it off the beach for me. If a match gets stressful, turning it over and over in my hand is soothing."
Good luck, I tell him, and whatever you do, don't misplace that bag and don't lose that pebble.
Comments
 0 comments
Want to join the conversation? Please or to comment on this article.