'Something will turn up' - Steve Clarke makes Scotland Euro 2024 squad claim and reveals chat with player after Georgia snub
Although several of the main guests are missing, on the park at least, a party atmosphere is still guaranteed as Scotland return to Hampden Park tonight for the first time since qualification for Euro 2024 was confirmed last month.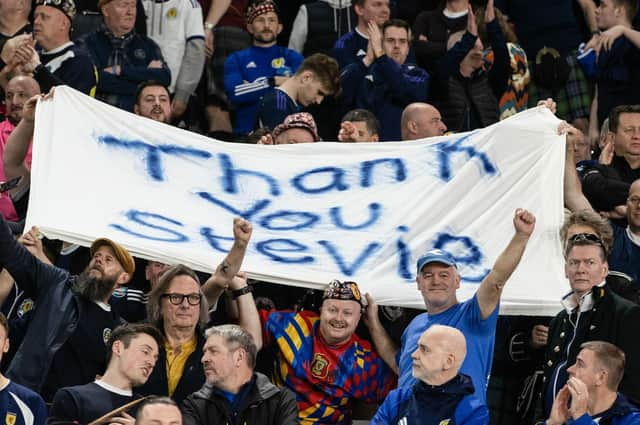 There will be no skipper Andy Robertson and no Kieran Tierney for starters. Norway, meanwhile, are the wallflowers. They will slouch into Hampden still reeling from the ramifications of the last five minutes of the previous meeting between the countries in Oslo. Erling Haaland, the star attraction, is absent, as is Arsenal's Martin Odegaard.
Not that Steve Clarke is the type to take anything for granted. Asked if he would take a moment to take it all in and reflect a little on being the first man to guide Scotland to back-to-back European Championships, the manager gave the most Steve Clarke answer ever. "Maybe in injury time, if we are a couple of goals in front," he said.
"I do enjoy it in my own way," he continued. "You saw me jumping up and down the other night (against Georgia) when we scored. I actually jumped a couple of times, because it was an important goal."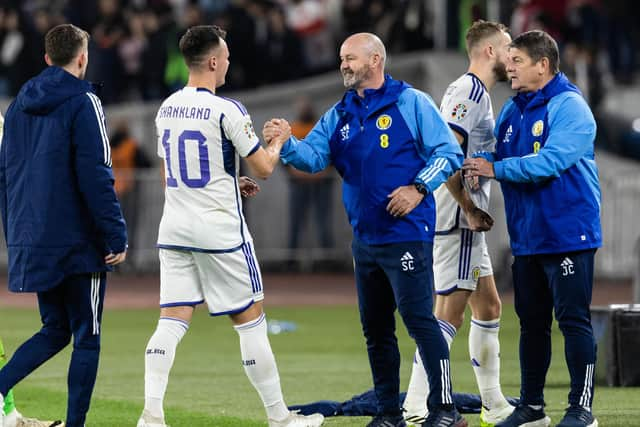 He knows all the hard work is being appreciated. "Thank you Stevie" read one banner at the Boris Paichadze stadium on Thursday night, as Scotland chiselled out a 2-2 draw from a very unpromising set of circumstances.
"It's great," he conceded. "Any time I come up now there are always people stopping me, even at the airports when you are travelling through. There are always Scottish punters coming up and congratulating you and saying 'thank you', which makes you feel nice. When people are nice to you, you always feel a little bit better."
He is cautious by nature - and by experience. He was once within his rights to believe he had the chance to represent his country at a major finals. Clarke was a late call-up for the last game of the qualifying group that saw Scotland reach Italia '90. That was also against Norway 34 years ago this month, with the Scots requiring just a point.
They gained it on a nervy night in the south side of Glasgow, with the visitors equalising in injury time through a long-distance strike. Ally McCoist's first-half goal saw Scotland through.
Although Clarke was named in the provisional squad for the World Cup finals, he was ousted from Andy Roxburgh's final list of 22 names. He has since described this news as the biggest disappointment of his career.
Before he can lie on that sun lounger next summer, Clarke will have completed what he may rate as his trickiest task as Scotland manager. At Euro 2020, there was a little more room to manoeuvre due to the decision to increase squad sizes by three to 26 because of Covid. Now he must somehow perm 23 players from his current options. As many as 20 already appear certainties to be on the plane, fitness permitting.
Five likely starters at the opening game of Euro 2024 are not even present in the current squad due to injury. It's inevitable that Clarke will have to be the bearer of bad news, although he pointed out that no one should be sitting too comfortably.
"Things change a lot in football," he said. "I am convinced in my own head that between now and next summer, something will turn up. Football changes all the time. You see the number of injuries we have in this camp. You see the number of injuries Norway have for this camp, there's always something that will change.
"That's something for me to think about as we get to next May or June but I can't sit here now and think this one is going to go, that one is going to go, or they are all nailed down," he said. "I can't think like that and I don't think anyone else should either."
One player who many felt all but secured his place on the plane to Germany with the late equaliser against Georgia on Thursday is Lawrence Shankland. The striker was not even originally included in the squad for this double header but was drafted in after Che Adams pulled out due to injury. He made the most of his chance. Asked what this goal had done for Shankland, who was surely miffed at being excluded from the original squad, Clarke replied that it had made the player smile.
"It has made everyone smile," he added. "It was an important goal for us. We had Lyndon (Dykes) on the pitch and he ran himself into the ground like he always does. He had a couple of chances with headers and we were looking for a goal against a team defending on their 18-yard box. I had a choice between Lawrence and Jacob Brown.
"If a chance is going to fall on the box, who do you want it to fall to? Probably Lawrence. He got the goal but they are all in my thoughts for tomorrow."
Had Clarke felt the need to offer this explanation to Brown? The Luton Town striker was presumably irked by the decision to send on someone who was only a late call-up, even if this change proved to an inspired one on Clarke's part.
"I spoke to Jacob about the decision," added Clarke. "I do try to speak to them (the players) about things. I don't explain all of my decisions as I would spend all my time doing that. But if I feel that I need to have a chat about a certain situation, I do."
As for Shankland, he will feel he deserves a chance to feature in the first XI this evening over four years since his first and, to date, only start for Scotland, against San Marino.
"Lawrence is always in my thoughts," said Clarke. "We have a good relationship. Lawrence has been in and out of squads but he is a player who, when you need him and call him in late one night, he's there the next morning. That's a boy who wants to do well for his country. We appreciate that."
Comments
 0 comments
Want to join the conversation? Please or to comment on this article.