SFA chief Ian Maxwell makes Celtic and Rangers 'shouldn't be stopped' point as he addresses Conference League collapse
The shelving of plans to create a fifth-tier Conference League to accommodate B teams from Celtic, Rangers and Hearts has highlighted the difficulty in satisfying the competing interests of all 270 clubs that make up the country's pyramid, according to SFA chief executive Ian Maxwell.
Amid widespread opposition from a number of clubs and fans groups, the governing body decided not to take forward the resolution for the new set-up to a vote at the SFA's agm. And for Maxwell, that has merely kicked the can down the road when it comes to solutions to the issues of player development - the chief executive pointing to the drop off in competitiveness experienced by Scotland national teams between the under-17s and under-21s age groups. Maxwell doesn't shy away from recognising that agreement on a B team approach could remain forever out of reach.
"There's not a one size fits all solution to player development. We've got clubs at the top end of the Premiership turning over £100m plus and clubs at the bottom end turning over £3m or £4m," he said. "They have the resources to do different things. Player development is difficult to get right and there's not one solution that will fix the problem for Scotland and clubs within Scotland. Some can think about B teams, going to play teams abroad, whatever they want. Others need to think about the loan market. The solution needs to be different. There obviously has to be a bit more engagement and a bit more understanding across the game as to what we're trying to do.
"There are 270-odd clubs in the football pyramid. Finding a solution to suit 270 different teams is a big ask but that's the job ahead of us. In the pyramid working group, we had SPFL, Highland, Lowland, West of Scotland, East of Scotland, South of Scotland – they were all represented. We had a number of debates about Conference Leagues and B teams and it came from that group. Obviously the feedback we were receiving was that it's not going to be passed. Rather than jeopardise potential discussions and harm relationships, the best thing is to withdraw it and discuss from there.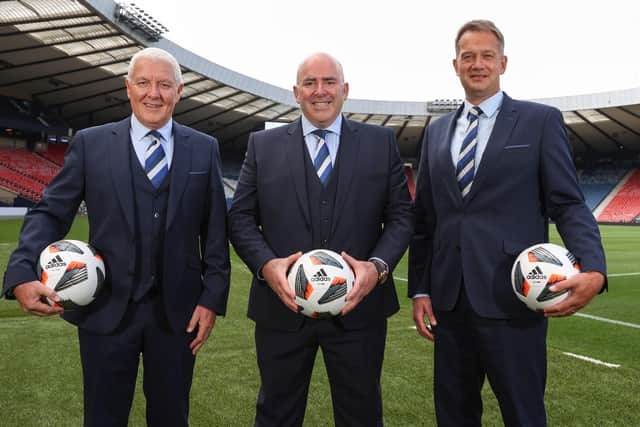 "It's worth pointing out this has been a Scottish football plan from a player development perspective. I know it was a Scottish FA resolution but that's because those things need to happen through that mechanism. The SPFL had the Deloitte review which was commissioned by Aberdeen, Hearts, Hibs, Dundee and Dundee United. B teams and player development was a key strategic priority within that. It's not a one size fits all. There are things clubs can do and things that clubs can't do. But just because some clubs can't do it, it doesn't mean the ones that can should be stopped.
"I'm not talking specifically about B teams here, Rangers and Celtic as the two biggest clubs in the country will be far more resourced to set up a scouting network across the world. That doesn't mean they should be stopped from doing that because nobody else can. We need to work out what it looks like across the game. If there are clubs at one end that can do something and clubs at the bottom end that can't, what does the alternative look like for them?"
Comments
 0 comments
Want to join the conversation? Please or to comment on this article.