SFA chief defends VAR ahead of Premiership summit as Ian Maxwell points to '27 times we got it right'
Scottish FA chief executive Ian Maxwell has defended VAR ahead of a summit with Premiership clubs by insisting it prevented a total of 27 incorrect decisions last season.
And he believes Friday's debrief into the use of technology, which has caused widespread consternation since its introduction in October, will be the opportunity to correct some of the falsehoods that have grown up around its application. Even as there is an acknowledgement that the operation of the system - still in its early stages in the Scottish game - could be smoother. But Maxwell stresses perfection is unattainable when subjectivity in the area of certain laws, particularly over penalties awarded for handball, is inescapable. An issue that he points out is global within football and not a problem particularly to football within these borders. As certain recent high-profile cases in the FA Cup final, and even the Conference League final, have amply demonstrated.
"We had a meeting [with clubs] during the World Cup because we had had four or five weekends of VAR [and] said we would have an end-of-season meeting," said the SFA chief executive. "I think it is right that we engage with clubs over the course of a season. They can give us some feedback, we can give them some feedback, they can see the stats that actually show we are getting a lot more decisions right. It is doing what it is supposed to do. There is still a bit of subjectivity, and that's okay. It's about clarity, transparency, knowledge and understanding and how do we increase them in all those areas across the game. Whether that's the clubs, the media, broadcasting, supporters. How do we enhance all of them?
"From a knowledge and understanding perspective, I think that people are getting there now because they understand that the handball law is handball law. They don't like it, but they don't like the law. It's not our referees because our referees are making the same decisions as everybody else. You saw it in the FA Cup final with Jack Grealish. Is it a penalty? You are absolutely devastated if it is given against you. Even the Brian Graham one [given against Partick Thistle in the play-off final last Sunday]. He doesn't really know where he is. His arm was out and it hits his hand, but it is a penalty under the laws of the game. It is about working through it. We have had it for seven months. People have had it for seven years and are still getting as much wrong as we are. But we get that there is a piece of work to be done to improve. We want to keep continuing to improve, the referees want to keep continuing to improve, everybody does. The clubs want us to. So what are the next steps we take to make that happen.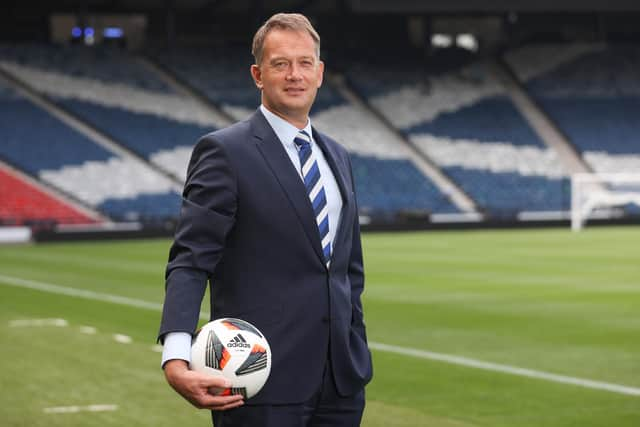 "The good thing that VAR has done this season, there have been something like 27 instances where there has been a factual check. [These have] overturned penalties that were given that were actually outside the box… shouldn't have been given…or [in terms of] goals scored when a player was actually offside…or goals that have been chalked off from offside when that wasn't the case. That is 27 instances that we have got right. It is working in instances. There is a bit of a grey area around handball. There is always a bit of subjectivity around tackles. John Fleming, our old head of referees, used to say: 'It might be a soft boiled egg or it might be a hard boiled egg, but it is still a boiled egg'. There are reds that are definitely red, but there are reds that are a wee bit orange. There is always going to be that subjective element to it and VAR is not going to fix that because sometimes tackles and decisions are like that."
As a former centre-back, Maxwell maintains he would have been full-square behind having VAR in his playing days. Even if he recognises the frustrations over the sometimes lengthy breaks in play required for certain checks. "From an on-the-pitch perspective, what do you want? You don't want to lose a game because of a decision that could and should have been different," he said. "Referees since football began have mostly made decisions that are right, but have got some wrong. That is the reality of where we are. I like it because it gets decisions right. There is obviously the time it takes. We want to improve that, we want to reduce that. But we also need to do that knowing that it takes time to get decisions right. I am sitting with Crawford [Allan, head of referees] and he will say: 'Well, that video review took three minutes, but actually we have checked the handball in the build-up, the offside in the build-up and then a potential penalty'. They are not taking a long time for the sake of taking a long time. This is the time it takes for all those things to be checked and to be checked properly. If we didn't do it properly we would get absolutely pulverised for not taking our time to get it right. It is a Catch 22."
Comments
 0 comments
Want to join the conversation? Please or to comment on this article.