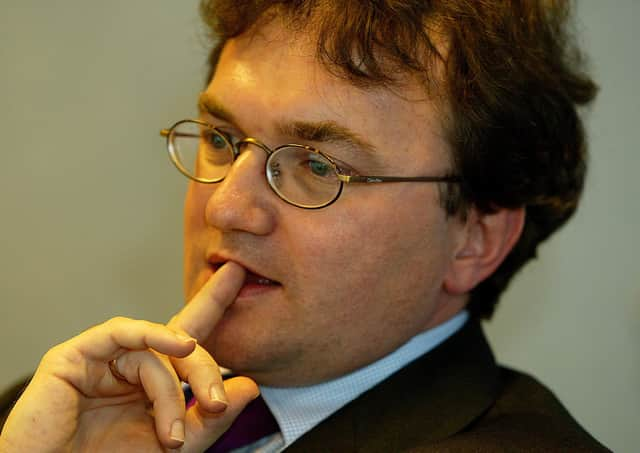 Former SPL chief executive Roger Mitchell is now a sports advisor and investor based in Lake Como, Italy. Picture: SNS
When Roger Mitchell ventures out his front door his movements are strictly monitored, just like those of a maximum-security convict permitted a brief stint in the prison's exercise yard. "You're not allowed to leave the house at all unless it's to the supermarket or the pharmacy and you need an official document for that," says the man who was once a big noise in Scottish football. "If I don't have the necessary paperwork, or if I'd tried to go someplace else, then the jail is where I could end up."
This is the coronavirus as it affects Mitchell and his family on the shores of Italy's Lake Como and, he says, total lockdown is coming to Scotland.
"Our city is deserted, it looks like the final scene from a disaster movie," adds the top flight's first-ever chief executive. "But we're doing okay and the supermarket shelves are full. It's incredibly controlled there. You file inside in a single line and gloves must be worn. Our television news shows what's been happening in Britain: panic-buying and crazy fighting in the aisles. There's none of that in Italy. If you get too close to other shoppers – four metres is the distance you must keep – then there are police officers who will forcibly remove you from the store."
But, restrict Mitchell all you like – keep him in solitary with only the splendid views of the lake from his balcony for comfort – the truth is you cannot shut him up about our game. He was an ambitious, radical, controversial figure on the scene around the turn of the century and continues to speak his mind in podcasts and on Twitter. Only the other day, when an old combatant from the football press pack bemoaned the prospect of his children being unable to play sport because of the coronavirus, Mitchell messaged: "You don't get what you want, mate. Unless ALL contact is minimal you'll have millions dead."
He has plenty to say when The Scotsman call him up in Lombardy in northern Italy, not least:
l Celtic will be declared champions and Hearts will be relegated.
l Scottish football should not have survived Rangers' implosion and plummet to the bottom tier in 2012.
l Some Scottish clubs will not survive the virus fallout. "I'm not talking about the wee ones," he says, "who are well run almost as community recreation centres, the kind I used to be criticised for likening to bowling clubs and for saying they shouldn't have equal voting rights alongside the big boys. I mean the teams in the middle such as the Dundee Uniteds and the Mortons who are striving to be something – those are the ones to be worried about."
l He was right about Hampden. "I said it shouldn't be redeveloped, that the money should be spent elsewhere, otherwise it would be an albatross round the neck."
Scottish football had never had a CEO before Mitchell (1998-2002) so we didn't really know what one looked like. The bouffant hairstyle and Buggles specs betrayed his pop music background – a world away from the Ernie Walkers and Jim Farrys who seemed to come from the front pews of the kirk, with some of their pronouncements of the game possibly originating there, too.
Mitchell, who these days describes himself as a sports investor/advisor, was purely concerned with the top flight, the Scottish Premier League as was. To get the job, he seduced with the prospect of commercial bonanzas similar to those won for the Spice Girls and the Backstreet Boys. These bands were big draws, but as he was to discover, the Old Firm were bigger.
Mitchell's links to Italy are on his mother's side, both her parents being emigres from Barga who settled in Paisley. He worked there before football and after it returned for what he thought would be a one-off project only to end up staying. His wife Raffaella is Italian and they have two children, their daughter currently schooling remotely at home as the lockdown continues.
Italy agrees with him and he has been impressed by the country's reaction to the crisis. "Italians are a funny breed: incredibly individualistic but also with this unbreakable link to family. It's like the mother's womb and during moments of difficulty like now they find their way back there. Home – much more so than in Anglo-Saxon countries – is comfortable, a place to eat and laugh, and when they're there Italians can get innovative. You've seen that with all the spontaneous music that's been played from balconies while everyone's been stuck in their apartments. I don't want this to sound too cliched but that kind of creativity is a bit like the Renaissance coming after the Black Plague."
Nevertheless Mitchell admits Italy began by being complacent about the coronavirus. "At first there were jokes. Then came the first case and suddenly everyone got incredibly scared. I reckon from people saying it was like the flu to saying it only affected old folk to saying 'It's all going to be fine, let's go for an aperitif'… from there to lockdown was only 48 hours. The UK have clearly underestimated the virus, both at macro and micro levels. You can't just say 'Boris [Johnson] gave us the wrong steer' because there were football games being cancelled all over Europe and yet Liverpool still invited 4,000 [Atletico] Madrid fans to their stadium. In Italy right now we've got army trucks taking corpses to Bergamo and yet there are folk in Britain moaning about the pubs being closed. Everyone has got to take a bit of the blame."
That game at Anfield was the Champions League, in which some round-of-16 ties have yet to be completed. More and more as the crisis deepens we have to say: it's only football. But for those of us who seek solace in the game – that's just about everyone, right? – there are nagging, unresolved issues and silver pots on a trestle table awaiting conferment. Who wins what we now call the Scottish Premiership? Who gets relegated?
"That's a very big question and just about every day you asked it I would have a different answer," says Mitchell. "So here's where I think we are today: Uefa want the domestic leagues restarted by the end of April but I know a lot of football people around Europe and that's total fantasy. The thing is, the leagues know this, so we are in this phase where everyone is pretending there will be a finish.
"What my friends are saying to me is that at some point Uefa or the national governments will instruct the football bodies to call an end to 2019-20. This will be done. The season will not be null and void. Promotion and relegation will be decided. There's a formula for ascertaining likely points totals but I don't think in Scotland this will change anything: Celtic will be champions and Hearts 
will be down."
Earlier – perhaps about two days ago in this fast-moving drama – Mitchell wondered if the season could resume sometime in the summer and be played right through to September, which is a proposal some still support and a few cling on to. Games behind closed doors? "Italy's
biggest, Juve vs Inter, was played with no fans and for two days before it there was this huge debate about unfairness with hot air upon hot air from journalists about the fact the reverse fixture had been in front of a crowd. Twelve hours later, though, the whole of Serie A was cancelled." Football, Mitchell says, has so many "masters" including the hard commercial concerns of rights-holders, sponsors and broadcasters that brokering agreement on a play-on solution would be just about impossible.
So if his Scottish scenario comes to pass then surely Rangers will go crazy and Hearts will sue? "I don't think Hearts will. I think Hearts have accepted the situation, which is why they're making these cutbacks. And I think Rangers have accepted it too, although they won't actually say this. My understanding is that Scottish football has pulled together and realised this is a black swan moment, a total crisis, and that it's time decisions were made with clear heads and not passionate hearts."
No longer at the sharp end for such critical choices, Mitchell has reverted back to being a supporter. He doesn't follow an Italian club so his loyalties have remained with Celtic. How were these affiliations received when the centre of his universe was the demented, divided football hotbed 
of Glasgow? "Everybody knew but I was professional. Funnily enough, Celtic went to my chairman and said 'Roger is trying too hard to show 
he's not one of us and we're being penalised'."
So as a fan can he empathise with supporters of those clubs who will lose out in the event of such a juddering conclusion to 2019-20? "Of course. We should all have sympathy there. But I think I've got slightly more sympathy for the guy down the road from here whose mother has just died. This isn't a question of right or wrong but of the least terrible."
He reflects on his time in charge of Scotland, although as he says, he didn't really hold the power: "I couldn't do anything unless I got 11 out of the 12 clubs in the SPL to agree. Celtic and Rangers were given a veto if they acted together. The cornerstone of everything in Scottish football at that time was the Old Firm's ability to say no. I knew that but I underestimated it."
He thinks he was "well-liked" beyond the Old Firm with whom he spent much time "begging, teasing and horse-trading". The future seemed to be dotcom with sports rights "going through the roof" and the league were all set to benefit, but after 9/11 everything went the other way – "through the floor". Crucially, a £45 million Sky deal was rejected. Mitchell had a dream for our game's own showcase: SPL TV. "For six months the Old Firm were right behind the idea and then at the 11th hour they stepped away. At that moment they believed they could break into English football." Soon after, Mitchell resigned.
Viewing Scotland from the other side of the lake and the seas in between he thinks Neil Doncaster is doing a more than decent job in his old role. "The virus isn't the first black swan to come his way. There was the collapse of Setanta and then there was the collapse of Rangers. Scottish football should not have survived them going into liquidation but it did. Neil's still there. He still seems to have the faith of the clubs."
Mitchell returns to more urgent matters. "It's a probability game with this virus – it's everywhere. Nothing will be the same after it's gone and that includes football." So presumably he is glad not to be involved in football with all those head-exploding decisions confronting those who run it? "In a way, yes, but I have to admit I love crisis management. I enjoy those moments when you can say to someone: 'You know, you're talking absolute rubbish. This is the way we're going to do it… ' "