Scott Brown on why he now keeps his distance from Celtic, working alongside 'biggest Rangers fan in world' and life at Fleetwood Town
Aside from where his swansong took place, there's little else for Scott Brown to complain about when he reflects on the end of his playing career. It was one year ago this week, not that anyone was aware at the time.
"I was devastated it was at Hearts!" he smiles. "I just remember I got told to man-mark and I never liked man-marking so that finished me off! It was the right time… I realised I could not go out wide and catch Barrie McKay and people like that. For me, I did not want to continue, keep going down the leagues…"
Brown never played a minute of league football anywhere other than the top flight. Admittedly it was the Scottish top flight, which people repeatedly tell him must be one source of regret. But not really after achieving what he did with Celtic and before that, being permitted to develop at Hibs at such a challenging level. Unusually, he was not sent out on loan to earn his spurs.
It's nearly 20 years since Bobby Williamson turned to him in the dugout, nodded his head in the direction of the pitch and said: "you're on". The then 17-year-old replaced the injured Tam McManus just twenty minutes into a bottom six clash with Aberdeen at Easter Road and played a part in all three goals in his side's 3-1 win.
"I spoke to Bobby yesterday!" exclaims Brown. News of his exploits with Fleetwood Town have reached Africa, where Williamson has been based – in Kenya, mostly – for 15 years. "We were texting back and forward. He was texting today: 'fantastic result the other day, four (wins) out of five, now try and get five out of six'. (Brown did, courtesy of yesterday's 1-0 Lancashire derby win over Morcecambe)
"He is the one that gave me the opportunity," continues Brown. "You have to thank these people for giving you the opportunity. He was good for me at the time and I was good for him at the time, so it worked both ways."
Like Williamson, Brown has broadened his horizons. He felt it preferable to move away when taking the next step into management to escape the legend of Broonie. "I did not want to be judged as a person on how I played in Scotland," he says. "I thought the best way was to come down to England, if I had that opportunity. To get away from the limelight and try and be …normal. Stay away from the Rangers-Celtic thing…"
Brown seems satisfied with the way things have worked out. And why wouldn't he be? Months into his first management post and he's already made history. He's found an antidote to whatever staleness he felt after two decades in Scotland. Places like Burton, Peterborough, Lincoln and Exeter now feature on his itinerary and, on Wednesday night, it's Turf Moor, home of Vincent Kompany's in-form Burnley in the fifth round of the FA Cup, as Fleetwood Town continue to navigate uncharted waters. They have never been beyond the third round before. After five matches – they saw off League One leaders Sheffield Wednesday after a replay in the last round – it has already felt like a campaign. Normally Brown would expect to have a winner's medal by now (he won six Scottish Cups with Celtic).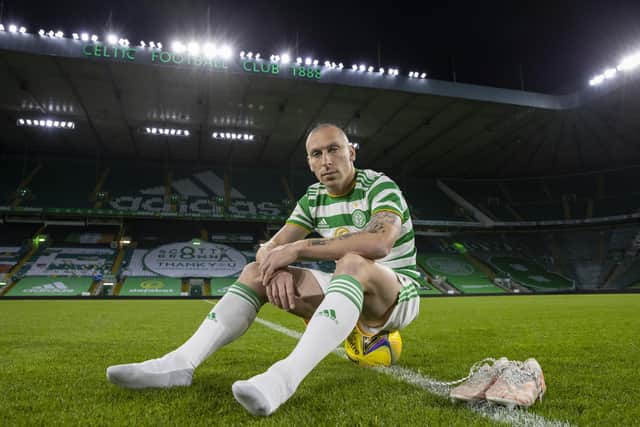 A run of good results has propelled Fleetwood from the relegation danger area towards the mid-reaches of League One. It's a brutally unforgiving division, as Duncan Ferguson is learning at Forest Green Rovers. The Big Dunc v Broonie derby is scheduled for a midweek night in April in the Cotswolds, a perhaps surreal setting for a battle royale between two of the least understood men to emerge from Scottish football in recent decades.
"He seems quite calm, from what I have seen," says Brown, who is looking forward to a second meeting with his fellow Scot. The first was at a charity event somewhere in England. Brown can't recall the details. "And he won't remember me!" he says, modestly, as if several years as Scotland skipper and being second only to Billy McNeill in terms of trophies lifted at Celtic counts for little.
Ferguson and Brown might have traded on intimidating personas on the football pitch, but, away from the roar of the crowd, it seems quite different. Brown is a genial, welcoming host. The self-deprecation is not an act. The Broonie persona was a shield he wielded to hit levels he might not otherwise have reached.
"For my 14 years at Celtic, I could understand why most teams hated me," he reflects. "I was OK with that. If I ever left Celtic, I always knew I would give 100 per cent wherever I went. And some people like me and some people might not, whether I was at Celtic, Hibs or Aberdeen. I will always be the same person on the park and I will always be the same person off the park. I know I wasn't approachable on it, I had that stand-and-stare.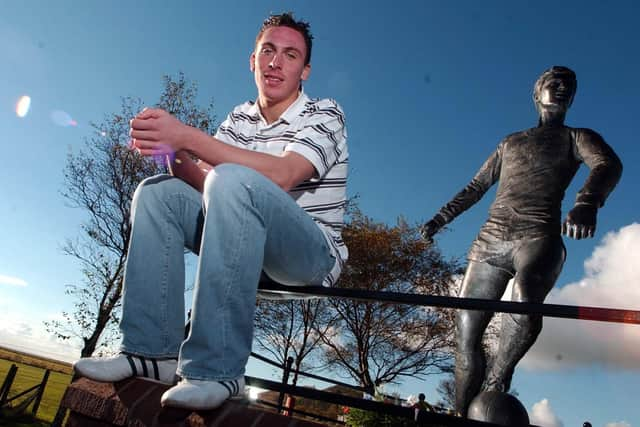 "I had a switch that, when I go over the white line, I need to be sure I am on my game. I need to know where I am for set plays, know how to squeeze the game, how to get on the ball and, of course, have an understanding of how to wind people up..."
"I had a big mouth," he adds. "100 per cent." But he claims he knew when to rein it in, most of the time. He was only sent off "six or seven times". It is, admittedly, lower than might be expected. Not even once every hundred games.
"You play football to win games, you don't play to think 'oh I should have done better this week'," he says. "I always played to give 100 per cent. Look at players nowadays, 'oh I don't have to give 100 per cent, I have another game next week'. Where I was older I started to think, 'imagine this was my last game' and try and make the most of it. Now I am starting management, it becomes a different thing. You never know what might be your last game..."
Brown hadn't banked on finishing his playing career at Tynecastle, where sit some of his harshest critics, on 2 March last year. He was replaced by Dylan McGeouch with 15 minutes left in Hearts' 2-0 victory over Aberdeen. He reached an accommodation with the Pittodrie club a few days later before announcing his retirement as a player in May.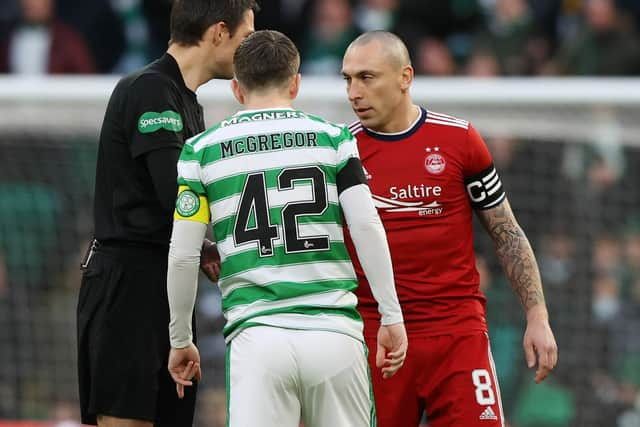 As he points out, had things been different, and Stephen Glass survived as manager, he'd likely still be there. "My contract is still going on now!" he says.
Brown's whereabouts were the cause of some anxiety on this writer's part when the taxi drew up outside Fleetwood Town's well-appointed training ground at Poolfoot Farm, ten miles from Blackpool, on Thursday. The "head coach" parking space lay empty. It was a relief to find that he hadn't done a runner, perhaps in expectation of being peppered with Celtic v Rangers questions ahead of today's League Cup final at Hampden Park. The no-car explanation is that he and "Whits" – former Hibs teammate and Old Firm rival Steven Whittaker, his assistant – share the driving duties, both from their shared house nearby and on longer trips home to Edinburgh. "When one of us is tired, the other drives," reports Brown.
It's good to have the chance to catch up again with Brown because it was shortly after making his Hibs debut that we sat facing each other for one of his first interviews. He had just scored three goals in three games for Scotland Under 19s and interest in the talented Fifer was building. There was excitement at the prospect of Scotland's problems in that area having at last been solved. Who was this teenager scoring all these goals? I was sent to find out for The Scotsman.
Brown is incredulous now. Both at the thought he might have been considered a salvation to anybody's goalscoring problems, let alone those of Scotland, and his choice of footwear in the photographs taken to accompany that early feature.
"Oh my god! What about my white trainers!?" he says, when confronted with one photo. It was, at least, pre-red Mohican - he opted for that ahead of the CIS Cup final against Livingston, which Hibs duly lost: "That was my first mid-life crisis!"
Brown had posed in said trainers next to the Jim Baxter statue at Hill of Beath, his home village. At the time he envisaged success would be achieving even half of what Baxter had done. Twenty years on, he's managed to outstrip the Scotland and Rangers hero in terms of medals and longevity, with Brown having hung up his boots after more than 800 games. But he still defers to Baxter and is delighted simply to share the same wall as him in a local pub. Never mind all the winner's medals, Brown seems as proud of this measure of worth. "There's two strips up on the wall," he says. "There is me and Jim in the wee pub just along the road (from his childhood home)." Really? A Rangers one and a Celtic one? "Nah, both Scotland. Otherwise one or the other would get smashed!" It's a reminder of the madness he has left behind.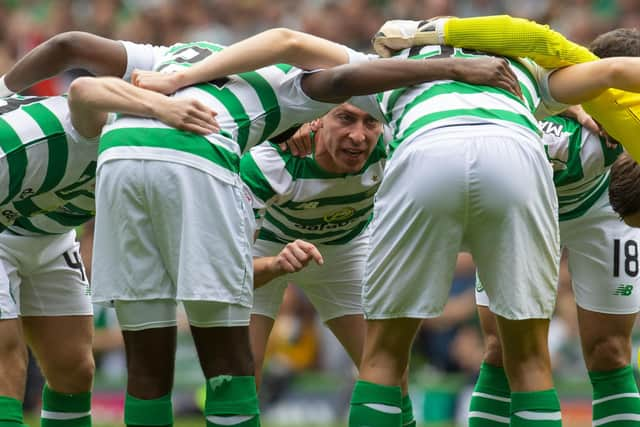 Reporting on Brown's progression from daft wee laddie to serious operator on the sidelines has been a joy. He's grown his hair out – "another mid-life crisis," he says – and started thinking deeply about the game, although he's been a studious note taker after training sessions for over a decade now, since being reunited with former Hibs manager Tony Mowbray at Celtic. Perhaps surprisingly, Brown's thoughts were already turning to coaching.
He began working with the Under-20s at Celtic during Ronny Deila's reign but was advised to concentrate on playing by Brendan Rodgers after his arrival. "The best bit of advice I ever received," he says. The pair re-wrote the Celtic record books together. "I became a better professional the longer my career went on," he says.
"My decision to leave in that last year (at Celtic) was always in the back of my head, whether we won ten or lost ten, hence the reason I did not sign a new contract. I did not want to be that old guy who stayed at the club for the sake of it and was still trying to kid on now that I could play in the middle of the park in the Champions League against Real Madrid. I will let Cal Mac (Callum McGregor) do that!" Other than those with Aberdeen, Brown hasn't attended a Celtic match since departing.
He will watch this afternoon's League Cup final on television at home in Edinburgh with his three sons, Shay, Sonny and Kitt. "I will go back one day, yes. But at the same time, I need to keep my distance. You are better staying under the radar."
It's been a relatively seamless progress into coaching because he has always been expert at making demands of others as well as himself. His team talks are slightly more considered now compared to when he gathered his Celtic teammates around him before kick-off and delivered impassioned addresses while the temples on his shaven head pulsed.
"The huddle was more from the heart," he explains. "A 'make sure you are on it' threat! Set the tone, set the standard, whether we were having a bad time recently or a good time. It was about getting the lads bouncing. You can't exactly start doing a huddle when we have Baz Nick here can we? But you never know!"
Baz Nick is Barry Nicholson, the former Rangers - and Aberdeen and Dunfermline - midfielder. The first team coach is well regarded at Fleetwood but, having been inherited from previous regimes, might have feared for his future when the new manager was appointed last summer.
"Everyone knows Baz is probably the biggest Rangers fan in the world," says Brown. "And I am probably his worst nightmare. But we get on like a house on fire. Baz has been here for years and is fantastic for the club. I could have come in and been a dick to Baz but why?"
Brown began shedding the Old Firm shackles at Aberdeen, winning over even the most sceptical fans. None of this matters to the Cod Army, of course, the indomitable band of Fleetwood Town fans – 107 travelled the length of the country for last weekend's 0-0 draw with Plymouth Argyle - who are spying a spot in the last eight of the FA Cup. As many as 1500 are expected to travel to Turf Moor.
"It is a huge cup tie for us, going away to Burnley, who are flying in the Championship and playing ultimate football," says Brown. "It will be a good test for us. We have got a few players' cup-tied but take nothing away from what the lads did in the last round. Sheff Wed came with a good enough team. They brought the big guns on at half time and we managed to deal with that really well. It showed you what it meant to a place like Fleetwood, with around 25,000 people in it, to get to the fifth round of the FA Cup for the first time in their history."
Images of John Motson, whose death has just been announced, flash up on the flat screen in the bar area where we are talking, as does footage of Ronnie Radford letting fly for Hereford United against Newcastle United, one of the legendary commentator's early assignments.
"There's always going to be cup shocks," says Brown. "Someone will underestimate you. Hopefully that will happen on Wednesday."
Comments
 0 comments
Want to join the conversation? Please or to comment on this article.