Scotland's Jack Hendry explains why he moved to Saudi Arabia as ex-Celtic defender lifts lid on life in Middle East
The seduction of Saudi Arabia for European players begins and ends with the dosh – filthy lucre might be the apt term with such a repressive regime, on offer by the truckload.
Credit, then, to Jack Hendry for a valiant attempt to suggest there are cogent footballing reasons for pitching up at Al-Ettifaq from Club Brugge in the summer. He is one of a clutch of players enticed by the country deciding to lavish oodles of cash on such assets – the 28-year-old has been reported to be earning a six-figure sum … per week – to make their league a brand in the domain. And change the perception of an oil state that, before it started to exert financial muscle in various sports, tended to enter the global conversation only for its desperate record on human rights.
Hendry's focus is understandably on his own professional development now he is in the Middle East. The centre-back maintains that can be enhanced, and in turn accrue a benefit for the Scotland national team of which he is a mainstay, in featuring for Steven Gerrard's side against undeniably some of the most talented attackers imaginable.
"In my first game we played against Al Nassr, which is [Sadio] Mane and [Cristiano] Ronaldo's team," he said. "And we've also played against Al Hilal, which is [Alexander] Mitrovic and Neymar. So the quality out there speaks for itself. These are the type of players you want to be playing against and especially at the front end of the pitch, there's some of the best players in the world.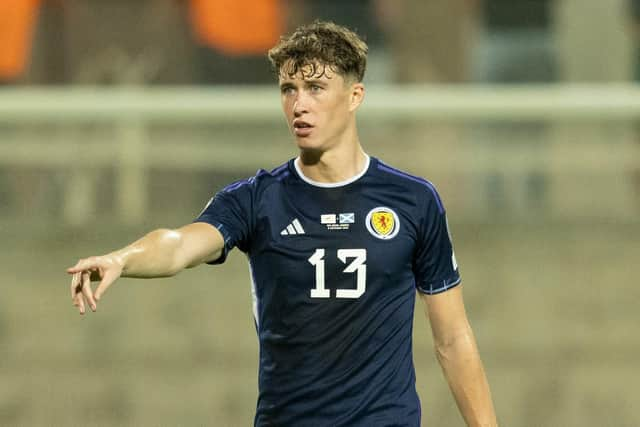 "There are players who have won the Ballon D'or – and more than once – so I'm playing against top quality opposition out there. From a defenders' point of view every team out there is going to have great attacking players. So for me and my development, playing against those strikers is only going to make me better. It's another experience, a different league and a different culture.
"And as I've said, coming up against some of the best players in the world will only help me in my career. It has been so far, so good and I am out there with a really good manager as well. He's someone who will be very good to learn from and I'm sure my game will improve being around the players and staff. I have a really good team around me who will help me improve."
In fairness to Hendry, heading to Saudi is a continuation of the wanderlust he has exhibited in his career choices. After starting in his home nation, the player spread his wings with spells in England, Australia, Belgium and, last season, a spell on loan with Italian club Cremonese. His have-club-will-travel attitude has ensured that his journeying to the baking desert nation hasn't left him feeling isolated, even if it has made him one of few Scots counting down the days to wintertime.
"Playing in different countries and different cultures before will help smooth the transition," Hendry said. "Being exposed to that and different languages has all helped me mature and be a better person. These learning experiences can only help you. It's obviously very warm – but that helped me against Cyprus [for Scotland]. The games are played in 40-odd degrees and very humid, but that will get me fitter and sharper playing in those conditions. That's something I need to adjust to but I feel I am adjusting to that.
"A footballer's life is about being very dedicated to the game. For me it's about trying to be as good as possible and try to win as many things as I can. To do that you have to be extremely dedicated and have the kind of life that revolves around football. Obviously it's a sacrifice moving away from the family and girlfriend, but I'm only there to try to be successful. The spare time you get is similar to back home – you can go to the cinema or the mall. It's nice. When the weather dies down a bit I'll be able to get out and about a bit more. But it's so far, so good – I'm enjoying it."
Comments
 0 comments
Want to join the conversation? Please or to comment on this article.