Scotland's greatest win in years: Steve Clarke gives inside account of epic victory over Spain - including half-time dressing-room scenes
It is customary the day after games, whether the outcome has been good, bad or indifferent, for a Scotland correspondent to be given the task of throwing things forward and applying some context. He or she is expected to attempt to assess the bigger picture.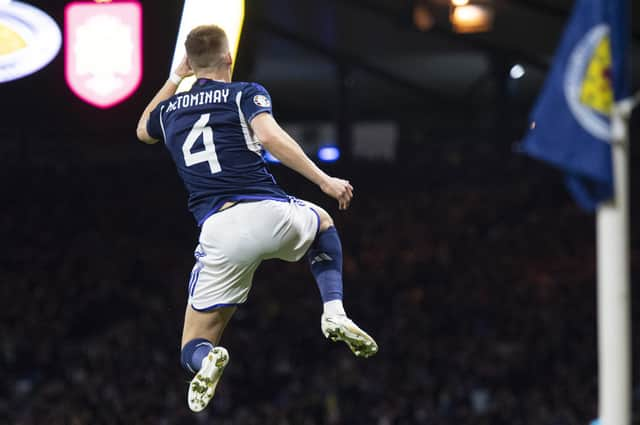 All right and proper of course. Ordinarily, that ought to be the objective. But Tuesday was no ordinary night at Hampden. Who in their right mind is ready to move on from a victory over Spain that people will still be talking about in twenty, thirty, perhaps even forty years' time?
Manager Steve Clarke would like to see such victories become more frequent. It was the consensus afterwards that Scotland have not produced such an eye-opening result at Hampden since the win over France in 2006. "See you in Paris," said a salty Thierry Henry post-match. Scotland beat them there as well. But that pair of standout victories inside 11 months against recently beaten World Cup finalists has been far from the norm in modern times.
Nearly 40 years span Scotland's two most-recent victories against Spain, with the latest of them having materialised in the Glasgow rain on Tuesday night courtesy of Scott McTominay's legendary-status securing double. Clarke referenced the papers he said he never reads during his pre-match talk ahead of the Euro 2024 qualifier. He complained that it was Kenny Dalglish this, Kenny Dalglish that.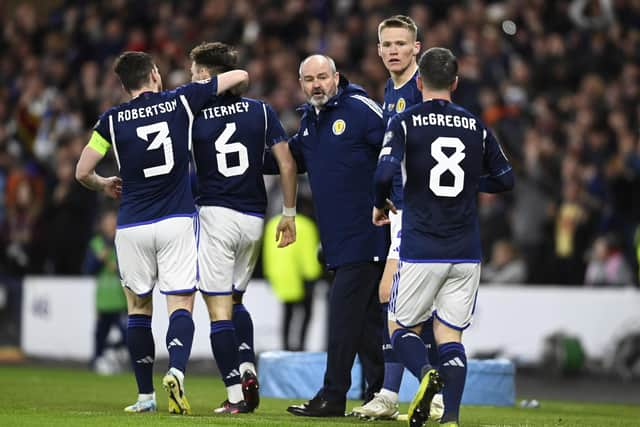 "What I said to the lads before the game was that all the media wanted to speak about the game against Spain in 1984," said Clarke. "So that tells you that in 39 years' time, when you are all the same age as me and have kids and grandkids, that people could still speak about you. I am hoping that it is going to be surpassed by other big results against big nations. Hopefully it isn't another 39 years before we are speaking about it again.
Clarke challenged Scotland to build on the result. He wants to know where the next statement win is coming from. But hold on. Let's not wish our lives away. The nation should be allowed and, indeed, needs to savour Tuesday's epic win for its own merits.
It's been too long since Scottish fans were able to relish the despair and outright disbelief relayed on the front pages of newspapers from a top-tier footballing nation. "Naufragio en Glasgow," ran the headline in AS, the Spanish daily sports newspaper: Collapse in Glasgow. That's one interpretation of the events. Another is Scotland produced a titanic performance to stifle Spain on a night that surely shoots straight into any conversation about Scotland's best-ever wins. Author David Potter's book, Scotland's Greatest Games, which was published in 2009 and stops with the second of the two victories over France in Euro 2008 qualifying, is now due an update.
Clarke provided some insight into the scenes during the interval inside the home dressing room. It had been a frantic opening 45 minutes. Scotland had gone from scoring a rapturously received opener, then nearly going two in front through Ryan Christie, to hanging on slightly as Spain remembered who they were. The hosts also survived the potentially ruinous threat of a red card, after skipper Andy Robertson clashed with Pedro Porro on the touchline. The experienced Clarke sensed the need to let passions subside. Interestingly, Robertson and Porro, the warring full-back opponents, had already made up by the time they disappeared down the tunnel. They shared a quick, conciliatory embrace. Emotions were otherwise running high.
"Normally you go in and everyone has got their bits to say," said Clarke. "I let them chatter amongst themselves for five minutes. Calm it down, take a breather. I touched on the mental aspect of the game." Assistant coach John Carver then provided some input. "(John) came in with a couple of tactical tweaks," revealed Clarke. "And Austin (MacPhee) put in a set-play point.
"You are just trying to fix the little things that are not quite right," he added. "But also put across a message of calm. Be calm, start the second half the way you started the first. Thankfully, we got the second goal, which made it a reasonably comfortable second half."
McTominay's celebration for that decisive second strike involved running to Clarke. There's clearly considerable respect and, dare we say it, even love for the manager, whose own contentment is clear from his decision to sign a new two-year contract extension. There seems to be a good synergy with his backroom staff. As Spain prepared to take a corner in the first half, the unmistakable figure of MacPhee, the set-piece coach, bounded into the technical area to impart some advice. Clarke retreated a few steps. "Everyone contributes," said the manager. "Austin made a contribution, Steven Naismith is invaluable to me because he has got the ear of the dressing room. All the backroom staff play their part."
Even the often-unloved Scottish Football Association received praise. According to Clarke, "they went out of their way to put us in a lovely Glasgow hotel". He added: "The players feel a little bit better about themselves. They train on a lovely pitch at Lesser Hampden. But, as I said, six points gets you nowhere."
Yes, he had said that. He said it an awful lot in fact. He said it in front of the television cameras and then he said it in the post-match press conference in the Hampden auditorium. He will have been repeating it to himself as he drove home to England yesterday. We'll be hearing this frustratingly dull truism again, too, when the next squad is announced, and in the run up to the next games – against Norway and Georgia in June.
Nothing has been achieved. There's nothing to celebrate yet. All bang on observations of course. But try dampening the ardour of Scotland supporters heading to work with a skip in their step this week.
Comments
 0 comments
Want to join the conversation? Please or to comment on this article.