Scotland told to keep their focus and that Spain are still favourites to top group
Steve Clarke has urged his players to keep their eye firmly on the prize following a statement win over Spain.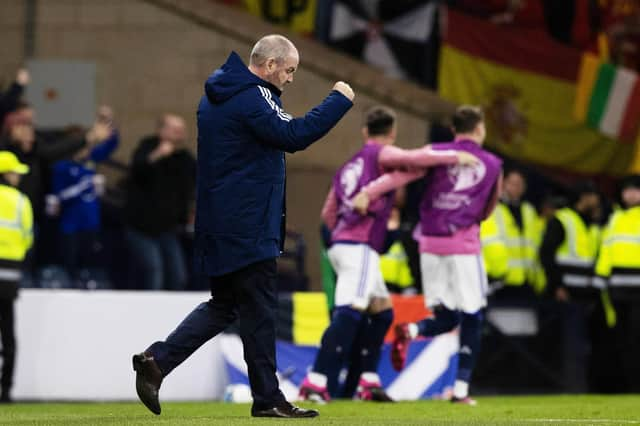 The Scotland manager will only permit extended celebrations if and when a place at Euro 2024 has been secured. The Scots have capitalised on their opening two qualifiers, including Tuesday's rampant 2-0 victory over the Spanish top seeds at Hampden, to set the pace in Group A. They now have a 12-week wait before a double-header against Norway and Georgia. The players were quick to disperse after Tuesday's victory as they prepared to return home to their clubs.
After a first win over Spain since 1984, Scotland can now have designs on winning their group. But Clarke refused to be drawn on that. He wouldn't predict how many points might be needed to finish top and he still considers Spain to be favourites. "You don't really know how the other games are going to go," he said. "Norway obviously dropped points in Georgia. It is a tough place to go and we still have to go there. No, we don't look too far ahead. It was important to capitalise on our two home games and we have done that, with maximum points which is great.
"I think we just focus on the games," he added. "It was important to win the home games. We have got two more home games here and if we can capitalise on those it will take us to a point in the group where we can be competitive. I think Spain will still be favourites to top the group."
He added: "It is a big result (v Spain), but we will celebrate properly when we get to Germany!"
Scotland also have the insurance of a play-off spot that has already been banked. Clarke is determined to ensure it isn't necessary by finishing in the top two places. He has demanded that his players remain focused amid the elation of a victory over Luis de la Fuente's side.
"It's important that when teams come here they understand that they are going to get a difficult game whether they are a pot five team or a pot one team," he said. "We have tried to do that consistently over the time. It didn't happen at the start.
"Remember, Belgium and Russia both came here and put us in our place. We're mindful of the fact that we're improving, but we're also mindful of the fact that we're not the finished article. We're not going to get carried away, we're going to stay calm and focused. The end goal is Germany 2024.
"I think slowly as you go along you start to believe a little bit more. Obviously going away to Austria (in World Cup qualifying) was a pivotal moment. We went there and won 1-0 away from home. That was big.
"In the Euros, we have to be honest, we didn't do so well, but we went to Wembley and got a big performance. These are all little steps. We beat Denmark here. But that was a game where we had qualified and Denmark had qualified.
"This one (v Spain) is slightly different because it comes at the start of the group when everyone is trying to put down the groundwork so that when November comes round you are playing games to qualify.
"It was important to get a little bit more belief in the squad and after last night there should be another level of belief. Hopefully we can continue that going forward."
Comments
 0 comments
Want to join the conversation? Please or to comment on this article.