Scotland hit with dose of 'realism' but Steve Clarke knows England loss can serve purpose
Steve Clarke will lock himself away in a darkened room in the coming days on his return home to England, though not because he feels in any way ashamed.
The Scotland manager remains as proud as ever of his team despite a 3-1 defeat against the Auld Enemy in the 150th anniversary heritage meeting. He hasn't made any special plans to avoid smug neighbours.
"I always go home with my head held high," he said. "If I feel I have done my job properly and I have prepared the team properly and I have picked an honest team which I thought was the right team to pick for the game then why would I close the curtains?"
If they are drawn, it is only because he is poring over footage from the loss to the team ranked fourth in the world as he seeks to devise a plan before facing Spain in next month's Group A qualifier. He will then consult with his coaches. "I will go away, I will watch it," he said. "John Carver will watch it, James Morrison will watch it, Austin MacPhee will watch it. And then we will have a little chat about it…See what we did well, because we did some things well. And we will see what we didn't do well, because we did quite a lot of things not so well."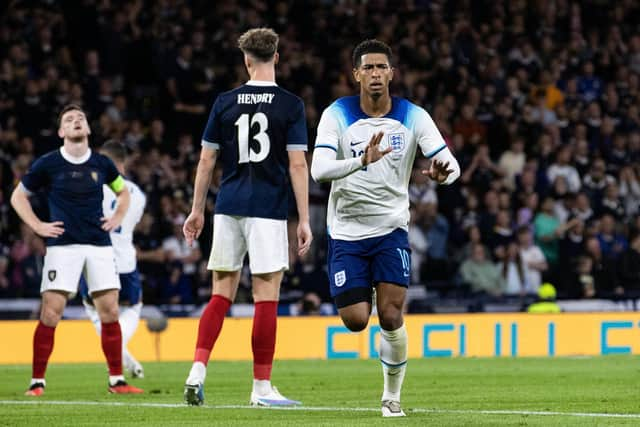 Ask Clarke last week what he would have preferred – a win over England or Cyprus – and he would have given the same answer as he gave in the Hampden auditorium on Tuesday, when everything suddenly felt a bit cheerless.
Forced to make a choice, he would have jumped at the three Euro 2024 qualifying points on offer against the team ranked 118 in the world over the acclaim that would have been guaranteed had the Scots overcome their neighbours. The clash with Gareth Southgate's side was described as a "competitive friendly" pre-match by Clarke. Sadly, it fell slightly short of that billing.
Still, we've been here before. Scotland lost 5-0 to England on 14 February 1973 in a clash to mark the SFA's centenary. Alf Ramsey's side were three up inside 15 minutes as the Auld Enemy recorded their largest win in Glasgow since 1888.
It felt like the end of the world, but Scotland recovered. Indeed, by the end of the year they had qualified for their first World Cup finals since 1958 courtesy of Joe Jordan's headed winner against Czechoslovakia.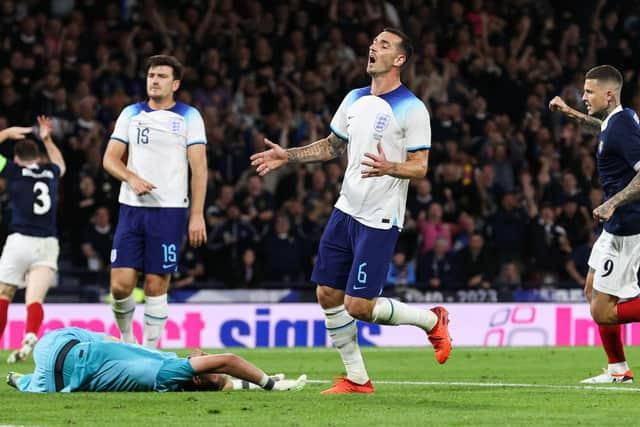 Harry Maguire had an uncomfortable outing at Hampden two nights ago. But putting through his own net might have been preferable to what Bobby Moore endured in the 1973 match as he won his 100th cap, which was hearing 40,000 Scots sing a very of-its-time ditty: "Bobby Moore, superstar, walks like a woman and he wears a bra!" As on Tuesday, an English centre half was in the spotlight.
Moore took it all in good humour and was able to give something back to the Scots afterwards, who "had only themselves to blame" for their predicament. He explained that they were too wrapped up in trying to get one over on their rivals. "If they can just beat England, then the impression I get is they believe all is well with their football," he said, before adding: "It wouldn't matter if Israel, Albania, Cyprus, Malta and Manchuria could subsequently beat them."
It's a reflection of the changing face of international football that, half a century later, Scotland would gladly accept wins over all these nations still in existence now. But it's interesting that Moore used Cyprus as an example. His point was most certainly a valid one back then and might remain partially true now. Beating England is still the be-all and end-all for some, and the chance, unlike in Moore's time, does not come around very often now.
That's why some Scotland fans have reacted so extremely to the defeat, despite last week's rampant 3-0 win over Cyprus.
Clarke would obviously have stressed his preference to win both these games but, if it had to be one or the other, there's no choice to make. A fifth successive Group A win against Cyprus was the non-negotiable from this international window.
Forget the ancient context and the bragging rights. It might have been nice - indeed, it would have been historic - to claim a victory against England in the 116th meeting. Scotland have been stuck on 41 wins since 1999. They have been without a home victory over the Auld Enemy since 1985, for goodness' sake. It's overdue and then some.
Nevertheless, Clarke's a pragmatist. He is charting a course to the next major finals, when, who knows, Scotland could get the chance to have another bash at beating England. That said, it might be preferable to leave the next meeting until the 200th anniversary of the first game in 1872. Or at least wait until Jude Bellingham has retired.
Clarke can park such thoughts for the time being. In its own way, the loss to England and, more crucially, the manner of it, was helpful. It was instructive because, as the manager noted yesterday, it "put a sense of realism back into people".
Not him, of course. "I had it anyway," he said. "I know what we are trying to do, we are trying to qualify for the second tournament out of three since I became head coach.
"We are on the right path for that, but we still haven't crossed the line. Let's take lessons….take them into next month's competitive game in Spain and another tough friendly against France away. Maybe the nitty gritty of the group will come down to the November games. We will be ready for them."
And if that turns out to be the case, then the England experience, painful though it might have been, has served its purpose.
Comments
 0 comments
Want to join the conversation? Please or to comment on this article.