Saturday Interview: Stevie Crawford reveals the family tragedy which spurred him on to become a manager
It's Complicated is a romantic comedy starring Steve Martin, though the title could easily be adopted by many other movies in the genre. On a bitingly cold day in the heart of Fife - unlikely romcom surroundings, for sure - I'm discovering it could also apply to another Steve and his relationship with the local football team.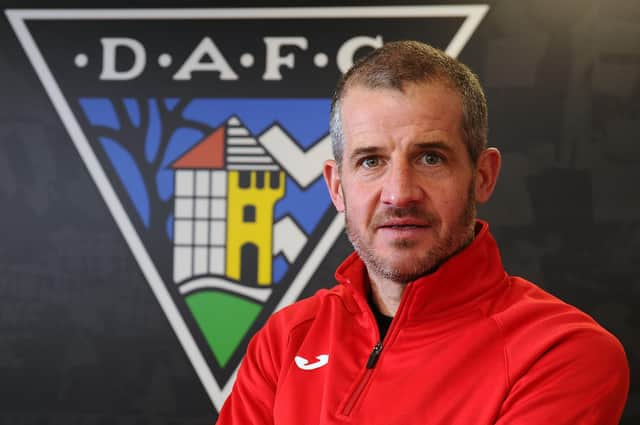 Dunfermline Athletic manager Stevie Crawford will pit his wits against his former club Raith Rovers in the Fife derby. Picture: Michael Gillen
Stevie Crawford - he doesn't like Steve - is the manager of Dunfermline Athletic now, but what a long-running, on-off romance this has been. Rejection, hurt and long spells apart have all figured. There have been good times (promotion) and bad times (relegation, near oblivion). And occasions where one party has been misunderstood and reconciliation has seemed highly unlikely.
"But I keep coming back here," says the club's former striker. Call it a homing instinct, similar to the one with which he regularly found the net for the Pars (81 goals in 249 games). Call it There's Something About East End.
Today his Championship leaders take on Raith Rovers. It's first against third at Stark's Park, scene of Crawford's debut senior goal against - who else? - Dunfermline. Our man had a teenage fling with Raith and indeed as well as a Pars legend is a Rovers immortal. What a sub-plot; I told you it was complicated.
He had his hopes dashed there as a kid and once left under a cloud but Stevie Crawford's affinity with Dunfermline endures, now as their manager
The fixture is Scotland's game of the day so what a pity it will be played out in an empty ground. There's some consolation for your correspondent at least because Crawford, 46 and Dunfermline-born, paints a vivid picture of the Fife fitbascape, from Oakley Babes Under-12s to the day in 1994 that the mighty Celtic were toppled and the League Cup came back to the Kingdom.
He also turned out for Cowdenbeath and East Fife to complete the set. "I'm fiercely proud of Fife," he says, and over our two hours together at East End he namechecks just about every one-horse town, stressing: "Don't forget Camdean, where my folks live. If my mates see this interview and I've not mentioned it they'll do me!" And credit is paid to all the influential figures who helped him achieve his life's ambition of playing for his country (25 Scotland caps).
But as well as the likes of scout Alex Paterson who roamed the public parks ("If you spotted his beige trenchcoat you wondered: 'Could he be watching me today?'") and main mentor Jimmy Nicholl, Crawford gives equal billing to his family. Indeed, not just mum Frances and dad Bobby, they all get their names in lights. What kind of man he is, and what kind of manager, is almost entirely down to them. "I'm all about family," he insists.
Stevie Crawford playing in an Edinburgh derby against Hearts' Neil McCann during his Hibs days.
From his father he got the beginnings of deeper thinking about the game. "Dad was a sparkie at Rosyth Dockyard and although he didn't play football professionally he was by all accounts very decent. He has a good football intellect and when we watched Sportscene and Scotsport together he'd tell me about tactics so he was a massive influence before I came into the game.
"Watching me play he was the same analytical guy. He didn't get too excited. If he said I'd had a good match I knew I'd done really well. Grandad Tam was the one for high praise. He was a miner at the Comrie and Solsgirth pits, a big, loveable rogue, and sadly I lost him two years ago last week. He took me to my very first game down at Aberdour, a seven-year-old in the Under 12s. For him I was the best player on the park all the time.
"I'm very fortunate to have had four grandparents play a huge part in my life. Grandma Eileen's role was to make sure the family's well-being was right and in that she was magnificent. To her I wasn't Stevie the footballer player but most importantly her grandson. Managers shouldn't forget that players are human, and sometimes only human.
Rejected by Dunfermline for being too wee
Crawford in action for Dunfermline against Livingston defender Marvin Andrews.
"On Dad's side, Grandma Mary was a nurse and her work ethic was second-to-none. And Grandad Will was a very humble man and a great listener. These are all good traits, I think, for this job and I'm trying to live up to the standards they've all set."
Crawford admits Dunfermline weren't his team growing up. "Some folk might not like that but I've got to be honest," he says. If he followed any club it was Liverpool, Kenny Dalglish being the face on the bedroom wall. Nevertheless, he was thrilled to have the prospect of signing for them at 17, especially as fifth-year at school wasn't going too well. "I liked Maths, problem-solving, but was hopeless at English. If you don't read and know how to use words, it's hard to express yourself."
The Pars, though, didn't take him on at that point, manager Iain Munro delivering the verdict that must haunt thousands of young Scottish prospects: "Sorry, son, but you're too wee." "I couldn't argue with that because I was tiny," he says, "but it was massively disappointing."
Unfortunately, there was no offer from the Pars to feed up the lad on East End's famed steak bridies and Crawford embarked on his father's profession only to quickly realise he was never going to make it as an electrician. "I wore this hooder with Soul II Soul on the back thinking I was the bees' knees but, waiting in Rosyth on my lift on the first day, I was worried about not knowing the job and being the butt of jokes. There were four guys in the squad and they used to truss me up in that hooder - stuff you'd get into bother for today - but they wanted to know 'Is he with us?' and I took all the wind-ups in that spirit. I look back on that time as character-building but I was a rubbish apprentice. Useless but, I think, loyal. As Mum says, I was lucky I could use my feet."
Stevie Crawford in action for Scotland against Iceland in a Euro 2004 qualifier in 2003.
Nicholl enters the story at this juncture. The Raith manager, on his way home from Kirkcaldy, remembers that Jason Dair and George Johnstone, who he's just signed from Castlebridge Colts, are playing at Glenrothes Strollers so stops to watch. "Luckily, I had a good game that night and Jimmy saw something in me," says Crawford.
He credits Nicholl with turning him from boy to man with qualities similar to both his parents: "Dad had the passion for football and Mum with her people skills was always seeing the good in everyone and building them up. Jimmy for me stood right between them."
Now Crawford is laughing for he's remembering the japery of Stark's Park and Nicholl's contributions to the fun: "The YTS duties included laying out the slips for the first team. Raith didn't have much money so they were mostly riddled with holes, which meant bollocks swinging free. Every afternoon we'd be fighting over the best of them for the next day and hiding them all over the stadium.
"Jimmy would tell us stories about his time at Manchester United under Tommy Docherty. This wasn't boasting but him educating us about the game. And he loved taking money off us. 'I'll race you for a fiver,' he'd say. You'd beat him dead easy, ask for your money, and he'd go: 'No, I never said I'd win. I was inviting you to run with your manager, for which there's a small fee.' Or he'd make out like he couldn't bounce a ball on his head, invite more bets, then when it was his turn be counting '71, 72, 73 … ' Or this one: 'Stand on that square tile and I bet you step across the line before I've walked round you three times.' So what does he do? Walk round you twice then say: 'Bye, see you tomorrow'! What was he doing? I think he was telling us: 'The opposition will try to outwit you. Always be smart.'"
He has another funny story from a Raith hotel stay and, with budgetary concerns often leaving gonads exposed, these weren't many. "We were out in the country, Kinross way. After dinner, me, Jason and Sinky [David Sinclair] asked Jimmy if we could borrow his car to nip to the nearest garage for sweets. No bother, he said, but the hotel manager had just told him a funny thing: the hotel was haunted. We didn't pay much attention and were only interested in our wine gums. We got back to our room and there was a knock at the door. Then the window. Jason was brave enough to peek into the curtains and - aagh! - out jumped our reserve goalie Brian Potter. Jimmy had set the whole thing up and Sinky, renowned as a hard man from Valleyfield with his tattoos, never ran so fast."
Crawford was assistant to Robbie Neilson at Hearts and MK Dons.
This was the night of the semi-final en route to Coca-Cola Cup glory and in the final it would be Celtic who would get the biggest fright. "It wasn't a case of Jimmy during the build-up thinking we could win. He was like that from day one. In the hotel he'd called myself, Jason and Mickey [Colin] Cameron to his room to tell us we were going to be playing. He said: 'Do not be afraid.' He had absolute trust in youth." Crawford would validate the manager by scoring the first goal. His shirt billowed during the celebrations suggesting he was still having difficulty filling out. Raith eventually grabbed glory - and Europe and Bayern Munich - in a penalty shootout.
Two years later Nicholl was lured to Millwall, taking Dair and Sinclair along with Crawford. A friendly place? "Well, we were put up in a hotel where this night there was a wedding. This guy shouted: 'Steve Crawford?' That irked me but I wasn't about to complain. 'You know what you have to do here?' he said. 'Don't bother about scoring 20-odd goals like Teddy Sheringham. Just put the nut on someone right away and you'll become an absolute legend.' I was straight up to my room and on the phone: 'Dad, I've made the wrong move.'"
Franck Sauzee's touch of class
It was Hibs next and the ambience was a good deal more rarefied when a famous Frenchman showed up. "I don't think we could believe we'd signed Franck Sauzee but suddenly there he was. And he'd brought wine. He turned up for his first training session with a very nice crate. The plastic glasses were found and he invited us to toast the day. 'I'm here with you and I want us to do well,' he said. That was pure class." Hibs, having been relegated, did do well. "Franck saw everything before it happened. His range of passing was phenomenal." The club came straight back up with the added dazzle of Russell Latapy. "I think Russell turned up late every single day. He wasn't being disrespectful; that was just his culture and his laidback style. I can't say enough about his abilities either."
Then, at last, it was Dunfermline. "After being let go as a youngster I always wanted the opportunity to come and play here. I wanted to show I was good enough." But one game into his Pars career manager Dick Campbell was sacked. Why, in view of Neil Lennon's travails as well, would anyone want to do this job? "The love of the game," Crawford replies without hesitation.
Jimmy Calderwood took over, occasionally deploying formations as dramatic as his double-breasted suits, although 2-4-4 would come horribly unstuck at Tynecastle when Hearts banged in seven. But Crawford enjoyed his football under the bold Caldo, turning out for his hometown club in front of his father and grandfathers, striking up a fruitful partnership with the clever Craig Brewster and as a consequence, forcing his way back in the Scotland team.
The vast bulk of his caps were as a Pars man, the 1995 debut in dark blue having come while at Raith against Ecuador in Japan's Kirin Cup. "I shouldn't have played," he admits, after injuring an ankle helping Rovers win promotion. "Our physio, Gerry Docherty, said I wouldn't make it. I said: 'This chance may never come again, I've got to play.' So he did a cunning strap-up job.
"The game was on my wee sister's Sammi's birthday and I talked to the whole family on the phone afterwards about what a thrill it had been. I scored the winner but it had to be a toe-basher; I couldn't have struck the shot with the side of my foot. And I reminded Grandpa Tam about how, when I was 12, he'd come back from a holiday in Australia determined to move all of us over there. 'You can't,' I said, bursting into tears and running up to my room. 'That would mean I'd never get to play football for Scotland!' This wouldn't have been every kid's ambition back then, wouldn't it? Maybe for young footballers recently the dream was the Champions League so it's been great to see the humbleness about representing Scotland - and the passion Ryan Christie showed in that interview - come back under Steve Clarke."
Crawford gave loyal service right through the Berti Vogts era. There was a 5-0 hiding from France and a near-calamity on a godforsaken hilltop in the Faroes. "We were two-nil down at half-time. Paul Lambert took it upon himself to speak from the heart. I don't think Berti quite understood the Scottish football culture. But we were also a naive group."
Still, all was going well at East End until suddenly it wasn't. Dunfermline suffered financial meltdown and Crawford was on the move again, this time to Plymouth Argyle. "I think there was a feeling among some folk that I just dumped the club but that wasn't the case. I didn't want to leave at that point but was told it would be good for Dunfermline if I did. It would be nice if someone had come out and explained that."
The break-up of his marriage forced the dad-of-two to return north, first to Dundee United ("I didn't perform there") and then Aberdeen. And then East End again. "It bothered me, how my leaving Dunfermline had looked. There was unfinished business."
And for Crawford, now in charge, there still is. The romance continues. The Pars have made a good start to the season, beating runaway title favourites Hearts and making the quarter-finals of the Betfred Cup, but a start is all it is. Since stepping out of the shadows as a No 2, he's still learning about what's required of the top job, remembering with a wince how after defeat by Ayr United he'd raged to the TV cameras about lack of effort. "That was pure anger; it didn't look good." As he says, players are only human.
Humbleness is a word he's used a lot today and it's trotted out again in a final yarn. This comes from the night of celebration when Raith hoisted their cup but maybe unsurprisingly it's a story of family, everyone together as usual. "That was when my sister, then 18, introduced her new man to us. Mike was about the same age as Mum so Sammi was crafty in choosing her moment for this. The family joke had been that he'd end up fancying Mum but he said: 'Sorry, hen, really nice to meet you, but I actually fancy Sammi.' She'd been through a tough time and he'd had troubled spells in his life but Mike put a smile back on Sammi's face and made my sister grow. Then three years ago, working down south, he was struck by a car on the hard shoulder of a motorway and killed.
"Our relationship was great. I thought of him as my brother rather than brother-in-law. He was a joiner who hadn't had the best education but his people skills had given him an opportunity in life. He wasn't into football at all but I liked hearing how he went about his work, dealing with the guys at the top and the men under him. Mike was the one who encouraged me into management, challenged me to give it a go, so here I am, hoping I'm doing a no' bad job and pleasing him."
A message from the Editor:
Thank you for reading this article. We're more reliant on your support than ever as the shift in consumer habits brought about by coronavirus impacts our advertisers.
If you haven't already, please consider supporting our trusted, fact-checked journalism by taking out a digital subscription.
Glory days as Stevie Crawford, right, celebrates Raith Rovers' sensational 1994 Coca-Cola Cup final over Celtic with Gordon Dalziel and Scott Thomson.
Scotsman sports writers byline pics
Want to join the conversation? Please or to comment on this article.