Saturday Interview: Danny Lennon on St Mirren success, Gretna excess, the horrors of the Hibs boot-room and what will get us through Covid - "Love"
Danny Lennon has been well and truly jiggered by the pandemic. "I'm a man of good faith but I can't go to church and I'm a nut for the gym but I'm not allowed there either," he says. And right now for Clyde, the club he manages in his idiosyncratic style, there is no football.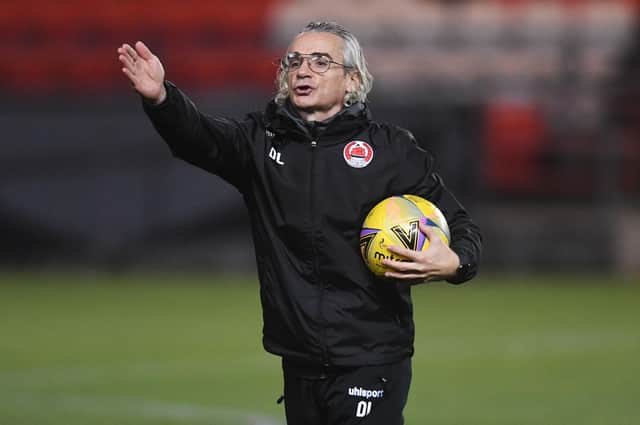 "Everything I hold dear," he adds, but then he checks himself. "Of course, apart from family. They're not off limits. We're all seeing more of our families at this time and hopefully that's been good for everyone. Hopefully, once this is all over, the appreciation of the people who mean the most to us will be all the greater."
This is typical Lennon. I've called him about the League Cup - a competition in which he had no luck, missing out on two finals, right up until the moment he masterminded a fabulous triumph - but the conversation soon drifts. It takes a reflective turn, a deeper one and gets quite philosophical.
Also, mathematical. Two dads of boys in second year at high school are admitting they wish they'd paid more attention when they were taught about fractions and basic geometry. "Like many parents having to home-school their kids I'd probably award myself a C-minus, no higher than that," he laughs. "Maths is the killer, isn't it? Totally scunners me. Thankfully I have a nephew who's a genius so when I'm stuck, which is most days, I phone him."
The 51-year-old Lennon's a hoot when recalling Gretna's pony-tailed moneybags Brooks Mileson and the low-level torture chamber that was the Hibernian boot-room and I'm just sorry that, because of Covid, we can't meet up. However, I can visualise the house he shares with wife Yvonne and sons Keilan and Kruz because he broadcast his New Year message to the Bully Wee faithful from there.
There's something of the kindly priest in his delivery as he urges his flock to remember older supporters for whom 2020 was "the final whistle" and to thank them for their devotion to the Clyde cause. But, as fake flames flicker, and even though White Van Man chooses this moment to drive past the window the wrong way down the street, it could also be a homespun homily from Andy Williams or Val Doonican with Lennon in his hoody rather than a cardie - an impression enhanced by the presence of a piano.
He explains: "We inherited that from my wife's father and during lockdown everyone's been having a wee dabble and a bit of a competition. It's turning into an obsession for me and I love watching the street piano craze on YouTube: ordinary folk playing in railway stations and shopping centres. I can pick out a melody on one finger and am now starting to introduce the left hand and try a few chords. My favourite tune is one my own mother used to play me. You can probably guess what it was - Danny Boy."
With Lennon involved we can imagine how competitive these sessions might be. As a player, most prominently at Raith Rovers, he was a tenacious midfielder. As manager of St Mirren he outsmarted his namesake Neil at Celtic in the 2013 League Cup semi-final, repeating the 3-2 scoreline in the final to do down favourites Hearts. So, with two of his former clubs, the Buddies and the Hibees, involved in this weekend's semis along with St Johnstone and Livingston, who does he fancy?
"The four of them will be thinking: 'Why not us?' And the four of them won't be worried about the absence of fans for what an opportunity they have to win a cup. Good luck to them all but I'll be rooting for St Mirren. Jim Goodwin, who was fantastic for me, lifted the trophy for the first time in the club's history as captain. Now he has the chance to do it again as manager."
He says this despite a bitter end to his stint in Paisley. The triumph will stay with him for ever and, even more than it, he's proudest of developing the likes of John McGinn and Kenny McLean: "Every Monday night watching the reserves John would do his stuff and I'd say to myself: 'How did he come through those tackles, even see that pass?'" But this wasn't enough for the board. "Things went on behind the scenes. The cup raised the bar and there was expectation - too much because I already had the club punching above its weight despite a diminishing budget every season." But, getting philosophical again, he adds: "St Mirren are a great club and I loved my time there."
Mention of Goodwin is interesting. Eight years ago, as an uncompromising enforcer, Jim was shaven-headed while Danny sported a fashionable slick-backed style. Entering management Goodwin decided to copy his mentor - "That was a surprise; I thought Jim didn't have any hair left" - and at the same time Lennon let his grow, allowing the silver steaks to flow past his shoulders. "Danny looks like the first Doctor Who," remarked a colleague, meaning William Hartnell. Lennon tells me Yvonne made him do it, adding: "I know. Everyone thinks I'm having a mid-life crisis!"
This mid-season crisis - with League One suspended to mid-February when Clyde will hope to resume away to Peterhead - is depriving Scottish football of one of its characters, a wee gadgie capable of big thoughts, such as: why don't we bring back national service?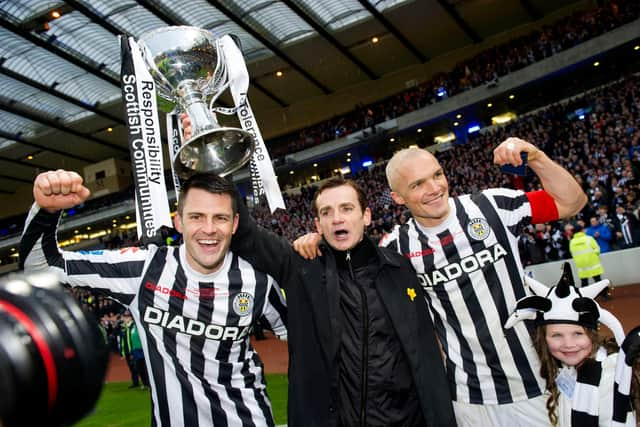 He's rarely dull and the same colleague recalled asking him if the move from managing Cowdenbeath to St Mirren held any trepidation, only to be told: "If Danny Lennon didn't think Danny Lennon was up to the task then Danny Lennon wouldn't be in this job." At Alloa Athletic he caused local bemusement by recruiting a psychologist, a branch of medical science which football even at the top level still brackets next to fortune-telling and the work of witch-doctors. "Sadly that's true," he says. "And if I ever get back to full-time football I'll hire one again."
But it's been at Clyde where Danny Lennon has performed the most Danny Lennon act any of us might have imagined, something which if he wasn't such a modest fellow would prompt Danny Lennon himself to conclude: "How very Danny Lennon."
In 2019 at Broadwood with the Bully Wee struggling for able bodies in the Glasgow Cup he brought himself on against Celtic. Aged 50 at the time, he surpassed Davie Irons who was 49 when he turned out for Threave Rovers in the Scottish Cup.
Lennon with his Time Lord look had succeeded in turning back the clock. In the photographs he might have resembled your dad shuffling around the five-a-side court (next stop: walking football). The Twitter site Faces in Things, which reveals phizogs hidden in domestic appliances and knots in wood, might have been intrigued by the contours of his bashed-up knees, But the shots went viral.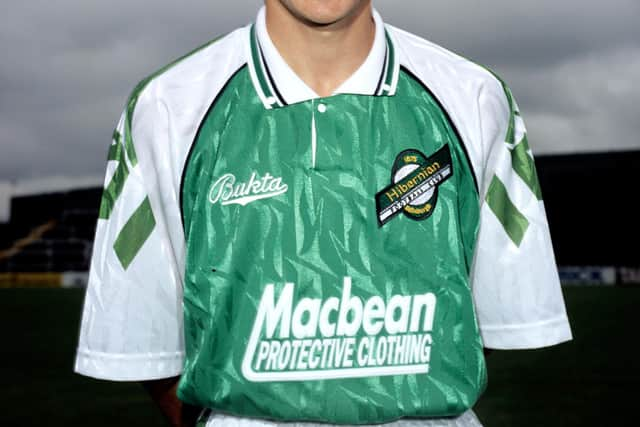 "That was amazing. I really enjoyed the game. The boys talked me through it. Well, kind of. Chris McStay - I played against his dad Paul - hit a pass which I couldn't collect. 'Twenty-five years ago maybe,' I said. 'What do you mean?' he said, 'that was right to your feet.' 'How big do you think my feet are?' I said. 'Coco the Clown-sized?'" And, you never know, fact fans, Lennon could yet break his own record. "Because of Covid I thought I'd better register myself again. I love Clyde as I've loved all my clubs and don't mind putting my body on the line for them, creaking though it may be."
It's safe to say that Lennon never envisaged a career lasting this long when he was growing up in Whitburn. He's a product of a West Lothian football factory, St Kentigern's Academy in nearby Blackburn, the alma mater of Paul Dickov and two Hibs men, Brian Rice and Kevin McKee and, aged 15, Lennon decided that Easter Road would be a good fit for him too. "Dundee and some other clubs were interested in me but they would have meant me leaving home. Family's always been the most important thing in my life."
He reflects on his upbringing as one of six kids born to Eddie, an engineer, and Martha, who worked in the Levi's factory in Whitburn: "My folks weren't well off and I'd imagine Christmas for half a dozen of us would have taken the whole year to pay off, but I had a smashing time growing up.
"After four daughters I was the first son and I probably had an easy time of it. Dad was fantastic. Watching me play football for [famous Edinburgh juvenile club] Hutchie Vale he'd never say anything if I had a good game but a poor one would come with a few well-chosen words, never harsh, but enough to hit home.
"He let me make my own mistakes. One time, 13 or 14, I was grounded, although that's a modern term. In my day it was: 'You're no' allowed out.' From the bedroom I could see my pal in the street. I climbed out of the bathroom window and shinned down the drainpipe. We stayed out until dark. Dad knew exactly where I'd be: the chip shop. He popped his head in the door: 'I'll see you at home, son.' That was him: calm, measured and aye right. I didn't do that again."
As a dad to boys himself he tries to be like his father but admits that presented with the same scenario he'd probably explode. The world is less safe for bathroom-window escapees, it's true, but Lennon worries about the "soft generation" of kids and particularly those with little discipline and hardly any respect for authority.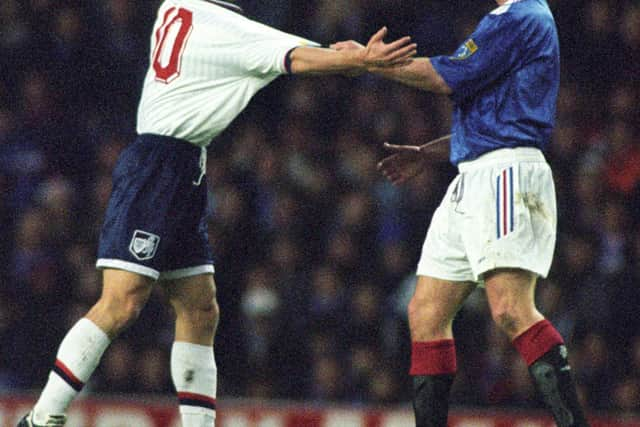 "We had it, whether for a policeman or a priest. Have we brought up our children the right way? It's a question I ask all the time. I blame myself to an extent, because this generation of parents has wrapped kids in cotton wool and done everything for them. And if you're a kid who plays football and you have a bad game, you don't rush back outside with a ball like we did and get it out of your system - you lose yourself in technology."
Hence Lennon's national service idea. Or here's another one: an uninhabited island turned into a training camp for 20-odd footballing prospects, five years the duration. With no outside distractions and especially from social media, imagine what kind of Scotland squad could be delivered back.
Lennon couldn't be soft at Hibs. "The boot-room was little more than a cupboard with no windows. Me and the other apprentices would be chucked in there with the likes of John Collins, Mickey Weir and Paul Kane. The lights would be turned off and for 30 seconds there would be a free-for-all, boots flying everywhere, heads bashing off the nails on the walls. Clubs couldn't get away with that sort of thing now but it was character-forming, even though - excuse the language - you were shite-ing yourself. The trick was to separate one of the pros from the pack so he'd be heavily outnumbered. Then from behind the door there would be a shout like: 'Kano - help!'"
So, Danny, despite its old-school nature, ever utilised that kind of initiation ceremony as a coach? "Yes, at my first post at Gretna, in charge of the youths. We were more transparent with a proper ring, boxing gloves, headguards - and muggins prepared to take a few blows. There was this gangly lad, Martin McBride, with a great reach who'd obviously boxed before. I'm sure the rest of the boys loved seeing me being caught with a couple of cracking punches." Still, he'll be forever grateful to Mileson for giving him his start in coaching. "What a man Brooks was. Turned up one day in an Aston Martin straight out of the wrapper. But he'd already scored the upholstery with one of his fags - 'That's to prove it's mine.'"
While at Hibs Lennon was glad his father lived just long enough to see his first team debut against Morton in 1988, a game in which Andy Goram scored straight from a kick-out. Three years later the Hibees would win the League Cup, a triumph coming shortly after Wallace Mercer's audacious takeover bid with the drama playing out while Lennon and six mates from Easter Road were holidaying on Corfu.
"The whole team took that badly, especially the guys who were fans, but the rest of us had fallen in love with the club. They were our family."
Though he would attempt to hold down a regular place immediately following the Hampden success, he played no part in the run to glory. "That was tough, and eventually the penny dropped that I was probably only ever going to be a squad player at Hibs. But I really liked Alex Miller as a manager and will always be grateful for the opportunity the club gave me. I've been blessed to be able to make a career, not a fortune, out of doing something I love."
At Raith Jimmy Nicholl was just as influential for this future manager. Lennon was captain, scored in the quarter-final en route to Rovers' 1994 League Cup fairytale, netted a penalty in the semi shootout - but missed the showdown with Celtic. "Metatarsal. Maybe David Beckham popularised the injury but I had it first. That was another blow because much as I was always a team player, we're only human: I was envious of the rest of the guys, only tried not to show it." His consolation prize came in the Uefa Cup, scoring the goal which briefly alarmed Bayern Munich. And of course, long after Jurgen Klinsmann had turned into a surfer dude hanging out with dolphins, Lennon was still pulling on the boots. "That was a surreal night. As far as half-time scores go was it one of Scotland's greatest? I remember looking up to the heavens. That was a wee moment when I thought about my dad. If he'd still been around would he still not have commented on the game afterwards? Probably!"
Now he must be going. It's just permissible under Covid for him to coach Clyde's Under-12s. Then he'll tinkle the ivories for a bit before the regular Zoom call hooking him up with the rest of the Lennon clan. "We're forever saying to each other: 'Why didn't we do this before lockdown?' We're a close-knit bunch but a lot of families have tensions sometimes breaking out into big arguments. I hope these will seem irrelevant now in the grand scheme. It's love that's going to get us through this."
A message from the Editor:
Thank you for reading this article. We're more reliant on your support than ever as the shift in consumer habits brought about by coronavirus impacts our advertisers. If you haven't already, please consider supporting our trusted, fact-checked journalism by taking out a digital subscription.
Comments
 0 comments
Want to join the conversation? Please or to comment on this article.