Saturday Interview: Charlie Christie recalls Super Caley's Celtic humiliation, why it helped them and those crates of beer
Michelangelo's David or - just as enduring in his own way, albeit wearing shorts - Billy McKay? The Ponte Vecchio or - those redoubtable twin pillars of the defensive backline - Robbie Deas and Danny Devine? These are the choices facing an Inverness Caley Thistle legend today.
It is possible that Charlie Christie will be able to sightsee in Florence, nip back for the Scottish Cup final then resume the Renaissance tourist trail. But on the day we speak - which is the day before he flies out to Italy for the holiday with wife Sharon which was booked months ago - he's still frantically trying to find flights.
"I really want to be at Hampden," says the man who's done just about everything at ICT. "But if I can't then there's an Irish bar 500 metres from our hotel which - I've checked - will be showing the game." Should Christie, 57, have to avail himself of the pub's TV then he might well be the only Highlander present. But Celtic fans should be mindful of acknowledging the presence of a genuine giant-killer.
There are cup shocks and there's what Caley Thistle did to the Hoops in 2000. Berwick was humiliating for Rangers, so too Darvel for Aberdeen - but this was in Celtic's own backyard with Christie the man-of-the-match. Then in 2003 in the same competition, the Martin O'Neill revolution at full fury, he was part of the team who downed Celts again. And eight years ago Christie looked on with beaming pride as the "young fella" - son Ryan - helped ICT end a Treble dream and go on to hoist the old trophy themselves.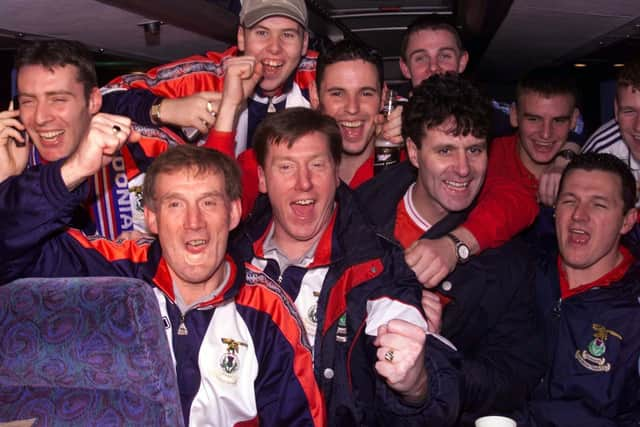 Pride, naturally, although Celtic have always been Christie's team. He was on their books as a teenage striker for two years, hung out with Frank McAvennie at the Clyde's floating disco, the Tuxedo Princess, but didn't buy the star striker quite enough Schlitz to cause a loss of form and thus usurp him.
Ryan did rather better at Celtic, now plays for Bournemouth and will shortly become a father. Indeed it was the Scotland stat and fiancee Georgie Bell's baby news back in February - delivered when Christie and Sharon were on the 1,200-mile round-trip from Inverness to watch one of their son's games - which persuaded them to bring forward the holiday plans, eventually resulting in the unfortunate clash.
"I think Ryan believes due dates are like kick-off times," laughs Christie. "He'll go away with Scotland [for the upcoming Euro qualifiers against Norway and Georgia], hopefully come back with four points or better, and the baby will pop out at a nice and convenient quarter-to-five on a Friday afternoon! As he'll soon discover, it's not quite like that. He'll be at Hampden working for TV but I'll be gutted if I miss the final - although obviously looking forward to meeting my first grandchild … "
We'll come to the cup history between ICT and Celtic but first some Highland football history. I've always been intrigued by the merger between the Inverness clubs, Caledonian and Thistle, which will be 30 years old in 2024 and Christie, who played for both, is a good man to speak about it.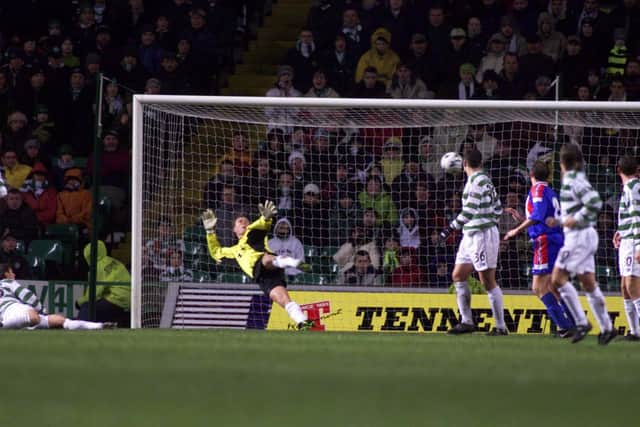 He first turned out for Caledonian, then Thistle, who'd been his father Johnny and brother Ian's team, and after Celtic it was back to Caley. I mention the ill-fated Edinburgh merger which Hibernian viewed as an attempt by Hearts to swallow them up, with fear right across the capital that individual identities would be lost, and via Zoom he says: "It was pretty similar here. Though the fanbases were smaller - 1,000 in each case compared with 20,000 for Hibs and Hearts - the feelings on both sides were no less strong.
"Our clubs did have their own personalities. Thistle liked to get the ball down and play; Caley were always bigger and more powerful." [So who were the Hibs in this? I think we all know]. I was in favour of the merger because unlike the Edinburgh clubs there was no official league status here and that was the best way to go about achieving that.
"But it happened in a clumsy way. The way voting was done wasn't good. Thistle fans were angry at what they called a takeover and it was ridiculous that we started in a blue and white shirt [Thistle colours were red and black]. The political fall-out did for [the new outfit's first manager] Sergei Baltacha and I felt really sorry for him because he's a gem of a man. Some fans vowed they wouldn't darken the doors of a merged team and nearly 30 years on I know more than a couple of dozen from both camps who've been true to their word. But joining forces has brought recognition, the platform for talented boys to go somewhere in the game and a wee bit of glory."
Six years into the new era, ICT properly announced themselves at Celtic Park. The third-round tie had to be re-scheduled when the roof threatened to come off one of the stands. Then it fell in on John Barnes' managerial reign as opponents who would go on to finish bottom-half of the second tier inspired the headline: "Super Caley Go Ballistic, Celtic Are Atrocious."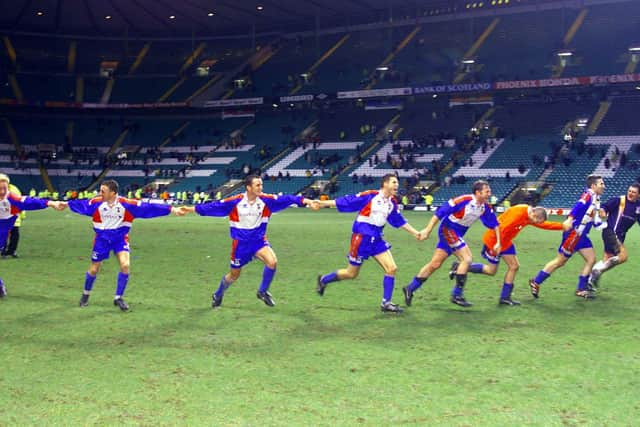 The tabloid hyperbole may have been borrowed - back in the 1960s the feats of Liverpool's Ian Callaghan were celebrated with "Super Cally Goes Ballistic, QPR Atrocious" - but, no question, the 3-1 victory was stunning.
"It was important," remembers Christie, now ICT's academy head. "I haven't really said much about this but we'd suddenly found ourselves at a pivotal moment in the club's history. Financially it had been tough. The road around the new stadium had required a contribution from us. We'd gone full-time but there were worries that that wasn't sustainable. The debt was restructured and the result just gave everyone belief.
"We felt good going into the game. That changing-room was confident and full of guys like Barry Wilson and Dennis Wyness who would go on to play for the club in the top league. Celtic were missing three massive players - Henrik Larsson, Paul Lambert and Alan Stubbs. There were still a lot of good footballers on the park for them but maybe not too many warriors. Our manager Steve Paterson was always positive and started us with five attacking players. We'd watched Celtic's previous match - two-nil up against Hearts only to lose. If we played well and could get the breaks, we knew there was a chance.
"We led at half-time which, in 90 percent of games involving a small club away to one of the Old Firm, would turn into a backs-to-the-wall affair. But Steve said: 'I think there's more goals in this for us.' Then, as I was splashing my face with water to go back out for the second half, he told me we'd better win as he had a 14 to 1 bet riding on it." The odds on a repeat will be longer. "You never know," says Christie, though he admits the game of Caley Thistle's lives would be required against Ange Postecoglou's outstanding side, who will need to have an off-day.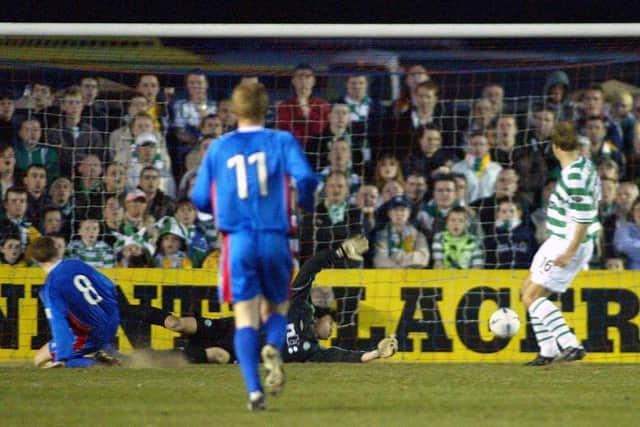 Inverness prevailed in 2000 thanks to Wilson, Paul Sheerin and Lubo Moravcik putting through his own net. But Christie hadn't returned to Glasgow's East End intent on proving his old club wrong. "I was 34 - too old for that sort of thing and in any case I loved my time at Celtic. I was working for the civil service when I signed aged 19. Nearly ten o'clock in the morning the Thistle chairman phoned to say: 'That's you away.' I got quite emotional. And the first season in the second team was good - I was sharing digs with Anton Rogan, managed to score a lot of goals and we won the Reserve League Cup. But Macca [McAvennie] and Andy [Walker] were a great strike partnership and I couldn't force my way into the first team. The second season wasn't as good and I blame myself for getting frustrated."
In the crowd in 2000 was young Ryan, then just four. Upset at the first game being called off late, he had to be pacified with a visit to McDonalds. Would he be allowed to travel back down the A9 again? "At first we said no. It was a school night. But he threw quite a strop and we relented.
"I think Ryan's most vivid memories are of the celebrations. Bobby Mann and Jim Calder, both strong Rangers fans, led the charge. Some Celtic fans clapped us out of the stadium which was big of them, as they'd been protesting about the result. One old boy shouted my name and called me over. I wasn't sure what was going to happen but he said he remembered me playing for the reserves and gave me his scarf, which I've still got.
"On our bus someone at Celtic had left three crates of beer. I think they were drunk by the time we reached the end of London Road. We stopped off at Pitlochry for more refreshments. The directors went to one pub, we piled into another and the apprentices were given the order for fish and chips. It was an unforgettable night and as a Celtic supporter I suppose I might be able to say I helped turn around the club's fortunes, as John Barnes very quickly left and the Martin O'Neill era began."
The 2003 success - 1-0, Wyness scoring - came on the blustery banks of the Moray Firth in the quarter-finals. "Celtic had just beaten Liverpool at Anfield and were on their way to [the Uefa Cup final in] Seville but, speaking to Neil Lennon a few years later, I think they underestimated us that day - which after 2000 was strange."
That would be Christie's last season as a player. He would go on to coach and manage Caley Thistle before being able to enjoy Ryan's development. "He was brought up kicking a ball about with his dad, as I was with mine. And to see him go from signing for Inverness as a 16-year-old to helping keep Bournemouth in the Premier League has been fantastic.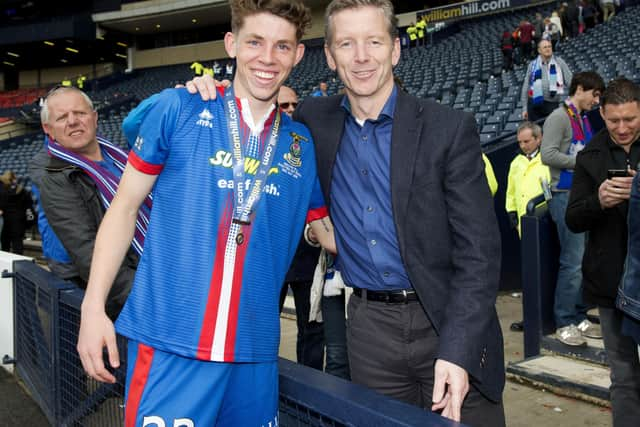 "I must admit I had my doubts about him going there. I loved watching Ryan at Celtic, playing alongside Odsonne Edouard and Kieran Tierney, scoring winners in cup finals. He had a purple patch. But the Covid season was frustrating and Rangers, not before time, got their house in order. Was Ryan playing as well as before? No, probably not, but who in the Celtic team was? He took a lot of unwarranted stick from the supporters.
"Now, he almost doesn't want to admit he's happy at Bournemouth because it will seem like he's trying to justify the move. But he's bought a house and is settled there. He's in a good place and is looking forward to getting back with Scotland."
Christie's place in Tartan Army folklore is secure after his emotional response to our qualifying for the last Euros in Serbia. "It was emotional in our house, too," says Christie. "Do you know there was a comment from a Celtic fan about 'crocodile tears'? I'd like to find that individual - absolute rubbish. Ryan is normally good at holding it together and actually phoned me the following day to say he was embarrassed. He had no need to be because he encapsulated how we all felt. I thought that game was going to be another glorious Scotland failure. The team had played well and Ryan had scored a good goal. Then, after the penalty shootout had been won, after me and Sharon had picked up all the glasses that had been knocked over then refilled them, Dreamboat Willie was interviewed. All the women who'd come round for the game were blubbing and I had a lump in my throat.
"I know the young fella has said that when he started at Inverness, following in my footsteps was quite hard because everyone always brought up the 'Super Caley' game. Well, he's since won Trebles with Celtic, taken on the best in the world in England - and shot straight past me. Now, instead of him being referred to as 'Charlie's boy', whenever I walk into a pub to meet my mates they all quite rightly go: 'Here comes Ryan's dad.'
Comments
Want to join the conversation? Please or to comment on this article.