Saturday Interview: Aberdeen great Scott Booth on Stephen Glass's 'class' and Scott Brown's 'balls'
A few years ago, when head-knock awareness was not quite the issue it is today, Stephen Glass saw stars. "I remember it well," says his old Aberdeen team-mate Scott Booth. "Stephen was a very cultured player with a wonderful left foot but that day he went in where it hurts.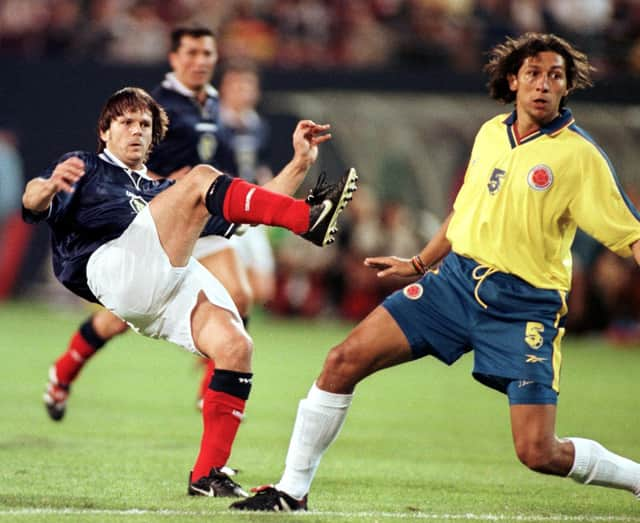 Winning one of his 22 caps against Colombia in 1998
"He was a young lad at the time, living on his own in a flat, but after the game because he'd been concussed we couldn't just send him back there. I volunteered to take him home with me and I had to wake him up every two hours to check he was okay. Now look at him!"
Booth and I are chatting on Zoom. He played, and scored, in Scotland's first-ever international against the Faroe Islands and we resume battle with the mighty fisherfolk next week. But before we get to the national team and his 22 caps, two items of urgent topicality demand his attention, the first of which is Glass's appointment as the new Aberdeen manager.
"I liked Stephen as a player and a person," says Booth. "He's smart, calm and assured and I think he'll be a very good coach, I really do. But it's going to be a challenge for him, not just in taking on the Old Firm, which is always difficult, but in trying to match the fans' expectations.
About to play for Scotland Under-21s against Poland in 1991 May 1991.
"He has an affinity with Aberdeen, the city and the football team, so he will know that the supporters demand high. That must have been in his thinking as he weighed up the job. The majority of the fans have known great success and crave it again."
Booth, 49, who achieved his boyhood dream to wear the red shirt, remains one of them. Currently coach of all-conquering Glasgow City in the Scottish Women's Premier League, he adds: "I think some success can come to Aberdeen again and it's going to be amazing when it does. I'm not saying Stephen's going to replicate the Fergie era but we've seen in England and Europe what a club [just below the established order] can achieve with the right man in charge assembling the right players at the right time and the support giving the project great backing."
What, then, about Scott Brown giving Glass his backing as the manager's No 2? "Fascinating, and that's probably going to be the biggest test of the fans and whether they buy into what the club are doing. I'd like to think that Scott coming will have them going: 'Good on you for that, you've obviously got balls and you must mean it.' The supporters are desperate for success. If he was to help achieve it I don't think they'd mind that he was once the captain of Celtic and used to love winding them up. But I suppose if things don't go so well then he'd be the first target. Without a doubt it will always be very difficult coming to a club like Aberdeen from the Old Firm."
The other hot news of the week concerning Booth is Aberdeen's 1995 Scottish Cup humiliation at the hands of Stenhousemuir being bumped down the list of giant-killing shocks by Hearts losing to Brora Rangers. "Wisnae me!" he laughs. "I missed that game but watched it all unfold from the stand. I was probably injured - that happened a lot - but every footballer from one of the bigger clubs will have a story about blowing it against a wee team. I may have dodged that one but later when I managed Stenny my first few days in the job were mostly spent being reminded about the game."
Booth coaching Glasgow City in a Champions League tie against VfL Wolsburg
Booth's playing career took him from the Dons, round the continent with Borussia Dortmund in Germany and the Dutch clubs Twente, Utrecht and Vitesse Arnhem, before returning to Pittodrie. He was a speedy striker but slight and therefore vulnerable to bumps and tweaks. "Hamstring, calf, thigh, groin," he says, listing the problem areas, if not every part of his legs. But, looking back on the highs and lows and there were a couple of crashing disappointments including one which cannot be erased from his mind, he has no regrets.
"Injuries were a massive negative for me but because I had so many I was able to appreciate what I had as a footballer. As a coach now I always tell young players that when I made my first appearance as a teenager in Aberdeen's reserve team, coming on for the last 20 minutes on a beautiful sunny day with the Pittodrie pitch looking fantastic, I was perfectly happy if that was all I was ever going to get out of the game.
"At the time I was still with Deeside Boys' Club. The reserves were short of players so just dropped me into the team. But right through my early years there were loads of better players than me who came and went. I never ever thought I was going to make it professionally but just got lucky somehow.
"That was a little taste and then came more. My first team debut, again as a sub, against St Mirren, running to the byline and crossing for Charlie Nicholas' last-ever goal for Aberdeen. Then my first-ever goal, against Hibs, Andy Goram saving and me following up."
Playing alongside Borussia Dortmund's "mega-names" in the Champions League
Not long after that, Booth was involved in a league decider, a match which has haunted the Dons faithful, none more so than our man, and this year marks its 30th anniversary. On the final day of season 1990-91 Aberdeen, bossed by the dual pairing of Alex Smith and Jocky Scott, led Rangers at the top of the league and travelled down to Glasgow only needing a point to become champions. Booth's first shock of a severely traumatic afternoon was discovering he was on the bench.
"There were games long after which I can remember nothing about but I've never forgotten anything about that day at Ibrox. I remember where I sat on the team bus - left-hand side, five rows back. I remember the music that was playing - Pump Up the Jam. And I remember staring out of the window the whole journey because we'd been told the team and I wasn't playing. So many details … "
Dad-of-two Booth, now married for a second time, to Pauline, and based in Cumbernauld, will admit later in the conversation that footballers can be "selfish", wrapped up in their own little dramas, but he couldn't understand why a settled line-up, which had reeled in Rangers and overtaken them, was altered.
"We'd gone 12 or 13 games unbeaten, scoring goals for fun, and I was in the best form of the early part of my career. We had momentum, we had a system that was working well, but we changed it. That brought negativity to our performance and handed the initiative to Rangers.
Even a cameo for the reserves would have been sufficient for the boyhood Dons fan
"To this day - and it still bothers me - I still don't know why the tactics were ripped up. What was the thought process? If we were going to play for the draw then why didn't we flood the midfield and leave only one up front? It's generally assumed that Alex was the one behind the decision. I didn't have the courage to question it at the time but I'd like to now. That day turned out to be really quite divisive for the club and you can don't see many joint managers around now.
"I got on at half-time but I have to admit that one of the first things I did was give the ball away and this led to one of [Mark] Hateley's goals. There were a lot of tears afterwards in the dressing-room although just to add to the misery, because of stadium reconstruction, we were in a portacabin. We knew we'd blown it.
"One more thing about that match and Aberdeen fans will probably hate me for saying it: the noise the Rangers support created was incredible. The sheer volume made it so difficult to focus and concentrate on our game. I played in front of 70,000 for Dortmund but never in an atmosphere quite like that."
That Stenhousemuir gig, which lasted less than a year, followed a spell working with Scotland's under-age teams alongside Mark Wotte who Booth had played for in Holland. He took over at Glasgow City in 2015 and has now been with the 13-in-a-row Scottish champs for almost as long as his first spell at Pittodrie, rating it no less fulfilling.
"I think I've always had an open mind and been prepared to try new things," he says. "From being an Aberdeen boy and living the dream of playing for the hometown team I then went abroad and experienced different cultures. Then after I stopped playing I went into TV with Setanta. I've not not been afraid of taking a bit of a leap in the dark."
Not that he regarded women's football as obscure. The quality, and the progress being made, were evident when he commentated on Glasgow City vs Paris Saint-Germain in the Champions League just three months before his appointment. "I didn't have any preconceived notions about the women's game," he says, "and the commitment, ability and competitiveness which were obvious to me have only improved. The girls have had a lot of incredible experiences since, and been on some incredible journeys, and I've loved sharing in them." Booth doesn't rule out a return to the men's game, or staying with the women, or doing something else entirely. He is, after all, open-minded. Meanwhile Glasgow City's pandemic-hit season resumes next Sunday against Celtic and the match is on BBC Alba.
Booth's own football journey is pretty incredible too when you think that the boy perfectly happy to dine out on that second-string cameo would eventually turn up at Dortmund, just as they were about to win the Champions League. "That was mad," he says. "My contract at Aberdeen was running down. I would have gladly signed another but none was forthcoming. Rangers offered £250,000 for me. Would I have gone there? Not my first choice! Roy Aitken was my manager and we didn't have a great relationship. I told him I thought Aberdeen should take the money because - this was Bosman-time - I could move the continent for nothing. His response was: 'You'll never play abroad.'
"Suddenly, when Aberdeen demanded £750,000 from Rangers, I was bound for Rapid Vienna - only as we were driving there my agent asked if I'd go on trial at Dortmund. 'It's on the way,' he said. Their manager Ottmar Hitzfeld wanted to see me play in a game, Roy refused, but I was signed anyway. Me among all those mega-names: [Andreas] Moller, [Karl-Heinz] Reidl, [Matthias] Sammer, [Jurgen] Kohler, [Paulo] Sousa and of course Paul Lambert.
"The size of the club! Dortmund's 'Yellow Wall' alone holds 25,000 - the crowds I'd left behind at Pittodrie were 16,000 at best. I wondered: 'Would I get a game? Do I believe in myself enough?' And then the manager who signs you moves upstairs. I made only fleeting appearances but, as I always say, I wouldn't change anything."
Technically he's a world champ after collecting a winners' medal from the Intercontinental Cup, Dortmund beating Cruzeiro in Tokyo. "I was an unused sub. It's football - it's absolutely football. At Aberdeen we won the League Cup [1995] but I missed the final having injured myself at training two days before. So in Tokyo I decided: 'Okay, I didn't play but I'm still going to enjoy a cigar.'
"Moller was man of the match - a big-drama guy, it had to be him - and the prize was a crazy sports car lit up on a pedestal behind one of the goals, or the monetary equivalent. He took the cash because I think he already had six cars. My red Merc made my new team-mates laugh when I drove it over to Dortmund. At Aberdeen it had caused some disgruntlement among the older players like Stewart McKimmie. But it was already old and, when I parked it next to all these Porsches at my new club, positively ancient. What sold it to me was the seatbelt which automatically positioned itself around the driver - great gadget. The Dortmund boys called the car my 'big red fire engine'."
Soon he was turning it round and heading to Holland. Back and forth on loan and then permanently to Twente, winning the Dutch Cup. Another culture, another language to master, another excellent adventure. "I loved playing abroad. There's more fan interaction on the continent, like when the players join hands and run in a line to thank the supporters. In Scotland we're too self-conscious to do that and it would be deemed showing off. And in Holland I think I played my best football. I developed a more cultured game. Mind you, I had to: a lot of my speed had gone by then."
Finally, the chat drifts back to Aberdeen, and to Scotland. That goal against the Faroes in the first-ever game between the two nations at Hampden in 1994 was, he says, just his range: two yards out after a spill by their keeper. Scotland won that Euros qualifier 5-1 and Booth would net in three further games en route to the '96 finals in England.
He talks warmly of his international manager Craig Brown: "He was underrated by many including, I think, himself. What I liked about him was he wasn't full of himself. He didn't have a great playing career to remind us about, so he had to adopt a different approach, which was refreshing. He'd been a schoolteacher so he had the ability to engage. A little bit of being humble is a good thing."
As the song goes, you don't know what you've got till it's gone. The Tartan Army would concede that the post-Brown years also became the post-qualification years. And even though Booth's Dons era didn't have the glory of Gothenburg there were two more runners-up finishes to go with that near miss in '91. The Beach End would gladly take that kind of achievement now and, well, over to you, Stephen Glass "I'm about to send him a message wishing him the best of luck," says Booth.
Scotland? Booth played in our last appearance in a major finals, the '98 World Cup. "Seven minutes against Morocco! I came on just in time to see their third goal going in. Still, I was part of a World Cup; no one can take that away from you. For a few years, that probably made all of us feel quite special. But then when Scotland kept not qualifying for tournaments it became a drag. Now that we have I'm history - and I'm delighted."
A message from the Editor:
Get a year of unlimited access to all of The Scotsman's sport coverage without the need for a full subscription. Expert analysis of the biggest games, exclusive interviews, live blogs, transfer news and 70 per cent fewer ads on Scotsman.com - all for less than £1 a week. Subscribe to us today.
Want to join the conversation? Please or to comment on this article.