Ross County boss Stuart Kettlewell has say on potential Covid forfeits
Ross County boss Stuart Kettlewell has rejected calls for clubs to forfeit Premiership points if they are hit by a Covid outbreak, insisting no-one is playing games with the pandemic.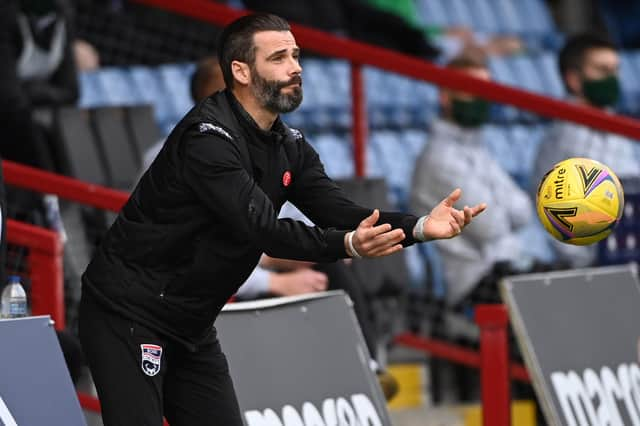 Motherwell had their second league fixture in a row called off on Saturday when St Mirren announced they could not raise a team following a third positive coronavirus test.
Well face going nearly a month without a league game and Fir Park coach Maurice Ross has claimed the current rules - where games are merely postponed and an SPFL investigation launched – are open to abuse by teams who may want to delay a fixture because of injuries.
The former Rangers defender said: "I think there needs to be a law change. If you can't fulfil a fixture, tough, three points."
But dad-to-be Kettlewell - whose wife is due to give birth in the coming days - hit back at Ross, insisting all Scottish clubs are doing their best to stave off the virus' threat.
The Staggies boss said: "That would be exceptionally harsh. I don't think there's any club in Scotland who's actively trying to catch a deadly virus.
"We did have a few setbacks in the early weeks but Scottish football in general has learned a lot of lessons from that.
"We speak about us all having wives who work and kids at school, so there's any number of ways that the virus can be passed about.
"We talk to our players about avoiding situations like coffee shops or the high street where you can't control your social distancing or who you're surrounded by.
"I have my own situation where I'm on red alert for my wife. She's due to give birth so we're trying to manage our other kids so they're not in contact with anyone who has the virus for obvious reasons.
"So we are all thinking about it and hopefully it doesn't happen but if anybody at Ross County comes down with it, it's certainly not going to be through us not following the rules.
"There really does need to be some common sense. The deduction of points could have a massive impact on people's seasons and livelihoods come the end of the season."