Referee John Beaton opens up on abuse suffered after Alfredo Morelos incidents in Rangers win over Celtic in 2018
Whistler received threats after personal details leaked online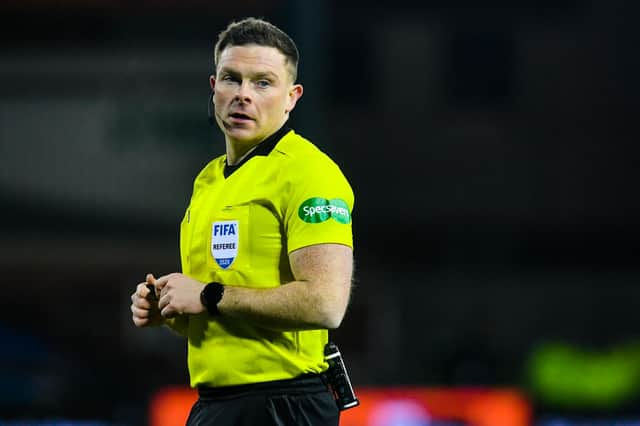 SCOTTISH top-flight referee John Beaton has opened up on the difficult times he endured following the Old Firm derby in December 2018.
The whistler was forced to call in police after receiving threatening and abusive messages when his personal details were leaked online in the aftermath of Rangers' 1-0 win over Celtic at Ibrox.
Beaton had been heavily scrutinised after Rangers striker Alfredo Morelos went unpunished for three seperate off-the-ball incidents involving Scott Brown, Anthony Ralston and Ryan Christie in what was Brendan Rodgers' first Old Firm defeat.
"It was a tough time for me and had a massive impact," Beaton recalled. "It was probably a turning point in terms of seeing the scrutiny that we are put under in games like that. The pressure on those games is incredible and it's such a unique rivalry.
"It's about survival for the referees, players and managers. You have to manage your way through those games as best as possible.
"The feeling immediately after the match was that it had gone well for us a refereeing team. But clearly the media fallout was such that the perception of my performance had very quickly changed."
The following week, Beaton was driven to the Ayr-Falkirk game by SFA head of security Peter McLaughlin and escorted into the ground by two police officers and a steward.
"I was due to referee Ayr United v Falkirk at the height of the difficult period and I remember speaking to John Fleming, the Head of Refereeing at the time, who said I could have the weekend off.
"I said no to that offer as I felt it was really important for the younger guys coming through that they saw me fulfilling that appointment. It was important to do the game and show I wasn't going to lie down to the criticism.
"I don't remember anything about the game at Somerset Park, it was just about getting through the 90 minutes. I was glad I did it.
"It was a while before I was back involved with either of the teams, but I took charge of the Aberdeen v Celtic match in April 2019, that saw Celtic clinch the league title. That was a real show of faith from the Scottish FA and a boost for me personally to be appointed to the match and to do well in it.
"Before that period in my career, there had been a real separation between my private life and being a referee. All of a sudden, I had a situation where they merged into one. That will never go away now, but like everything in football, things move on and I've refereed both Celtic and Rangers multiple times since with no issues."
Beaton was discussing the importance of mental health in refereeing during an SFA Q&A as part of Mental Health Awareness Week.
He added: "Referees are no different to footballers and managers alike. I've seen a few managers in the last few weeks speaking about coping with the pressure they are put under and the impact it has on them. Referees are exactly the same.
"When you start out in refereeing, it isn't easy, and the Scottish FA do an incredible job in retaining referees. They lose a lot of people in the early stages as the abuse and criticism is too much. They don't want to keep going and that's based on their own mental health because they don't want to put themselves in harms way. They don't think it's worth it.
"Footballers are part of a team and have a structure in place. Referees are far more isolated and although you have a match officials team at the weekend, during the week it's a lonely place as you don't always train together. You are left to get on with it yourself a lot of the time, and that's not a criticism of the structure, that just comes as part of the role. It can be very difficult."