Why Scottish football could be better served by Rangers and Hearts losing in Europe this week
It might seem plain daft to suggest that the best way for Scottish football to preserve an automatic Champions League entrant is for no clubs from this country to actually participate in it.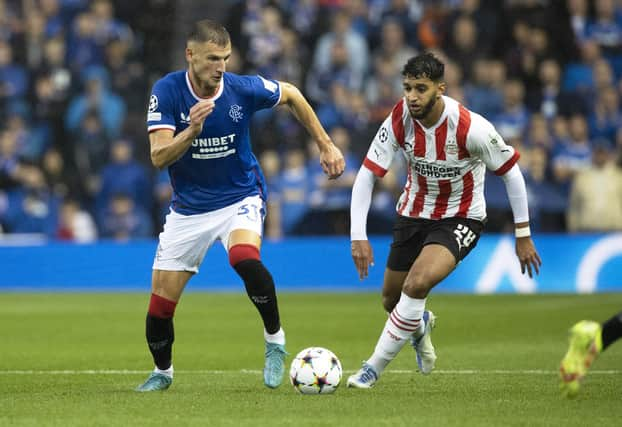 In turn, this might sound a depressingly negative way of looking at the healthy coefficient harvesting that allowed Scotland climb to ninth in the UEFA rankings by the end of last season. However it might seem, though, historical precedents spell out that the lower the status of European tournament that clubs from this nation compete in, the better for the overall standing of our game. As a result, defeats this week for Rangers and Hearts in their Champions League and Europa League play-offs respectively, would undoubtedly enhance the prospects of Scotland remaining in UEFA's top 10 for the 2024-25 season. (Next season's European access list for the three cross-border competitions is already determined. As with this season then, the cinch Premiership winners will go straight into the Champions League, the runners-up are provided with a qualifying opportunity to join them while guaranteed at least the Europa League group stages, and the Scottish Cup winners/finalists have that second string tournament to pitch for but also the Conference League proper as a fall back)
The Champions League is a killing field for Scottish clubs. Celtic, with two wins from their past 18 outings, could suffer some real sore ones in the coming months. The same will be true for Rangers should they find a route to football's promised land in Wednesday's play-off decider away to PSV Eindhoven. which follows on from last week's first leg 2-2 draw. The coefficient upside of the Ibrox men ousting the Dutch is that Champions League group stage qualification earns four bonus points. However, does anyone seriously believe that Celtic, and Rangers, wouldn't be a good bet for earning four more points from six Europa League sectional games than their Champions League equivalents? Of course they would. Heavens, the Ibrox men were able to prove so profitable in the more forgiving environment of the Europa League that they came within a penalty shoot-out of winning the darn trophy last season. In doing so, they racked up bonus points all the way along.
It is a stretch to believe that any time soon a Scottish club will again reach the last 16 of the Champions League, which delivers five coefficient bonus points. In contrast, in recent years Rangers and Celtic have demonstrated progress from the Europa League group stages is eminently doable. And a top-place finish in this format – achieved by Celtic in 2019-20 – earns two bonus points. Meanwhile, a runners-up berth claims a point – Rangers emerging with such a placing in each of the past three campaigns.
Moreover, ponder this. Two seasons ago, Celtic were considered to have sucked the big one in the Europa League. And by God, they did. It led to them claiming only a win and draw against Lille, which bagged three coefficient points, as they were thumped by AC Milan and Sparta Prague. Yet, with wins and draws securing exactly the same coefficient rewards in all three European competitions, their haul in this respect matched any Champions League campaign they have contested since their outlier of a last 16 qualification under Neil Lennon a decade ago. A feat accomplished before elite European clubs became playthings for billionaire US sporting franchise owners and despotic Middle Eastern monarchies. Since the financial disparities became baked in, Celtic have had two Champions League campaigns, in 2016-17, and 2017-18. Across these two campaigns, they suffered their biggest away defeat – 7-0 to Barcelona in 2016 – and biggest home loss – 5-0 to Paris Saint-Germain in 2017 – in almost six decades contesting cross-border competition.
Drop down a level, and everything that could be asserted about the exacting nature of the Champions League for Glasgow's big two, could be offered up for Hearts in the Europa League. If they fail to overturn a 2-1 deficit to FC Zurich in their play-off second leg at Tynecastle on Thursday, they drop down to the Conference League. In doing so, they would go from the possibility of drawing such as Arsenal, Manchester United, Roma and Lazio as top seeds to potentially teams of the ilk of West Ham, AZ Alkmaar, Fiorentina and Slavia Prague. Now, they might not get much change out of either grouping, but it is obvious where they are more likely to pick up the odd match point. And, therefore, the odd coefficient point.
There is no questioning that progress for Rangers and Hearts this week would be a boon for the club's individual finances. Giovanni van Bronckhorst's team could pocket in the region of £20m more from the Champions League than the Europa League, while the equation for the Europa against the Conference could be the difference of £3m. In addition, if the Glasgow twosome are both dining at the top table of European cross-border competition, the monetary morsels for Scotland's other top flight sides, in the form of solidarity payments, will amount to the healthy dollop of £600,000 (with £400,000 currently guaranteed by Ange Postecolgou's men direct qualification).
It will also be argued that, in terms of prestige, profile and status, Scottish football would receive a real shot in the arm were both Celtic and Rangers were mixing it with the global best, and Hearts jousting just one rung below. This is contestable. Across the continent, the game in this country received far bigger licks from the Ibrox men's run to Seville than Celtic being licked in their recent Champions League campaigns. Understandably, it will seem counterintuitive to posit that European failure this week for the nation's representatives could offer the prospect of success in broader strategic terms. The unbridgeable gulfs for Scottish clubs when pushed beyond the edges of their competitiveness in the continental domain simply make that an unfortunate fact.
Comments
 0 comments
Want to join the conversation? Please or to comment on this article.