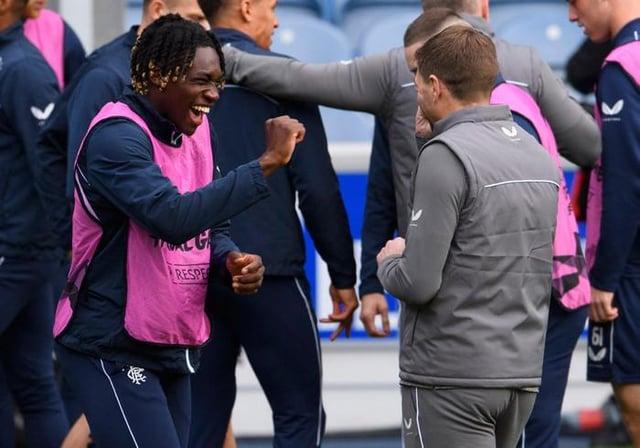 Rangers Calvin Bassey and Steven Gerrard during a Rangers training session at Ibrox. (Photo by Alan Harvey / SNS Group)
Just like he did last month on his first start against Motherwell, the Rangers left-back took full advantage of the opportunity given to him by Borna Barisic's extended recuperation from a bump in the midweek Europa League win.
Steven Gerrard has vowed to 'polish him up' after picking up the 'rough diamond' from Leicester in the summer for £230,000.
That might be the long-term aim, but for the rugged cut-and-thrust world of Scottish football in the here and now, the 20-year-old has been shining just fine whenever he's stepped into the limelight and replaced his Croatian team-mate.
Borna Barisic has set up several Rangers goals with his left-foot deliveries (Photo by Craig Williamson / SNS Group)
Alternative
They're both in the same position, but Barisic and Bassey couldn't be more different, physically and in style of play.
Replacing one with the other is like switching a yacht for a jet-ski – appropriate given that's what Steven Gerrard had to do at high-tide in Liege last week – and Bassey earned his start against Livingston during the Belgian downpour.
While Barisic has glided up and down Rangers left, sweeping deliveries from deeper positions, his under-study barged and bounded his way to the Livingston by-line at speed, and clipped in a cross – after a couple of step-overs no less – with his weaker foot and a flamboyance rarely exhibited by the efficient and consistent Croatian.
Bassey impressed on his second start of the season against Livingston (Craig Foy / SNS Group)
Their demeanours too contrast. Barisic has an air of cool precision, backed by six assists in 14 games this season. Bassey, the enthusiasm of youth, 20-years-old, no senior starts before Motherwell away and 'good feet for a big man' as they say.
But opposites attract and opposites give Steven Gerrard options – the key being, there's been no drop in performance for either of Bassey's appearances, 5-1 at Motherwell or 2-0 on Sunday.
Refining
The Rangers manager may want to refine the left-back's play but he looks adept for Scottish football already, just two appearances in.
Barisic offers a different style of left-back play to his under-study Bassey
On Sunday, performing the moves of Ianis Hagi or Ryan Kent not a 6'1" left-back on his second start, showed a confidence, energy and enthusiasm just needing harnessed rather than refined, but if Gerrard wants to take the defender to the next level perhaps polishing is what he needs to make the grade on an even bigger stage. However, the fundamentals are there. "Interesting attributes'" the manager called them last week.
Brendan Rodgers is believed to have used the defender as a ball-playing centre-back, and with footwork like he has and the physique of a centre-half, you can see why, but it's left-back where Bassey has been drafted to give Barisic some back-up.
They're well-stocked for central defenders at Ibrox but that's not to say he'd look out of place alongside Connor Goldson, Filip Helander or Leon Balogun.
Rangers fought off Championship clubs to sign him up and fended off Leeds United for their first-choice left-back too. If, and more likely when, Barisic and his deliveries prove too tempting for a richer club, or when Steven Gerrard needs someone to force a charge from the back, Bassey has shown he's more than capable of stepping up and stepping over.