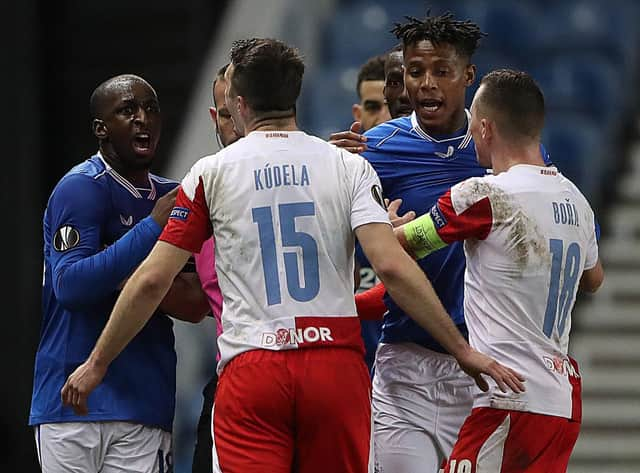 In the aftermath of Thursday's ill-tempered match Steven Gerrard alleged that defender Ondrej Kudela whispered a racial slur into the ear of Glen Kamara in the closing stages of the second leg.
Gerrard and Ibrox chairman Douglas Park were pictured confronting Slavia boss Jindrich Trpisovsky and his Prague backroom team several minutes after the full-time whistle.
The Slavia Prague delegation has branded Finn Kamara "a liar" while a strong-worded statement released by the Czech club has denied the "disgusting accusation".
Here's what is known about the exchange between the two players.
What did Ondrej Kudela say to Glen Kamara?
In the 87th minute with Rangers down to nine men Glen Kamara and Ondrej Kudela could be seen exchange words following a late tackle on a Slavia Prague player.
Kudela then stepped towards the Rangers midfielder, cupped his hands over his mouth and appeared to whisper something into Kamara's ear.
Kudela's comment prompted a heated response from Kamara as well as teammates Bongani Zungu and Conor Goldson.
BT Sport presenter Darrell Currie said that Zungu could be hear telling the fourth official that "something of a racial nature has been said".
Following the game Steven Gerrard stated "my player tells me he was racially abused" and at this stage that was all he could confirm.
Slavia Prague released a strongly worded statement with Kudela claiming that he said "You f***ing guy".
What did Steven Gerrard say?
Following the game, an incensed Gerrard said that he "100 per cent" backed his player.
He said "I have a very, very strong relationship with Glen Kamara.
"Glen Kamara to me is one of my own. I 100 per cent believe what he is saying in terms of the accusation.
"Other players around him heard it so I will stand toe-to-toe with Glen Kamara and I'll deal with this however Glen wants to deal with it.
"I am proud of all my players, tonight showing solidarity and from the top of this club to the bottom we stand with the players. This situation is over to UEFA now. I just hope it doesn't get brushed under the carpet.
"I feel angry. It's extremely disappointing. There is too much of it happening around football.
"Something needs to happen quickly. That is above me.
"UEFA will take this upon them I'm sure they will speak to both players and we will let other people deal with it. All I can confirm is that my player tells me he was racially abused."
What happened in the tunnel after the game?
During BT Sport's coverage of the game presenters say that an angry confrontation could be heard taking place in the Ibrox tunnel.
The Slavia Prague statement alleges that Kudela was assaulted by Kamara.
Their versions of events read: "after the end of the game, the team was not allowed to enter the dressing room.
"Ondrej Kudela was assaulted by player Kamara and hit with fists in the head with manager Steven Gerrard witnessing the incident.
"Even the UEFA representatives who were also present on the site of the incident were shocked by this behaviour.
"The team is now safe accompanied by the Scottish police."
Rangers have yet to comment on the incident in the tunnel.
Following the exchange Gerrard and chairman Douglas Park could also be seen arguing with a Slavia Prague delegation.
On the exchange Gerrard said: "The disappointing thing for me is there is people trying to defend the opposition player.
"Who? Their people, trying to defend it, trying to defend him, calling us liars. That's for other people to deal with all I say now is that I stand by Glen Kamara 100 per cent."
What was said to Kemar Roofe?
Ranger striker Kemar Roofe, who was sent off after brutally colliding with Slavia goalkeeper Ondrej Kolar, was subject to racist abuse via his social media channels following the game.
Sharing images of racist comments he wrote on Instagram: "I could be here all night screenshotting all of these types of comments".
One user can be seen repeatedly using the n-word.
The Athletic journalist Jordan Campbell had earlier shown further racist abuse levelled at Roofe, with Instagram users commenting gorilla and banana emojis on his page.
Gerrard, apparently in reference to Kudela said that the abuse of Roofe "escalates from the situation".