What Rangers' Sydney Cup and cinch settlements say about recent Ibrox regime change
There are many takeaways to be chewed over from the resolution to the cinch sponsorship dispute between Rangers and the SPFL. In calling to mind an Aesops' fable, one might be unexpected.
The conclusion of the protracted saga over a conflict of interest for the club in displaying the cinch branding when holding a pre-existing contract with another car dealer in Park's of Hamilton represented, without question, a resounding victory for the Ibrox side. Patently obvious both from the craven apology and legal costs fronted up by the governing body to Rangers and Parks for "damage" caused to them and the acceding to their stipulation of an independent governance review.
It seems no mere coincidence that such a desired settlement for Rangers has been achieved under the new leadership of chairman John Bennett and chief executive James Bisgrove. The pair have clearly foregrounded the considered and constructive in setting about their tasks. To promote a palpable sense that Rangers now have adults in the room when it comes to conducting the club's affairs. In contrast to the childish, intemperate ways that took root when Douglas Park - of the aforementioned Park's - and Stewart Robertson were chairman and chief executive. Then sanctioning an approach to PR that so often wasn't complete without having the word "disaster" affixed to it.
Indeed, in this respect it was instructive to note Rangers chose not to issue a press release crowing over the fact they were entirely vindicated over the cinch hostilities and calling out the SPFL for the energy and expense squandered on it - as would have been their right. Instead, they allowed for a spokesperson to be quoted in the general release with a statement in which they chose to "acknowledged the apology, related being "pleased" at the outcome, "welcomed" the independent review and gave "thanks for the efforts and patience" of those who had "driven" the "satisfactory outcome". The tone proved conciliatory in a manner simply unimaginable before the boardroom changes towards the end of last season.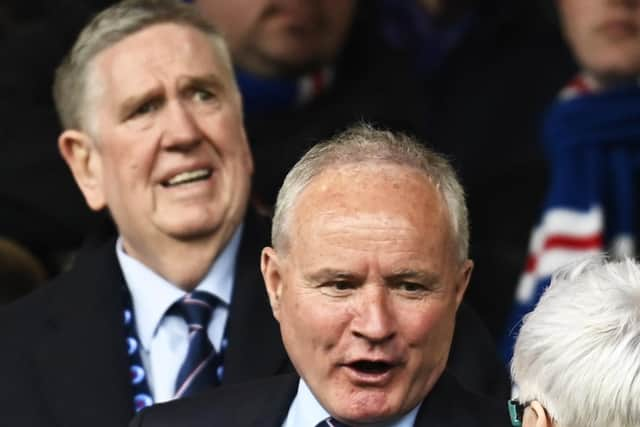 It feels that Bennett and Bisgrove must be well-versed in the life lesson to be derived from the Aesop fable concerning the contest between the wind and the sun as they seek to force a traveller to remove his coat. One that features in many a parenting manual. The wind howls angrily, totalling all in its path. Only for the traveller to cling tighter to his over garment. Before the sun warms air and ground to result in his unbuttoning it. It leaves the wind perplexed as to how the sun could achieve the desired objective. "Simply through gentleness," comes the reply.
Gentleness might not quite cover the cinch wrangle, but conflict resolution doesn't require further conflict is what Bennett and Bisgrove appear to have demonstrated. Standing ground but daring to extend an olive branch as you do can prove a more astute play than jabbing out a sabre. Indeed, on this basis, Rangers have succeeded in putting two thorny issues to bed this week and coming out smelling of roses. Now it might be considered that the calamity that ensued from their decision to sign up to participate in last November's Sydney Cup against Celtic was on Bisgrove, commercial director when that decision was taken. Before the almighty furore from the club's fanbase over it - whipped up through them essentially feeling second billing to their rivals for a first ever overseas derby meeting scheduled for the Australian city - resulted in the club withdrawing. Leading organisers TEG Live Pty Ltd to sue them for £1.6m, an action settled this week as Rangers agreed to become "touring partners" for TEG in the coming years. Another wholly acceptable outcome for an issue created by Bisgrove merely being guilty of underestimating the pettiness and parochialism of both Glasgow supports. Over a venture that, in a less poisoned environment, would have made perfect sense financially, and in terms of profile.
Meanwhile, there is good sense in the independent review into the SPFL's governance. Whether it will deliver Rangers the ousting of SPFL chief executive Neil Doncaster - as the club undoubtedly have long sought - remains to be seen. To the uninitiated, the remit as set-out appears as dry as a packet of cream crackers. A sub-committee has been assembled that will appoint an independent auditor to make recommendations following a review of SPFL structures, the effectiveness of board meetings, and internal control systems. It is to be hoped the auditor does not become narcoleptic conducting those tasks, frankly. If this all seems opaque, clear as cut glass is that Doncaster, and SPFL chairman Murdoch MacLennan, are reputationally bruised through heading up an organisation that has wasted hundreds of thousands of pounds on an ultimately frivolous squabble over sponsorship branding.
Yet, this botch isn't at the level of the shenanigans surrounding Dundee's 'magic' vote that led to the 2019-20 covid-halted season being called. To a great many of us, Rangers were firmly on the right side of history over this mess. However, in no small part as a result of their excruciating abrasiveness, back then they could not command the necessary support from other clubs when lodging a resolution for an independent inquiry. Doncaster isn't nicknamed Teflon Don for nothing. He hasn't lasted 10 years in post without both building powerful alliances and forging new ones that allow him to endure. Moreover, he has proved malleable and responsive to the prevailing winds without exhibiting meekness. Bennett and Bisgrove appear on that welcome path, but have taken only their early, careful steps. In a sure-footed, sunny fashion.
Comments
 0 comments
Want to join the conversation? Please or to comment on this article.