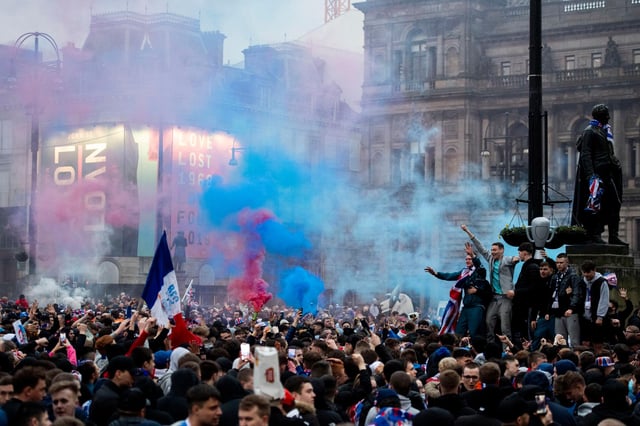 Rangers fans celebrated in George Square after their Scottish Premiership win. Picture: SNS
Pictures and videos emerged across Saturday and Sunday of supporters congregating at Ibrox, the club's training ground and around Glasgow as they paid tribute clinching the league title.
It led to condemnation in some quarters with First Minister Nicola Sturgeon taking to Twitter to ask Rangers to tell fans to go home.
She tweeted: "I share folks' anger at this. Everyone has made so many sacrifices in the past year & seeing a minority risk our progress is infuriating & disgraceful. It is deeply unfair to the entire country, and the police have a hard enough job already. Please ask fans to go home @RangersFC"
Commons, in his Daily Mail column, said the scenes were "a slap in the face to the NHS to everyone who has suffered a bereavement because of the virus, and to everyone who tries to do the right thing by respecting the stay-at-home message".
'Beggars belief'
He added: "What must NHS staff and key workers think of it all? These people who have worked tirelessly under the most awful circumstances over the past year to help save lives and keep us all safe.
"The stupidity of these Rangers supporters over the weekend beggars belief. It has been a display of selfishness on the most unimaginable scale.
Kris Commons blasted the actions of Rangers fans and questioned the club's role. Picture: SNS
"Spare me this nonsense about how it's 'understandable'. The only thing to 'understand' is their blatant disregard for the rest of civilised society.
"I couldn't care less whether it's their first league title in ten years or 110 years — it makes no difference. There's simply no excuse for these kind of scenes during a global health pandemic.
"What alarmed me most about the Rangers gatherings, though, was some of the faces you can see in the pictures and videos. This wasn't just a group of teenage yobs. There were grown men and women, many of whom had kids with them, who seemed like they had just gone to Ibrox for a sing-song and a party."
Hollow and insincere
Commons, who voiced his concern about the impact it could have on Scotland hosting Euro 2020 fixtures, also questioned the role the club, manager Steven Gerrard and the players had on what occurred.
"I don't think the Rangers players or their manager Steven Gerrard particularly helped the situation on Saturday," he said. They certainly didn't cover themselves in glory.
"Some of the players went towards a corner of the stadium and, although separated by metal gates, were singing and dancing with supporters.
"Pictures then emerged of Gerrard and some of the players hanging out of the dressing-room window, spurring the supporters on even more. All it achieved was to escalate the situation further and to encourage these people, most of whom seemed to have taken leave of their senses.
"Gerrard can preach all he wants about public safety and how we all must stick to the rules. But his words will inevitably feel hollow and insincere after all of this."