What does the immediate future look like for Ross McCrorie as hugely-hyped youngster nears Rangers exit?
Young Scottish star is set to complete a loan move to Aberdeen with an option to buy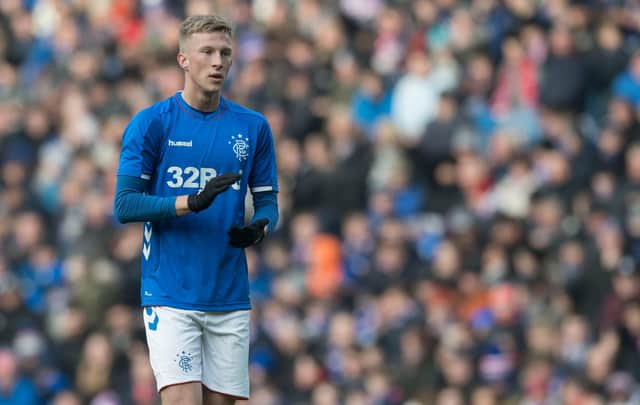 "Ross McCrorie is going to be one of the best centre halves in history, not just for this club but for this country."
Very few players in Scottish football history have received a reaction so overtly positive after making their first-team debut than the one Ross McCrorie got following his Rangers bow.
The youngster was barely known outside of Auchenhowie when he replaced Bruno Alves in a Betfred Cup quarter-final at Firhill in September 2017. Despite putting in an impressive but fairly modest performance as Rangers advanced to the semi-finals after extra-time, McCrorie was soon the talk of Scottish football after then-Ibrox boss Pedro Caixinha anointed him as the defensive saviour for the next generation.
Whether these comments hindered McCrorie's career we can't really know for sure – the player himself has been unclear, stating a welcome appreciation in one interview while admitting they placed undue pressure on his shoulders in another – but it's now safe to say he will not live up to those expectations in a Rangers jersey as he looks certain to complete a move away from the club.
It didn't help that within a year there was a different manager, Liverpool legend Steven Gerrard, accusing his Portuguese predecessor of talking nonsense. In a crucial time for McCrorie's development a position change was required. Apparently he wasn't a defender after all, but clearly a centre-midfielder instead.
"We had a player playing at centre-back position that wasn't his real position, who was 19 years of age and thrown in at the deep end, who could have been destroyed in terms of his career. We felt that decision was careless," said Gerrard a short time after his arrival. He later added: "I believe the club have a gem if he is coached and given the right guidance."
Rangers now seem to be ready to cut ties with that gem. It's a surprising decision given that earlier this year, while McCrorie was on loan at Portsmouth, Gerrard insisted the club still had "big plans" for the 22-year-old.
Gerrard says this is McCrorie's decision as he wants to play first-team football regularly, but if Rangers still had the same amount of enthusiasm over his potential that they once had they surely wouldn't have let him go without a fight.
Thankfully for the player, and possibly the Scotland national team, he should get every chance to live up to his potential at Aberdeen. The Pittodrie side look all set to tie up a deal for him after gazumping Hibs at the 11th hour. If all goes well in the medical, McCrorie will move on an initial loan with an option for Aberdeen to buy at an agreed upon price at the end of the campaign.
If he is going to blossom into the type of talent both Gerrard and Caixinha thought he would become, he will firstly need a position to call his own. Adding further complication to the matter, he was typically played at right-back for Portsmouth last term.
"I do think it's a position where, if Ross can find his bearings, there's a really good athlete coming out from the back," said Pompey boss Kenny Jackett. "Three of his four games for Scotland under-21s this season have been at right-back, so it's a position I think his athleticism can bring a lot to us."
Athleticism is certainly something McCrorie has in spades and one of the main reasons he's able to adeptly slot into so many different areas on the park. Versatility is undoubtedly a strength, but moving a player around so much and not giving them the chance to familiarise themselves and ultimately excel in one position can easily stunt career development.
It has been reported that Derek McInnes managed to convince him that Aberdeen was a better choice than joining Jack Ross at Easter Road, so you have to believe he clearly laid out where he sees McCrorie fitting into the starting XI.
Right-back is certainly an option. Despite spending a rumoured club-record fee on the Venezuelan international, Ronald Hernandez has barely featured since his move from Stabaek and Aberdeen's management staff are still looking for the 22-year-old to show them more on the training ground. Combine this with Shay Logan's advancing years and declining production and there certainly seems to be a spot available on the right side of the defence.
McCrorie took to that role with enthusiasm last term. Of all wide players in England's League One, he ranked seventh for dribbles attempted with 5.62 per game. He was also 11th for attacking duels and 10th for progressive runs, meaning he was regularly willing to advance play forward and ask questions of the opposing defence. He was a bit more reticent to cross the ball (35th with 3.3 per 90 minutes) but with a solid 32% success rate it's another tool to his arsenal that can be worked on.
Defensively, Jackett praised his ability to defend the back post better than anyone other option at the position last term, while he's already shown at Ibrox that he's got the tools to excel in the defensive third.
So was Pedro right all along? Does his highest ceiling exist in a centre-back's role? It was easy to see why Caixinha thought this. Firstly, he was viewed as a defender by the Rangers academy. Secondly, his physical attributes and composure on the football are exactly what you want in a modern-day central defender. He's strong, composed and very fast for the position. Having someone like this allows teams to both pass it out from the back and keep a high line, a major need when pressing opponents.
McCrorie's greatest weakness, however, would probably stop him from truly excelling in the role. Even with his biological capabilities, he struggles to dominate in the air. Over his career, he's averaged just a shade over 50% of aerial duels won. Most centre-backs sit in the mid-to-high 60s, while the more commanding top out at close to 80%. He also has history for struggling physically against centre-forwards who know how to use their bodies to gain an advantage on their marker.
It was hard luck that Gerrard soured on this particular sort of midfielder between his first and second season as Rangers boss, going from deploying spoilers like McCrorie or Lassana Coulibaly to instead utilising playmakers in Steven Davis, Ryan Jack or Glen Kamara; guys who were tasked with starting moves more than ending them. This perhaps explains why McCrorie's long-term prospects in Glasgow suddenly dried up.
Ian McCall, his former manager during a loan spell at Ayr United, believes there's a chance his future belongs as a box-to-box type. He told The Athletic in April: "I think he can play that sitting role but we believed he could get forward and get in the box. I'm not talking once or twice a game — I'm talking seven or eight times a game. He was so quick and had such great endurance to get up and down the pitch."
It is not, however, a role he has had much experience playing. Besides, Aberdeen are absolutely loaded at the centre-midfield position, with Funso Ojo, Dylan McGeouch, Craig Bryson, Lewis Ferguson and academy-graduate Dean Campbell all first-team squad regulars.
McCrorie's desire to play over 40 times a season precipitated his loan deal at Portsmouth last campaign and it appears that it will seal his permanent exit from Ibrox.
While being allowed to leave by your boyhood heroes would undoubtedly a blow to any footballer's confidence, there is a lengthy list of players who've left either Celtic or Rangers and still gone on to have a stellar career and, at this moment in time, there's still a general perception with McCrorie that he still has the ability to go on, represent his country and play at the highest level.
Just about every coach he's had has spoken publicly of their appreciation of the man as much as the player. He's a tremendously hard-worker who stays grounded and relishes every opportunity he's given.
Hopefully at Aberdeen those opportunities are provided on a weekly basis — and preferably in one set position.
Comments
 0 comments
Want to join the conversation? Please or to comment on this article.