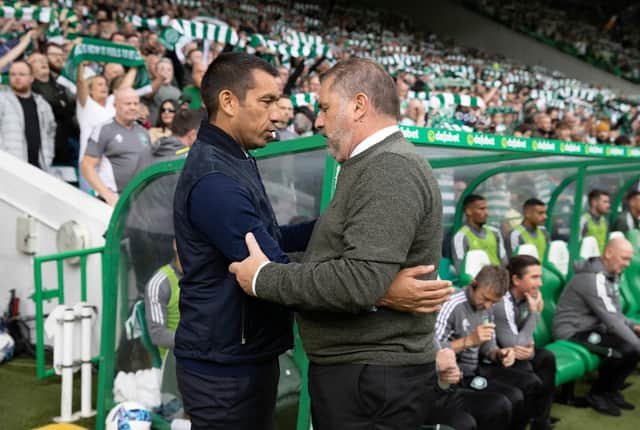 Giovanni van Bronckhorst and Ange Postecoglou, pictured back in September.
It's just that his disappointments tend to be of a higher quality than those of most of his peers. As skipper of the Netherlands, he tasted defeat in a World Cup final a dozen years ago. As manager of Rangers, he led the Ibrox side to the heights of a European final appearance but could not quite guide them over the edge to glory.
As little as two kicks might have stood between Van Bronckhorst and being considered a modern Rangers great. As it stands, a Scottish Cup win probably won't cut it. Neither does Champions League qualification, despite Van Bronckhorst being the first Rangers manager to accomplish since Walter Smith, an unarguable Ibrox legend.
What is under debate is whether Van Bronckhorst was given the tools to be something more than a Rangers manager about whom it's tempting to wonder what might have been. It's fascinating to consider what may have lain in store had Antonio Colak not netted what was, at the time, viewed as a priceless goal in Eindhoven in August.
Six games in the less punishing environment of the Europa League might well have served Van Brockhorst's Ibrox career prospects better. In saying that, it did all begin to go very wrong a few days before the 4-0 thumping by Ajax that set the tone for Rangers' Champions League troubles. Another 4-0 defeat, against Celtic, severely damaged his credibility – as did then having to turn to a 40-year-old goalkeeper in Allan McGregor so soon after appearing to have settled on last season's deputy, Jon McLaughlin, as No 1.
Celtic, meanwhile, haven't stopped. They have been relentless ever since questions first started to be asked about Van Bronckhorst following another comprehensive defeat at Parkhead at the beginning of this year. An epitaph on Van Bronckhorst's Ibrox tombstone could be: "Ange Postecoglou broke my heart". Perhaps that's something for the pair of them to chew over if they should ever meet in that Glasgow west end deli again.
There's no question the players, too, are at the heart of the Rangers manager's demise. They failed him from Perth to Paisley in recent weeks. Alfredo Morelos' lack of application has been shameful. A 4-1 win over Aberdeen, treated as something of a statement of intent by many observers, turned out to be an illusory display of vim and vigour, one rendered redundant by the three substandard subsequent league performances and a 3-1 defeat to Ajax that confirmed Rangers as worst-ever Champions League participants.
Nevertheless, Van Bronckhorst will always be welcome back at Ibrox. He hasn't done a Neil Lennon, who managed to burn every bridge between Lurgan and Parkhead by the time he was jettisoned by Celtic with his side 18 points adrift of Rangers. Although Steven Gerrard is riding high in the bookies' lists of those predicted to fill the Ibrox hot seat, Van Bronckhorst has not, unlike his predecessor, left the club in the lurch.
While there was undoubtedly clear dissatisfaction with the way Rangers were playing, it hadn't reached the point where the likable Dutchman was being roundly barracked. It was just all a bit … lifeless. And perhaps therein lies the problem.