Cantwell feels Beale can get the best out of him after he swapped Norwich for Glasgow on a long-term deal.
The 24-year-old has Premier League experience with Norwich and was linked with a number of bigger English clubs in his early days but he was looking for a fresh start after spending time on loan with Bournemouth last season and struggling for game time in recent months.
Cantwell has not played since early November but one of his final games for the Canaries was against Beale's QPR side and talks with the manager and Rangers sporting director Ross Wilson quickly encouraged the attacking midfielder to move to Scotland.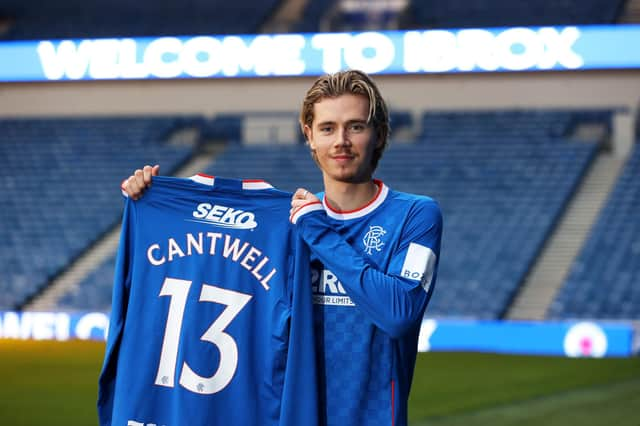 "The most important thing for me right now is to get back playing and enjoying my football," he said. "I lost a little bit of touch with that and I think they sensed that is important to me.
"I think you get the best version of me by just enjoying myself. When I spoke to the manager, his incredible depth of detail in such a short opening conversation really really opened my eyes up to what it was I was potentially signing up to.
"As a player you want that clarity before you come up. I don't want to come up as a winger and end up as a left-back. He has been pretty clear with what he wants from me.
"(The conversation) was the most important factor. For me and my career having a manager that believes in me but a project where the manager is building something, I think that was really important.
"At some clubs that's not always outlined and clear so to come here and have it so clear was brilliant.
"I think he can really get the best out of me and the team as well."
Cantwell is prepared to be versatile but sees his career moving in the same direction as Beale's vision for him.
"I've made my bread and butter playing off the wing but naturally I have always been more central," he said. "That is probably where I would see myself playing in years to come.
"Luckily that's where the manager sees it as well. I think he is aware I can play in multiple positions, and with the freedom and rotation that is potentially going to happen here, I think that could leave me playing in an array of different positions."
Cantwell also spent time on loan with Dutch side Fortuna Sittard and he was eager for a different experience as he bids to win silverware with Rangers.
"I think I'm aware of what I have signed up to," he said. "Obviously it's a massive football club and with that comes massive responsibility but for my future and where I was looking to move forward, I think it was the perfect fit.
"I have always been someone who wants to win and it's obviously embedded in Rangers to win games and it's something I accept as a challenge
"And the European opportunity is fantastic. Every player wants to play in those sort of competitions."