The REMARKABLE stats behind Rangers' defensive record - but 'defence wins you championships' cliche under scrutiny
Steven Gerrard's men have been excellent at preventing goalscoring opportunities and keeping clean sheets
Around 30 minutes after the full-time whistle blew on Rangers' perfunctory 2-0 win over Kilmarnock on Saturday, the club revealed to fans that the team had equalled an all-time record of five consecutive clean sheets to start a league campaign.
It is a record which dates back to 1929, and it also bettered the post-war record of four clean sheets to start a league season which had stood since 1949.
A trip to Hamilton next weekend provides the team with the perfect opportunity to set a new record.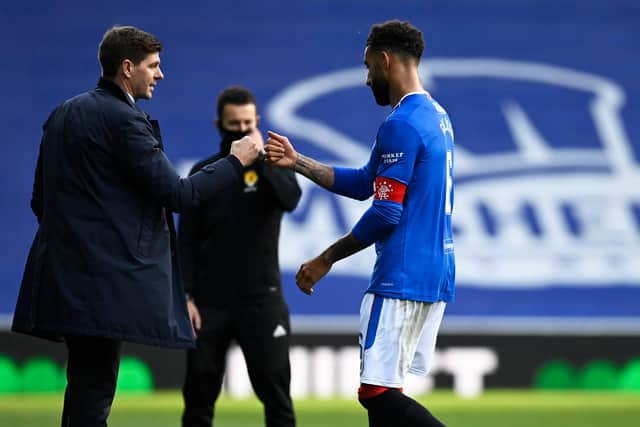 Much has been made of Rangers' attack. Understandable considering the speculation surrounding both Alfredo Morelos and now Ryan Kent, plus the team's difficulty in breaking down Livingston, the only game in which they have dropped points.
However, defensively Steven Gerrard's men have been flawless.
While Balogun has been eye-catching since his arrival it is Goldson, a trusted Gerrard lieutenant, who has been the defensive leader, cajoling, instructing and encouraging.
Yet, it would be naive and simplistic to pick out individuals or say 'aye, the centre-backs have been gid'. It has been a collective effort.
A large part comes down to the team's control and positional play with Ryan Jack at the heart of it, plus James Tavernier and, especially, Borna Barisic's really aggressive average positions.
No team has had more possession than Rangers in the Premiership so far with 66.5 per cent of the ball. When they do have it, it is very difficult to get it off them with a pass accuracy of 87.6 per cent. Again, the highest in the league.
The Livingston game raised some issues and questions surrounding the Glen Kamara-Ryan Jack midfield axis and whether both are needed, such is the team's dominance with the ball. Steven Davis was brought in at the weekend and showed a bit more guile and verticality with ball progression.
But a key reason for keeping the ball away from the opponents is the number of short passes they play per game, which stands at 636. It's simple, you are less likely to give the ball away if you are playing it short, therefore less vulnerable to counter-attacks.
Watching Rangers in the five games they've played, it is clear teams are very, very wary of the attacking threat they possess which can lead to a fearfulness or lack of ambition to really test them.
Remarkably, Rangers have faced just 17 shots this season so far. Celtic have played two games fewer and faced 19. It works out at 3.23 shots conceded per 90 minutes. Again, Celtic's is 6.09 per 90 with the league average up at 10.89.
In terms of what the team have been expected to concede so far, the boffins at Wyscout reckon fewer than two with their figure standing at 1.71, only Aberdeen's is smaller having played two games fewer. Isaac Olaofe's close-range header for St Johnstone and perhaps a Jamie McGrath shot for St Mirren could be deemed good or clear-cut chances.
There is a commonly held view that "attack wins you games, defence wins you championships". It was an idea which took credence when it was put across by Sir Alex Ferguson during his time at Manchester United, back when they dominated English football.
It isn't something that is necessarily true.
As expressed in a video from Tifo Football, the authors of The Numbers Game – Chris Anderson and David Sally – undertook a study of the Premier League, Serie A, La Liga and the Bundesliga. Looking at the defence v attack data between 1991 and 2010 they discovered the best defence won the league title 46 per cent of the time. As for the best attack, they won it 51 per cent of the time.
In the English Premier League between the 1992/93 season and 2018/19 season, the team to score the most won the title 63 per cent of the time, compared to 41 per cent of the time for the team who conceded the fewest.
It shouldn't be forgotten that last season, a key reason Rangers fell 13 points behind Celtic before the league was terminated was because their goals dried up.
As the league entered the winter break Rangers trailed Celtic by two points but had a game in hand.
Neil Lennon's men averaged 2.75 goals per game. Their Glasgow rivals averaged 2.79 goals per game, while having a superior defensive record.
Between the re-start of the Scottish Premiership and the shutdown of the league, Rangers' average fell to 1.1 per game. Celtic's rose to 3.4 goals per game. A staggering difference.
Celtic were blowing teams away which left little room for dropping points. Rangers, with their inability to score, were allowing teams ample opportunity to get results and unlikely results at that with both Hearts and Hamilton picking up wins despite being in a relegation battle.
Sweeping statements such as defence wins championships don't necessarily stand up to scrutiny. Like everything balance is required.
And right now, Rangers are in an excellent place. They are defensively sound which gives them a robust platform in which to build on. It will encourage Gerrard, but such are the demands at the club, more goals will still be demanded, expected and likely required.