The Rangers winning weakness which keeps them behind Celtic
The Ibrox team failed to capitalise on their rival's inactivity against Livingston
Sky Sports commentator Ian Crocker made the point early in the match between Livingston and Rangers. The Ibrox team hadn't won their opening four league games in the top-flight since 2010.
That season the club won their first nine on their way to lifting the title ahead of rivals Celtic by one point.
Making it four from four on Sunday at the Tony Macaroni Arena would have sent a message regarding their title ambitions.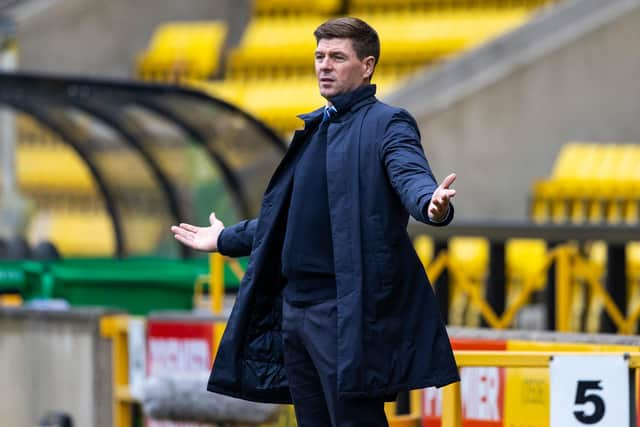 Rangers would have been the only team to have a 100 per cent record, and they would have opened up an eight point gap over their rivals at such an early point in the season with Neil Lennon's men playing catch-up.
More than anything, the mental aspect would have been significant. Intangibles such as momentum, confidence, positivity. Especially in a season where it is going to be ramped up with the Parkhead side's quest for 10 in a row.
A team with more than £10million worth of talent in the creative positions feeding a striker valued at upwards of £15million should be doing a lot more. Especially against a side which has had a poor start to the season and were missing their own £2million striker.
Gerrard and trusted lieutenant Michael Beale will undoubtedly pore over footage of the match, looking for tweaks they can make to positions, structure or personnel.
However, looking at the bigger picture, for Rangers to win the league they need to be capable of putting long winning streaks together.
The season after their 2010/11 top-flight title they put another run of nine wins together at the start of the campaign, but, of course, that ended a whole lot differently to the one previous.
In the four Premiership seasons since returning to the top tier Rangers have failed to better a run of six consecutive wins.
Season 2016/17 brought about a four-game winning run in the league once. The team were incredibly inconsistent. The following campaign they managed four wins in a row twice.
In came Steven Gerrard and he too struggled to put a good run together. It wasn't until the end of the 2018/19 campaign that the team went on a six-game winning streak between April and May. Hearts were defeated twice and Motherwell, Aberdeen, Hibs and Celtic once each.
In last season's truncated campaign the team failed to better or even match the six-game run. However, they did put together two five-game winning streaks, plus a four-game one.
All three combined for a 16-match unbeaten run between the middle of September and January only for Rangers to win just four of their last nine before the season was terminated.
For contrast, what about Celtic across the last four campaigns?
2016/17 – 22-game winning streak
2017/18 – 3-game winning streak (x4)
2018/19 – 8-game winning run, plus a 5-game winning run
2019/20 – 11-game winning run, plus a 6 and 8-game winning run
It is clear that Rangers will be required to record longer winning streaks and the capacity to bounce back and go on another when one comes to an end.
They did that during the last campaign but they haven't quite reached the stage where they can go on to the next level and where such runs are expected.
Of course, it has to be noted that they have had plenty of European fixtures to content with over the past two years. But with the quality of the Scottish Premiership already questioned it should be in their wheelhouse.
They now have six league games scheduled before they face Celtic in the first Old Firm game of the season in which to try and build towards bettering their longest winning streak since 2011.