The Rangers dream turned nightmare, new soundtrack and the Giovanni van Bronckhorst red flag
Five months ago the soundtrack around Rangers was very different to what it is now.
The cacophonous belting out of "I'm feeling it. I'm feeling a change. I'm feeling it, in the air" would ring around Ibrox after another big night in Europe. As the ground turned into a de facto gig, it signalled another big result. The team punched above its weight in relation to their financial standing on their way to the Europa League final.
It was anthemic and became the theme song on the road to Seville. In Spain, the team fell just short against Eintracht Frankfurt but recovered to beat Hearts in the Scottish Cup final. Despite losing the league to Celtic there was optimism going into the summer. An optimism that hit new heights after another big night in Europe, winning away to PSV Eindhoven to reach the Champions League group stages.
"We're here to compete," was the message from Rangers manager Giovanni van Bronckhorst. "We want to compete with the best teams in Europe. It will be difficult but it's an experience I will love."
The Dutchman's love has turned problematic heading into the penultimate group stage match. Even with a very tough group consisting of Ajax, Liverpool and Napoli, there was a belief that Rangers could compete, could make it difficult and could harness the power of Ibrox to spring a surprise or two. Ninety minutes of Champions League football later and Van Bronckhorst presented a defeatist rather than defiant stance following a 4-0 surrendering in Amsterdam to Ajax, just days after shellacking at rivals Celtic, going down by the same score.
"To compete in the Champions League you need hundreds of millions," he admitted. "If you look at all the squads you are facing now – Ajax and Liverpool. For us to compete with them it's too much to ask."
The white flag and red flags
It was perhaps at that moment, when Van Bronckhorst was waving the white flag, Rangers fans should have been seeing red flags. It was an opinion which doesn't stand up to much scrutiny considering what the club have achieved in Europe in recent seasons. The Ibrox side had defeated PSV, regular title challengers to Ajax. They also either defeated or competed well against the likes of RB Leipzig, Borussia Dortmund, Benfica, Porto and Eintracht Frankfurt. All five teams are still competing to finish as one of the top two in their respective groups. As for Rangers, four games played, four games lost, one goal scored and 16 conceded. The worst record in the competition. And it could be set to get worse. They face one of the finest outfits in European football on Wednesday evening in one of the most intimidating arenas with no away fans. Napoli have the best record in the Champions League and are Serie A league leaders. They've not lost since April, a run of 19 games and 17 wins.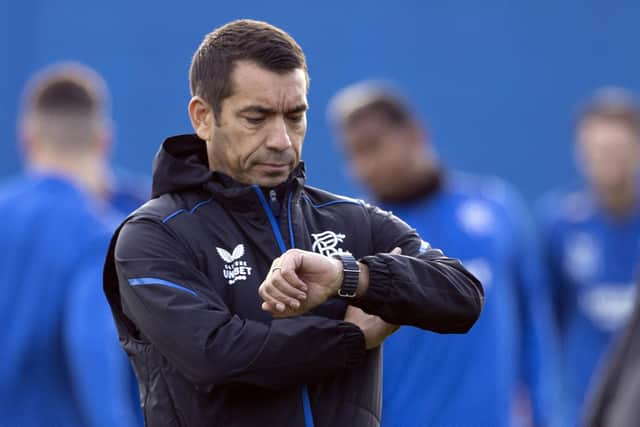 Rangers head to southern Italy, not to the tune of I'm Feeling It, but to boos. This hasn't been grumbles but anger and frustration and an increasing number of the club's supporters who believe change is required. The team edged past Championship Dundee in the League Cup at Ibrox last week. That was met by boos. The half-time whistle, as the team trailed at home to Livingston at the weekend, was met by boos. The presence of managing director Stewart Robertson on the big screen at half-time was met by boos. As was the full-time whistle, despite the team rescuing a point late on. No one involved at the club needs reminded, such a result simply isn't acceptable.
'Send you to bed'
"When you are so low in confidence there is one team you don't want to meet in Europe right now and that's Napoli." Former Aberdeen midfielder Lewis Ferguson knows what Rangers are about to enter having been there with Bologna as he told the Daily Mail. "There is a fear factor going to Naples now. The fans are so passionate. Going to the Maradona Stadium and playing against a top side in front of some of the most passionate fans in Italy is a crazy experience. They're putting top quality teams away in the Champions League and flying in Serie A. Lack a wee bit of concentration in a game like that and those players will send you to bed."
To have a realistic chance of finishing third, Rangers need a result. At this point in time, Europe is not a priority, the league is. Yet, going into a home clash with Aberdeen on Saturday, they need to ensure they do so having at least competed well and made it difficult for Napoli, even just to gain some sort of confidence. The Champions League travails have prevented a build-up of momentum
Supporters voiced concern that Van Bronckhorst is a manager who excels in knock-out competition but is perhaps not cut-out for the bread and butter. That bread and butter is Aberdeen then St Johnstone, Hearts and St Mirren before the league breaks for the World Cup. Dropping further behind Celtic is not an option and even then it might not be enough with no clear identity to the team. They lack pace, they are the second oldest side in the Premiership and are simply not fun to watch.
The season started with the dream of the Champions League but it is slowly but surely turning into a nightmare. When it comes to Wednesday night in Naples, there may be a number of fans joining club legend Ally McCoist in watching it behind the sofa, but it will be the outcome of Saturday's game against the Dons which will be more telling.