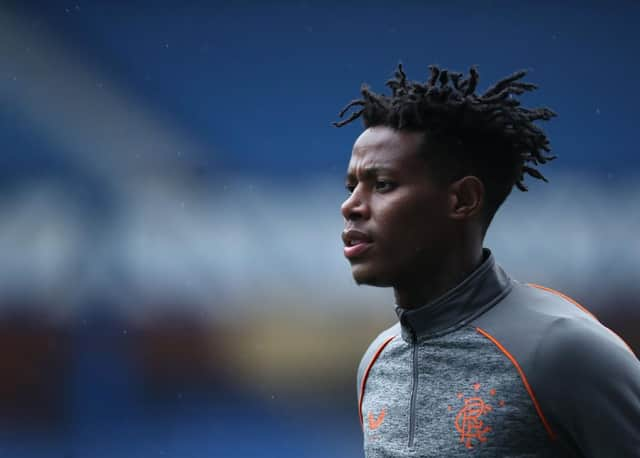 Bongani Zungu(Photo by Ian MacNicol/Getty Images)
In truth, amid the excitement and drama of the Gers' 8-0 drubbing of Hamilton, the South African international's debut will probably be consigned to the record books as little more than a footnote.
After all, he entered the fray at the interval with the score already at 4-0, and the Accies were so toothless that they failed to register a single shot on goal all game.
Those are hardly an ideal set of circumstances for a predominantly defensive midfielder to make his mark on a match, and it should be pointed out that there were plenty of sides of Zungu's game that he didn't get to exhibit against an opposition who were, without question, dreadful.
Bongani Zungu's pass map vs Hamilton
But even given the abject level of competition, there was still plenty to be impressed with from the 28-year-old – and his manager certainly thought so too.
"He's only going to get stronger, fitter and better. But you can see his range of passing, you can see his profile, you can see his aggressiveness.
"He can play, he'll have no problems at all. He'll give us another real strong option in the middle of midfield. I had no qualms about replacing [Ryan] Jack with Bongani because he's a high level footballer."
In a game where Rangers enjoyed 77% possession, it's perhaps unsurprising that Zungu's passing abilities were the thing that caught his new boss' eye first.
The midfielder completed 34 out of his 39 attempted passes in the second half against Hamilton, giving him an overall success rate of 87%.
To contextualise that figure, Ryan Jack's overall season average has been just 3% higher, and Zungu's own average from last term was 0.9% lower.
Not only was this a top quality passing display from the Ibrox new boy, but evidently, it was no fluke either.
In particular, Gerrard made reference to the range of the South African's distribution in his post match comments, and it certainly looked to be a notable asset in the player's arsenal.
Zungu completed three long passes against Hamilton – one more than Jack – and constantly looked to be getting his head up and stretching the opposition's backline where possible.
Two of his long passes came from instances where he dropped into the pocket of space just in front of his own defence before pivoting and driving a diagonal over the head of the full-back and into an advanced position for his wide teammates.
Immediately, it changed the emphasis of the Gers' attack, and given the embarrassment of riches that Gerrard has on both flanks, it could be a blueprint that we see repeated to great effect over the course of the season.
Elsewhere, the manager praised his new talent for his aggression in the centre of the park, and while it would be a stretch to suggest that Zungu was ever even remotely troubled by Hamilton on Sunday, there were a couple of pleasing glimpses of his combative nature and willingness to hunt down possession.
Zungu made four ball recoveries and an interception – numbers made all the more impressive by the relatively low amount of time that the opposition spent on the ball.
Encouragingly, two of the midfielder's recoveries came in the Accies' half, suggesting that he's not averse to stepping onto the front foot when needed to cut out danger in more advanced areas.
Again, given the relentless style of play that Gerrard is seemingly trying to cultivate in Glasgow, that will have been a pleasing detail for the boss.
Make no mistake, there are much, much bigger challenges waiting around the corner for Zungu – and the rest of his Rangers teammates, for that matter – but all things considered, this was a confident, assured display from the new boy, and one that showed enough promise to suggest he has plenty more left to offer.