The forgotten man of Rangers: Why Tom Lawrence is still in Rangers' plans - 'he will be a really important player'
It is one of the standard footballing lines to suggest the return of a long-term injury absentee can be like a new signing.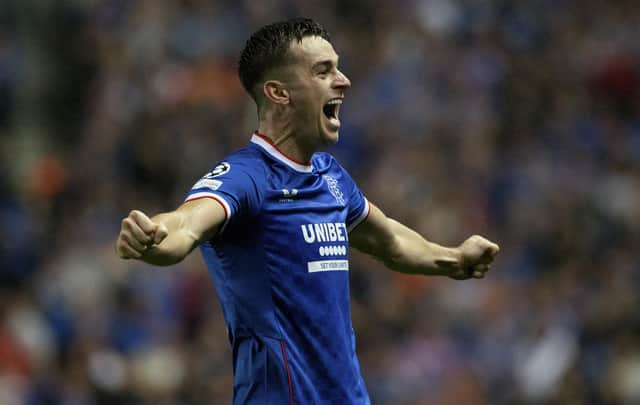 That is not how Michael Beale frames his hopes of what will be the case when next season he finally has Tom Lawrence available. The Rangers manager simply wants the attacker restored to his old self. It is easy to forget what that was since it can be easy to forget that the Welsh attacker is even on the books at Ibrox. The cruel misfortune the 29-year-old suffered barely a month into the season following his July move from Derby County feels as if it belongs to another era. And, when it comes to Rangers matters, effectively it was. Lawrence was recruited on a free contract utilising the scouting network of director of football Ross Wilson to provide manager Giovanni van Bronckhorst with an experienced addition who, crucially, could bolster the club's goal threat from the middle of the pitch. Both have since departed, in no small part because their summer recruitment proved so patchy and did not strengthen the squad in the necessary areas.
Lawrence can be excused over any such recriminations because he did not fail Rangers. Instead, his body failed him. In the closing days of August, following only his ninth outing – in which three goals, two assists and a key role in the club's Champions League qualification was the contribution – he damaged an achilles tendon. Initially, it was expected he would be back following the World Cup break, by which time Beale had replaced the deposed Dutchman. However, further problems then beset him, leading to a knee operation in March that means his sidelining will approach a year. "After trying everything over the past five months, in and out of the gym, the only solution was to have surgery," said the 23-time capped Wales international at that time.
Beale's intimate knowledge of everything that occurred at Ibrox prior to his late November arrival ensures he is fully aware how impactful it looked Lawrence could be in Glasgow. His ability to influence games with goal actions reflected in his producing more than one every other game. A ratio all too few players operating behind the frontline for the Ibrox club in the prior recent campaigns had struggled to come close to delivering. And Beale also recognises that what befell Lawrence was symptomatic of the horrendous problems that undermined van Bronckhorst's endeavours to build on leading the club to a Europa League final and Scottish Cup success, a scenario which Rangers cannot afford to see repeated next season. Beale is convinced Lawrence can make a major contribution over a concerted period following a gradual and careful re-introduction, which will come as Beale seeks to fuse him with a raft of close season arrivals. It could transform a squad that has appear misshapen through having only been tinkered with, largely, since starting to shed integral members of the pool that Steven Gerrard guided to title glory in 2021-22 with Beale by his side.
"Tom is a player that started the season ever so well," said the Ibrox manager. "He came in as an important signing, and an experienced member of the squad. He didn't come in to be a player for the future, he came to be a 'now' player. He started the season really well, he was important in the PSV games [in the Champions League play-off], for example. And then he got a horrific injury. He was on his way back from that and had some complications from that. I expect him to be back probably a couple of weeks into pre-season. Either at the same time as everybody else or a couple of weeks behind. But, having said that, he needs to make up maybe eight or ten months.
"He will be a really important player because he is a player I haven't had and Gio didn't have for a long period either. He has been lost. It's been like that. [Filip] Helander was so important to us. [Kemar] Roofe was so important to us. Roofe has played twice since I came back and scored in both games. He's just not been available. [With outgoing transfers] we lost key players in my opinion, key athleticism in [Joe] Aribo, [Calvin] Bassey and [Nathan] Patterson. For good money, but we lost key players. [in my time previously] [Leon] Balogun was a big influence, [Jermaine] Defoe was a big influence, Helander, Roofe. We brought Lawrence in to be a big influence.
"So we need to clean that up for sure. We need to have our strongest, oldest, most experienced players available more often next year, playing with a bit more consistency and a slightly tighter squad. And then we will see where it takes us. The challenges will still be the same, the pressures and the expectations are maybe going to be a little bit higher. It is an exciting time because it's a time of change and I'm going into it with real optimism."
Lawrence, then, can be comforted over how central he is to those plans from a manager who has allowed him to split time between his Manchester family home and the club's training ground during his rehabilitation. One of the strategies he has deployed to keep Lawrence's spirits up during a soul-destroying time. 'The first thing you do is make him aware that you know him as a player and he knows that because we played against each other a lot,"Beale said. 'You let him know he is valued and you ask him for an opinion from watching from the outside. And, as he gets closer, then you start talking about the way we are going to play and where he fits in. I don't think that was the right thing to do early in his injury. We have had that conversation in the last couple of weeks because now we are talking about what he is coming back to. You can see that his whole personality is changing now because he is back in rehab and starting to move in the right direction."
Comments
 0 comments
Want to join the conversation? Please or to comment on this article.