The battle of Celtic Park: Rangers, Morton, Andy Ritchie and a hideous crime count
There was a lot at stake exactly 40 years ago when Rangers and Morton lined up at Celtic Park for the Scottish Cup semi-final.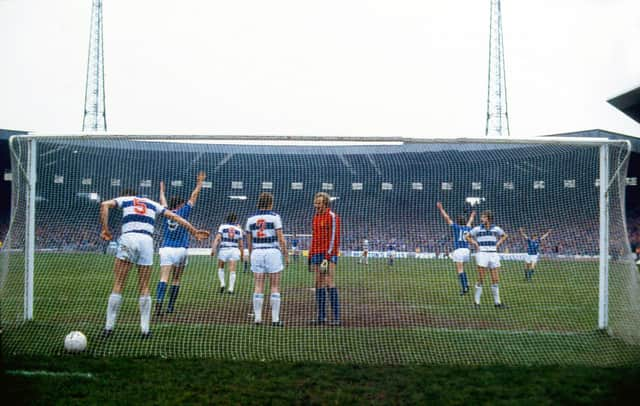 For Rangers, the cup presented their last hope of silverware of the 1980/81 season, and for Morton a great opportunity to reach their first Scottish Cup final since 1948.
Rangers had contested the previous five finals, however Benny Rooney's part-timers were not un-fancied. Their blend of skill and grit had established them as an asset to the Premier League, with Andy Ritchie vying with Davie Cooper for the title of the most naturally talented footballer in Scotland.
The press predicted a physical contest, and when the teams took the field, Ritchie had been consigned to the bench – "one of the hardest decisions I ever made," Rooney later said – and Cooper omitted entirely from Rangers' XIII.
Both managers' mindsets seemed clear and the match would make headlines for all the wrong reasons as, amid some questionable refereeing, a vindictive battle unfolded with Brian McGinlay awarding 51 free kicks, resulting in an almost unheard of crime count of eight yellow and two red cards.
The tone was set within four seconds of the kick-off when Derek Johnstone clattered into Jim Holmes and shortly afterwards, Colin Jackson was warned for a high boot on Ian Cochrane. Drew Busby's X-rated challenge on Tom Forsyth in the 15th minute lit the fuse for what was to come however, his ridiculously high boot catching Forsyth painfully on the chest.
The referee's decision to merely lecture Busby recalled Hugh McIlvanney's famous quote of a free-kick being awarded only on production of a death certificate. "You can get locked up for that," opined Scotsport's Ian Archer, but not it seemed, incur a yellow card in a Scottish Cup semi-final. The chance to keep a lid on a match that had been simmering and perhaps avoid much of the mayhem to come, was lost.
Occasionally, a football match threatened to break out. A Bobby Thomson effort was correctly disallowed for offside, and five minutes before half-time a sluggish Rangers scored, Jackson's speculative header from a corner looping high into the net.
Morton had been the better side but reacted badly to these setbacks, and Neil Orr and John McNeil were cautioned before half-time for bad fouls. McNeil's was particularly perplexing and pointless, despatching Forsyth onto the trackside as the ball ran out of play for a throw-in.
The second half continued in the same fractious mode with feuds breaking out all over the pitch. An ugly flare-up between Thomson and Alex Miller earned cautions for both, and McGinlay then took the unusual step of calling the two captains together to warn of drastic action if the madness continued.
Immediately afterwards, in the 68th minute, Russell – one of the few players to show their true skills on the day – scored Rangers' decisive second goal when his 16-yard shot was deflected past Baines by the head of Joe McLaughlin.
Morton skipper Thomson had failed to pass on the referee's edict however, and immediately after Russell's goal Jim Holmes – not normally prone to the red mist – committed his first foul, a reckless but not malicious tackle on Ally Dawson. The official brandished the red card as Benny Rooney pleaded for calm from his players.
It looked all over but Ritchie, having now entered the fray, gave Morton a lifeline with a penalty, but their hopes faded when Thomson was dismissed in the 80th minute after hacking down Colin McAdam from behind as the substitute bore down on goal. Jackson, Russell and Busby had all been cautioned by then and the sorry spectacle was brought to a close with no added time for injuries and time-wasting, despite McGinlay's warnings to the contrary. Rangers had prevailed 2-1/
The Scottish press united in their condemnation of both teams. Rangers had committed the most fouls, but unsurprisingly, with five yellow and two red cards, Morton received the fiercest criticism, the consensus being that they were the better side on the day but had allowed their frustrations to get the better of them. Rangers were condemned for their time-wasting and play-acting and considered fortunate to proceed to the final after their lacklustre display.
The official drew criticism for not clamping down earlier, but as Jim Holmes now says: "You can criticise the referee, but ultimately the players are responsible for their own behaviour. For my red card, I was late, but even now I think it looks worse than it actually was. I wasn't the type of player who would normally dive in like that, but with everything that was going on I can see why the referee sent me off." Benny Rooney later conceded that some of his players had "lost the head a bit", which cost them the game.
Holmes says of Ritchie's omission from Morton's starting XI: "He wasn't in the best of form, but with Andy, form didn't matter. He was always capable of producing a piece of magic to win the game."
And it was magic of the Cooper variety that eventually brought the Cup to Ibrox. After a drab first match, Davie Cooper was recalled to Rangers' team for the replayed final against Dundee United and produced a vintage performance, inspiring Rangers to a 4-1 victory, a reminder that skill can often triumph over brute force, giving Morton fans and perhaps Benny Rooney himself cause to wonder how things could have turned out if Andy Ritchie had been given his head at Celtic Park and his team-mates had kept theirs.