The Ballad of Alfie: Closing refrains are melancholy - Rangers legacy, Beale's view, Celtic clashes
Little could be more telling as to the trajectory of Alfredo Morelos' Rangers career than what could await him when Celtic are hosted at Ibrox come Saturday lunchtime.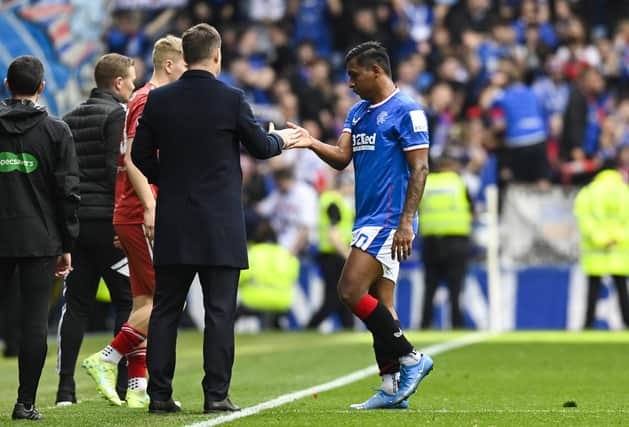 As the Colombian striker prepares to bring the curtain down on six spectacularly eventful seasons, there can be no guarantee he will be centre-stage in what will be his final chance to participate in the grandest show within the Scottish game. The striker, not so long ago, was considered one of the most explosive performers to grace the domain – in all manner of respects. His every move, and many missteps, in the derby above any other confrontation, were discussed, debated and dissected to an unparalleled degree. Often far too uncharitably, in truth. Now, though, the fire seems to have gone out. Within and outwith. A goalscorer capable of the biggest bangs, and some unforgettable argy-bargy, seems to be heading towards the exit with a whimper. The closing refrains in the Ballad of Alfie feel like they must take the form of a lament. It seems so ill-fitting in respect of his accomplishments and command on controversy. The 26-year-old, signed for under £1million from HJK in June 2017, has made a mighty mark. He will leave as Rangers' record scorer in Europe with 29 goals, and indeed sits third on all-time list for goals netted in the Europa League/UEFA Cup. A total of 268 appearances have yielded no fewer than 124 strikes for the Ibrox club.
Rangers are this weekend seeking a first win this season from six encounters with their ancient adversaries; newly-crowned as champions and with only Scottish Cup final opponents Inverness Caledonian Thistle blocking their path to fifth treble in seven years. Indeed, with a derby draw giving way to three straight defeats in the Michael Beale era, the Englishman will now be desperate to avoid becoming the first manager to lose four times on the spin in the fabled fixture for 19 years. Morelos would have once been impossible to look past for such a mission, whatever his history in it. Not now, Beale archly having stated that the forward, whose conditioning has appeared questionable for too long had changed the energy of his team and "not in a positive way" when introduced from the bench in the 1-0 home win over Aberdeen last week.
It is legitimate to conclude that his travails – largely – against Celtic have exposed his limitations across the years. In 23 derby appearances, four as a substitute, Morelos has netted only three times. A raft of missed chances resulted in the one-time ferocious frontman only breaking his duck in his 15th derby outing. For context, his total is on a par with Celtic winger Liel Abada, only his three have been bagged from a mere four starts, and four sub appearances. The Rangers forward does, though, have eight yellow cards in the skirmish, a pair of these resulting in one of two reds he has been brandished in contributing to only eight defeats of Celtic.
Beale is in no doubt that the passing of time will be kind to Morelos' legacy. Right and proper when judging his Rangers experiences in the round, even if current appreciation of his contribution seems to have been sullied by the sense he has already checked out. "He was part of an invincible league winning side [in 2020-21] and that won't happen for a long, long time. Or ever again," said the Ibrox manager. "He was a key part of that team and he's also now the club's record European goalscorer. We paid £800,000 for an unknown boy from Helsinki and now he's known in every Rangers household. So he's a player that we will look back on in time with real fondness.
"I will have a lot of fond memories about working with him. Just because you make one comment about one performance doesn't change that. It is what it is, and I'll be honest, I've said a lot worse about him. He's changed as a player and he's changed as a man. He's become a dad and a husband and he's changed. I first met him a long time ago now and a lot has happened to him. I love the aggressive and the robust Alfredo. Then he became a slightly different player, a real link-up player. We were very successful in that period and now, he's an even different player to then, if you like. A lot of his work outside the box maybe isn't appreciated. I think, like a few of the Rangers players, he's maybe been around a long time. We've had a lot of continuity which has helped us win the league, get to a European final and win the Scottish Cup [last year]. Now is maybe a moment for someone like Alfredo to cut himself free and try something new. It will give energy in his life and give someone else the chance to come in and fill a big void.
"I think time will heal a few things around one or two of the players who might move on. Because when you are winning it's a wonderful club and when you lose it is a tough old club to play for. You've got to take both in equal measure. I think Alfredo has more than paid back Rangers for that £800,000 outlay. I think he will want to [put himself in the shop window this weekend}. When he plays he plays with passion and he tries and runs well in training. Maybe last week he was a bit disappointed he didn't start and that happens at times. You're dealing with young men with a lot of emotions. But there is no issue. Wherever he is going he will want to go there in fine form and in a good place. If he hasn't sorted out what he's going to do yet then this is an opportunity."
Comments
 0 comments
Want to join the conversation? Please or to comment on this article.