'Terrific' - Kris Boyd lavishes praise on Rangers player who 'just oozes class'
Former Rangers striker Kris Boyd has singled out current Ibrox star Steven Davis for his "terrific" form of late.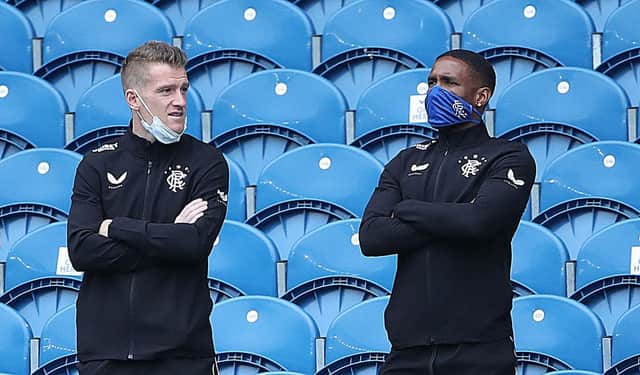 The veteran Northern Irishman has been a mainstay of Steven Gerrard's midfield this season, and produced a moment of magic with a superb pass into captain James Tavernier during the build-up to Kemar Roofe's opener against Ross County on Sunday.
Since rejoining the Gers in January 2019, Davis has taken on a more reserved role in the centre of the park, and Boyd, who played alongside the midfielder during his first spell in Glasgow, believes that he is still improving – even at the age of 35.
Speaking on Sky Sports' Scottish Football podcast, the former Light Blues hitman also argued that Davis is benefiting from playing in a team that has been meticulously marshalled by manager Gerrard.
The pundit said: "I played with him, and still to be going at the level he's going at – what a terrific player.
"I mean, the weight on that pass [against Ross County]. A lot of people will look at and think it was easy, just to slide it, but the weight of the pass had to be perfect for James Tavernier to run onto as well.
"He just oozes class. He was a terrific player a few years ago, but he just seems to be getting better and better. He's always understood the game and everything, but he now knows – sometimes it happens when you get older, you realise it – he makes the ball do all the work.
"You see a lot of youngsters nowadays who want to run with the ball and everything, but I think the most important thing for Steven Davis is just to go in and do what he needs to do for the team, and that's just keep the ball moving.
"Then he gets the moments to showcase his skills, such as that threaded pass through – which, by the way, Rangers will work on every single day in training.
"It was straight off the training ground. I think that's one thing you can see. In a lot of departments of Rangers' attacking play, you can see it's worked on on the training ground.
"I think that's one thing that is separating Rangers and Celtic at this present moment in time. Celtic for a number of seasons now have relied on individual players to go and win games for them. Rangers maybe relied on Alfredo Morelos to knick a goal and win a game of football, but the goals, the opportunities, the types of attacks that Rangers are having, it's worked on on the training field and you can see that everybody is buying into what has been a two-year work in progress now.
"Hopefully, it's becoming the endgame, which is silverware for them. It just looks like a team that is organised and drilled daily, and I mean daily."
Davis has featured in 19 matches across all competitions for Rangers this season, and has started in his side's last three outings.