Steven Gerrard says he would rather win the Scottish Cup for Rangers this season than match Brendan Rodgers' Celtic 'Invincibles'
Rangers are potentially just six games away from completing only the fourth unbeaten top flight league campaign in Scottish football history.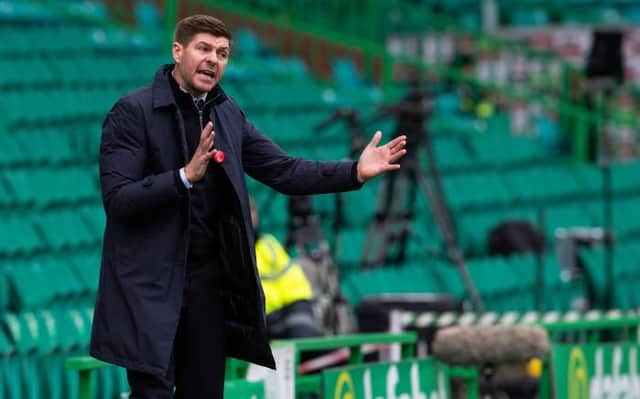 Rangers manager Steven Gerrard gives instructions to his players during their 2-0 win at Celtic Park on October 17 last year. (Photo by Alan Harvey / SNS Group)
If they were to win all six of those fixtures, starting off at Celtic Park on Sunday lunchtime, they would also equal the record points tally of 106 for a 38-match season set by their Old Firm rivals under Brendan Rodgers four years ago.
With the title already secured, the primary objective for Steven Gerrard and his players has been achieved.
But while he admits remaining undefeated in the Premiership would be an additional and significant accomplishment for Rangers, he insists that after going out of the Europa League on Thursday night their priority for the remaining months of the campaign is now to try and win the Scottish Cup for the first time since 2009.
Steven Gerrard celebrates with Borna Barisic after Rangers' 2-1 win at Celtic Park on December 29, 2019. (Photo by Alan Harvey / SNS Group)
Maintaining consistency
"Winning football matches is the main motivation," said the Rangers manager. "If we can go from now until the end of the season unbeaten, of course it would be a wonderful achievement.
"It would be fantastic. But it's not the priority. The priority is the next game and trying to win that game at Celtic Park.
"It's a tough game and a tough place to go but we'll be ready to go there and give it what we need to give to try and win that game.
Steven Gerrard with then Celtic manager Brendan Rodgers before his first Old Firm game in charge of Rangers in September 2018. (Photo by Alan Harvey/SNS Group).
"Then we will breathe and get ready for the other post-split league fixtures which we don't know when they're coming out and when they'll be.
"But once they get announced, we'll prepare in the best way we can to remain as consistent as we can.
"The priority now though, which won't be a surprise to anyone, is the Scottish Cup. The main thing we can be judged on here at Rangers is success and winning trophies.
"If I had the choice, it would be to have a successful run in the Scottish Cup rather than this 'invincible' tag or going the remainder of the season unbeaten. We will try it and we will use it as a motivation but the priority is the Scottish Cup right now."
No fear of Celtic Park
Sunday will see Gerrard take charge of Rangers in an Old Firm fixture for the 10th time since his arrival at the Ibrox club in the summer of 2018.
Having lost on his first two visits to Celtic Park, he has overseen victories in the next two trips across the city on Old Firm business and is gratified by the improvement in his team's mentality when they go into the most challenging fixture on their domestic schedule.
"There is a complete shift in terms of the mindset from my first Old Firm game," added Gerrard.
"I have previously addressed where we were at that moment. You could feel as a manager we probably weren't ready to win an Old Firm game.
"We went and competed well against Brendan's team that day (in September 2018) but there were periods of that game, especially in the first half, when they dominated us with the ball.
"You could gauge there was still a fear factor there from previous results and experience. It was going to take time and there was going to be a process before we got to the right level where we could compete head-on.
"Now we believe we're at that point where it doesn't matter where the Old Firm game is, we're going to go in with belief and a right good chance of getting the result and the outcome we want.
"Winning Old Firm games is bigger than your normal three points because on the back of a win comes a lot of belief and confidence.
"It gives a lot of good feeling, a satisfying feeling because it is the main fixture - there is no getting away from that.
"But over the course of a campaign, you can't become obsessed just with this fixture because you obviously have to perform consistently against all the other opponents - which we have done this season."
Concern for Kamara
The Rangers boss revealed he would have backed Kamara if he had wanted to walk off the pitch following the incident in the 2-0 defeat at Ibrox.
"As a manager in this situation, your natural instinct is to speak to the player involved and get a guide from him as to what he wants me to do," said Gerrard.
"Whatever Glen wanted me to do, I would give 100 percent support and backing.
"Having spoken to him after the game, he said he wasn't thinking right in terms of making that decision. He wanted to see the game out. We decided to go with that.
"If I was put in the other situation where the player didn't want to carry on or the team didn't want to carry on, I'd give them the same level of support.
"In terms of how much power each decision makes, it's difficult to gauge. It's a really frustrating situation and I'm still shocked by it. Moving forward, I have to be whatever support I can be for my players."
Tavernier update and Jack a Scotland doubt
Gerrard will still be without captain James Tavernier and midfielder Ryan Jack on Sunday, with the latter now a doubt for Scotland's forthcoming World Cup qualifiers.
"If everything moves well in the next week to ten days, James should be back after the international break," said Gerrard. "The same with Ryan Jack.
"The only doubt for Sunday is Nathan Patterson who was removed on Thursday night after he took a really heavy kick in the calf area. He's still got a chance and he hasn't been ruled out but he's a big doubt right now."
A message from the Editor:
Thank you for reading this article. We're more reliant on your support than ever as the shift in consumer habits brought about by coronavirus impacts our advertisers.
If you haven't already, please consider supporting our trusted, fact-checked journalism by taking out a digital subscription.
Want to join the conversation? Please or to comment on this article.