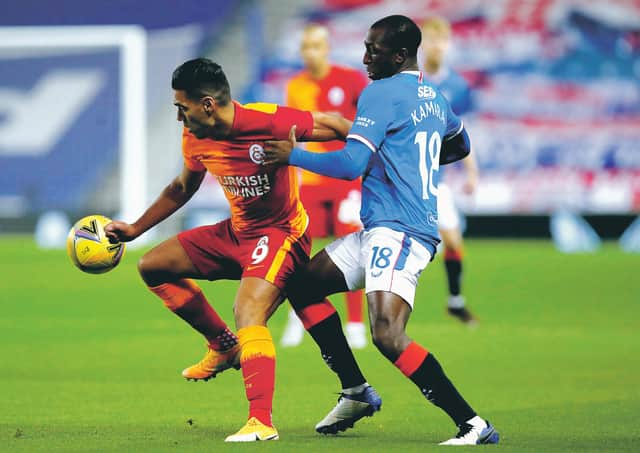 Glen Kamara delivered a 'phenomenal' performance in Rangers' Europa League win over Galatasaray. Picture: Ian MacNicol/PA
Rangers manager Steven Gerrard has rebuffed interest in midfielder Glen Kamara and revealed the Finnish international will be offered a new contract by the Ibrox club.
Kamara has been linked with a move to Anderlecht but Gerrard insists the 24-year-old will definitely not be sold ahead of the transfer window closing tomorrow night.
Signed for a bargain fee of £50,000 from Dundee in January 2019, Kamara still has three years remaining on his current deal with Rangers.
But Gerrard has been so impressed with the former Arsenal player, who was outstanding in Rangers' 2-1 Europa League play-off win over Galatasaray at Ibrox on Thursday, that he will reward him with extended and improved terms.
"Glen Kamara is not going anywhere," said Gerrard. "We are going to offer Glen a new contract when the time is right.
"The plan was always to get this window out of the way before we spoke about that. Glen's aware of that.
"We love Glen Kamara here. He is a fantastic player. We believe Glen is capable of playing for most teams at any level – he is that talented. We want Glen to stay here and be part of it both short and long term.
"He was phenomenal on Thursday night. He's a player who will take the ball in any part of the pitch, no matter what the scoreline is or whether the crowd reaction is with him or against him. He will always receive the ball and take responsibility. He is playing with a lot of personality.
"We are absolutely delighted with Glen and he deserves a new deal, 100 per cent. He won't be going to Anderlecht, I guarantee you that."
But Gerrard accepts there are no such certainties over other members of his squad as the clock ticks down to the midnight transfer deadline tomorrow.
Rangers have already rejected bids for winger Ryan Kent and striker Alfredo Morelos from Leeds United and Lille respectively during the current window and Gerrard is wary of bigger offers coming in.
"Anything can happen," he said. "It could get taken out of our hands. There is a financial situation at every club when we are going through a pandemic, which is obvious to everyone.
"Some things might be out of our control over the next couple of days. We have to wait to see where we are on 6 October and go from there.
"My hope from a selfish point of view is that we have the best possible players available for me after the international break."
Gerrard remains keen to make another midfield addition to his squad but says that is very much in the balance.
"Myself, the board and [sporting director] Ross Wilson will continue to try and find the right person who will help us for the remainder of this season and hopefully beyond," he added.
"What I will say is there is a 50-50 chance of whether it happens or not. Because this is not a case of just adding a number to cover or bring someone in who can fill a squad position.
"We are only going to bring someone in if we feel they are going to make the starting eleven and the squad better. It could go either way, but we are actively trying to add one more.
"For us as a squad, we have to make sure we are ready to go the distance this season and not how it has been in the last couple of years when we have faded away after the winter break.
"The players are aware of it, we have spoken about it. But the first thing is can we get to the halfway mark of the season and be in a really strong place, like we are now?
"The players are aware we have faded away on two occasions and it's my job to make sure the squad is in a better place this year.
"It's why I've been so keen to keep trying to add to it, move it forward. The concern for me is if we don't do that and stand still. Then you face the same schedule as the past two years and you haven't got enough to go the distance."