Steven Gerrard must stay at Rangers – he has given us everything, says James Tavernier
Rangers skipper James Tavernier has appealed to Steven Gerrard to remain at Ibrox after the downcast manager appeared to throw his own future at the club into doubt.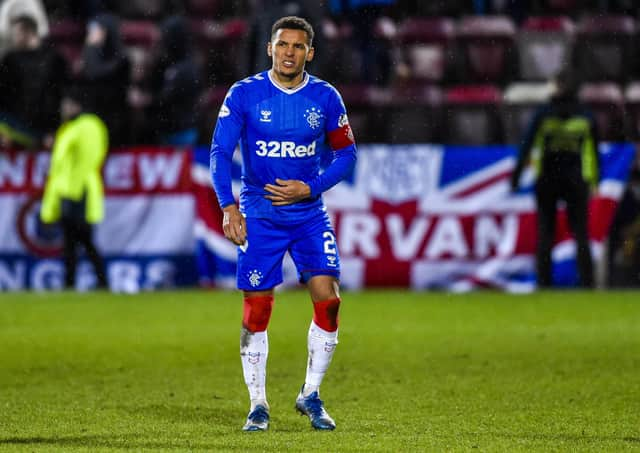 James Tavernier admits the Rangers players 'have not delivered'. Picture: SNS.
Gerrard could not disguise the extent of his dismay after realistic hopes of Rangers 
winning a domestic trophy were ended for another season by Hearts at Tynecastle on Saturday night.
The 1-0 Scottish Cup quarter-final defeat came just days after Gerrard said he had become "the proudest man in Europe" after Rangers beat Braga in Portugal to progress to the Europa League last 16. But he described the Tynecastle result as having left him feeling lower than at any point since being appointed Ibrox manager in May 2018.
He could not hide the scale of disillusionment with his team. Gerrard claimed the players had not wanted to win the game as much as he did.
In addition, striker Alfredo Morelos was left out of the squad on Saturday for disciplinary reasons after he returned 24 hours late from a trip to Colombia to visit his ill mother. Tavernier stressed the players can have no excuse because Gerrard has given them everything required to succeed. They have in turn let him down on the domestic front to date.
"He has given everything
to the boys and we have not delivered two seasons in a row," he said. "We were unlucky in the League Cup final against Celtic but we have now been knocked out in this competition in the quarter-final for a second season. The league was in our hands but we have now given ourselves a mountain to climb."
He added:"We have lost it again, so we are going to look at ourselves as the gaffer has given us everything.
"We want him to be here, definitely. He has driven the standards right up and, if selected by him, we have to deliver."
Gerrard did not even head into the away dressing room following the defeat to Hearts.
He revealed he had spoken with his coaches instead in a a separate room. Tavernier was left to deal with his dejected team-mates. He demanded that everyone, including
himself, must undergo some
"All the boys are devastated," he said. "It is something we don't mean to do.
But we really need to look hard at ourselves.
"We need to sit down together and see what the right answers are.
" It has happened too many times now and we need a long, hard look at ourselves. We need to show the gaffer and the fans how much it means."
A planned day off yesterday was cancelled as Rangers prepare to host
Hamilton Accies on Wednesday.
But Gerrard's future will continue to be a matter of debate.
Tavernier stressed that the only way the players can prove they have the mentality Gerrard is looking for is to put together a run of victories. They have not won
successive league games since returning from the winter break.
"We can only show we have [the right mentality] by winning games," he said. "Clearly, against Hearts, we didn't show it enough."
"In the past, we have shown it in certain games," he added. "When Hearts sniffed blood from the get-go we struggled to deal with it. The first half of the season when teams dropped off us, we were scoring five or six goals. Then we come to the second part of the season and we are not gritty enough and able to see out games."