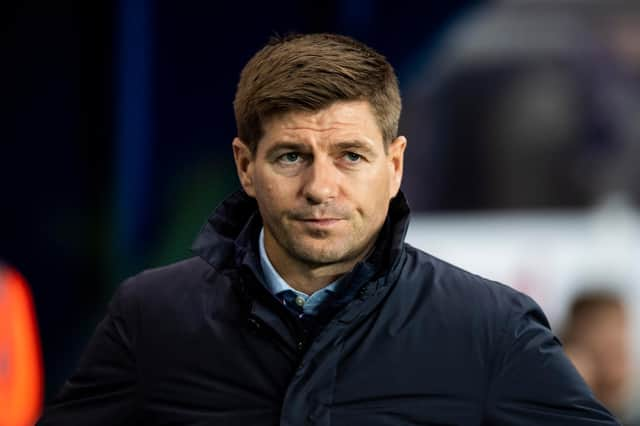 Steven Gerrard has reaffirmed his commitment to Rangers, vowing to 'never quit' the Ibrox club
Speculation over Gerrard's future as manager reached fever pitch in the aftermath of Rangers' Scottish Cup quarter-final defeat at Hearts on Saturday when he stated he needed "to do some real, serious thinking" in the subsequent 48 hours.
When he faced the media again on Tuesday, Gerrard stressed he had no regrets about the highly emotive nature of his post-match comments at Tynecastle.
'I'll fight for as long as I can'
But he made it clear he remains determined to bring success to Rangers and pledged he will not depart of his own volition.
"I'll never quit," said Gerrard. "I'll never shirk a challenge or run away. I'll fight as hard as I can for as long as I can.
"If that situation changes for other people and they take that away from me, that's a different scenario totally but, as far as me and my staff are concerned, our sleeves are rolled up further than they were before and we'll continue to push.
"I want to win here. It's a dream of mine. Before I kicked a ball with Liverpool, it was a dream to win with Liverpool.
"I sacrificed my life to do that and when I signed on the dotted line to represent Rangers, that's what I committed to.
"You see smiles, you see emotion, you see me a bit low, you see me going over the top, you see me a bit flat.
"That's the package, I'm not going to change, I'm going to be myself. But when I sign up for something, I stay loyal and true to that.
"I won't shirk or hide from any win, loss or draw. I will continue to do everything I can from my side to achieve my own goals, but more importantly to make these fans happy.
"Saturday was a low. I won't deny that. I'll never go into a press conference and be different from what I have been. I will always be honest.
"I signed up to something here and I knew there would be real setbacks and this is when the club needs me most to stay on, fight and push forward on the progress we have made in a lot of areas, while learning to ensure the mistakes don't happen again."
'Incredible' support from board
Gerrard, who said he had received "incredible" support from Rangers board members since Saturday's defeat, will seek fresh backing to further strengthen his squad this summer.
"Before I decided to take this job, I thought long and hard about how it might feel, what type of journey and track it might take," he added.
"I haven't been surprised by it. I still believe we are closer than some of the opinions out there believe.
"But I also believe that these players need some help and support. Everyone from top to bottom of the club needs to continue to push to support that and be as hungry as each other to get there. And we will."