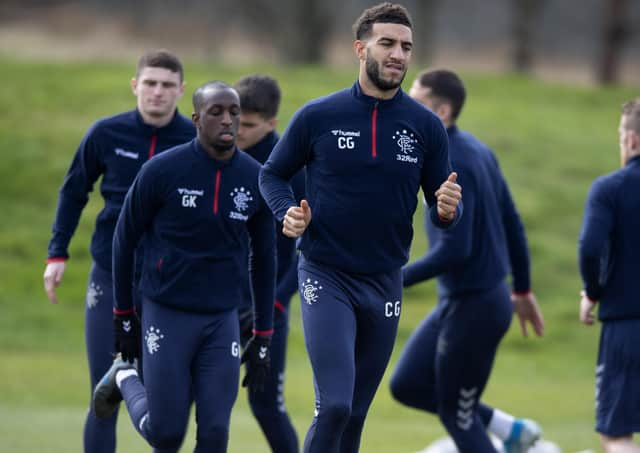 Connor Goldson trains ahead of Rangers' trip to face Ross County. Picture: SNS.
The club captain, inset, is an injury doubt for tomorrow's trip to Ross County with a knock he took in the latest bashing of his team's crumbling confidence on Wednesday night. If he doesn't fall to a physical ailment for the Dingwall encounter in which another failing is unthinkable, though, Gerrard gives every indication the 28-year-old full-back will be pushed from the team for considerations of form and focus.
The former Liverpool captain acknowledges the disintegration of his team's domestic competitiveness over the past 42 days – a period during which they have lost four times and drawn twice – has left him in the most challenging position of his football career. He accepts he will have to rejig his team to meet that challenge. He gives little comfort to Tavernier that he see his club captain as being in the right place to deal with difficulties besetting the Ibrox team… either as a player or as the man entrusted with showing the leadership that his wearing of the armband imposes on him.
Goldson is a different story. "He is a strong character," said Gerrard. "In situations when there has been a mistake, as a manager you have a chat with that individual and see how he is feeling. You ask for some honesty and go from there. But definitely in this situation with Connor, he is mentally strong and I don't think it would affect him if he was selected to play against Ross County."
This backing for the centre-back begged the question as to whether the Rangers manager could offer the same sort of endorsement for Tavernier. It was notably not forthcoming.
"Again, in this situation I will speak to James. I have that daily contact and dialogue with him anyway and I will see where he is at," he said. "Obviously the injury might make the decision for me if he is not available. But then we will go from there. If I feel anyone is not in the right place, whether it be to do with performances or from a mental point of view, I'll do what I think is best in that situation."
Gerrard then sidstepped an enquiry as to whether it was unfair to question Tavernier's leadership qualities. "Look when we came in, from the outside James was someone who was very robust, he was always available, his form was good from what I'd seen.
"We didn't really know anyone in the dressing room personally. We added a lot of players and needed to start new relationships. James got the shout from there. I think he has done a lot of things right. Last year he posted numbers that were unique for a full-back. I think he would be the first to admit that since Christmas his form could be better. He has said that himself.
"He is doing a lot of things right. But, listen, when you are the captain and leader of this club, when results don't go as well as they should go, you are always going to be in the firing line. It was the same when I was the captain at Liverpool. If results were indifferent I'd always find that the heat came on me and Jamie Carragher more than most players. James accepts that.That's the way it is."
Most telling of all was Gerrard's response when asked if he felt Tavernier should remain captain. "I think that should remain private between myself and James when we have the daily dialogue. He knows what I demand from him on and off the pitch. So that's all I want to say on that really."
It said it all, really. As did his emphatic comeback to whether the situation Rangers find themselves in was where a manager finds out about the mentality of his players. "Definitely. As the manager, you are looking round to see who is pulling their sleeves up, who is on board. You only have to sit next to Jacko [Ryan Jack] to realise he is in. He is on board. He is someone who is going to roll the sleeves up and battle for you. You do look and you learn an awful lot more about people when times are tough."