Steven Davis steps back from Rangers role as he reveals 'good early signs' working under Philippe Clement
Northern Ireland international to focus on injury recovery after 11 months on sidelines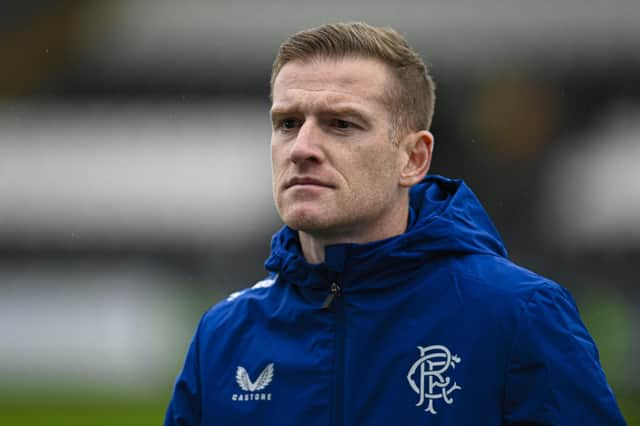 Steven Davis has stepped away from his Rangers coaching role in order to focus on his injury rehabilition.
The 38-year-old was appointed interim manager following the sacking of Michael Beale last month and oversaw a 3-0 win at St Mirren in the cinch Premiership and a 2-1 defeat away to Aris Limmasol in the Europa League prior to the appointment of Philippe Clement.
Davis has since remained involved, assisting the new manager during his settling-in period, but he now feels the time is right to step back and focus on his recovery from an ACL injury that has kept him sidelined since last Christmas.
"The manager has been great, it was great to work alongside him for a couple of weeks and see his ideas," Davis told Rangers TV.
"Then, ultimately for me I have kind of got a decision to make with my knee. I think, first and foremost I am 11 months into rehab albeit the last four weeks have been a write-off because of doing the other side and the other role.
"Ultimately, my knee is not where I would like it to be and I think it is imperative I try and get that right first and foremost.
"I am still at the stage that I am not able to play with the kids in the garden, play football with my sons so I think it's important I get that right.
"I think first and foremost I need to get my knee in a good place that gets me in a position to make a decision on what the future looks like - whether I've got a real good opportunity to get back to play, if that's realistic or not, and also then if it's good what's next if that is not going to be the case."
Davis has left the door open for a possible return to the Rangers dugout. Asked about the prospect of rejoining as a coach in the future, the Northern Ireland international added: "I really enjoyed that side of it and I really enjoyed working with the manager as well.
"I think he is going to be really successful here and I hope that is going to be the case. I think the level of detail he goes into, his work rate, what he is going to demand from the players on a day-to-day basis and what he is going to create here in terms of the atmosphere at the training ground and around the club - there are some good early signs there but he is going to keep demanding and wanting more.
"It's certainly something that further down the line hopefully I get the opportunity to do again."
Comments
 0 comments
Want to join the conversation? Please or to comment on this article.