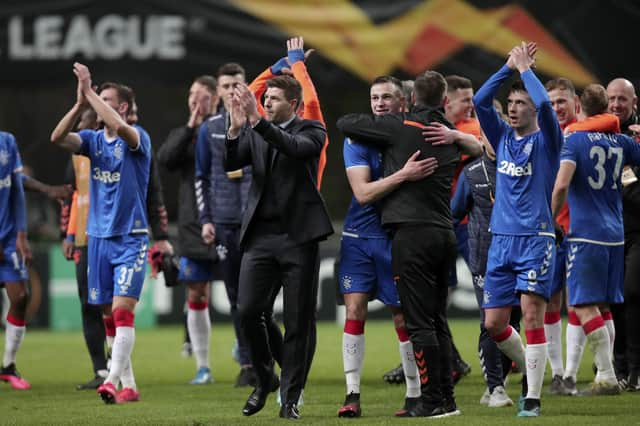 After his team dropped two more Premiership points at St Johnstone last Sunday, there was a steadily growing narrative which suggested Gerrard's position as manager could even be under threat should they suffer elimination from the Scottish Cup against Hearts this weekend.
The absurdity of that notion was exposed by Rangers' victory in Braga, which further enhanced an already impressive body of work in the Europa League by Gerrard since he took charge of Rangers in the summer of 2018.
While his team's stumbling form in the Premiership since the winter break is unquestionably a cause for dismay and concern from the perspective of Rangers supporters, those who are able to take in the bigger picture surely recognise that the positives continue to outweigh the negatives 
in any rational assessment of 
Gerrard's tenure so far.
The former Liverpool and England captain knows there is no escaping the reality that he can only be regarded as a truly successful Rangers manager if he manages to puncture Celtic's unprecedented dominance of Scottish domestic football. There is no doubt that failure to bring silverware back to Ibrox this season, especially if Neil Lennon guides Celtic to a fourth consecutive treble at the same time, would be a significant blow to Gerrard.
But on the weight of evidence, it should not be a fatal one in terms of his position at the club. By all relevant measures, Rangers have improved year-on-year under Gerrard and there is no reason to suspect he is not capable of building on that positive momentum to eventually deliver the kind of tangible rewards the fans crave.
Celtic's commanding position in the Premiership title race owes as much to their own exceptional consistency since the turn of the year as it does to Rangers' slip-ups. Yet even allowing for the 12-point lead Celtic have opened up, Rangers are currently nine points better off than they were at the same stage of the league campaign last year.
There was also clear progress in the League Cup where, after the semi-final flop against Aberdeen in Gerrard's first season, Rangers reached the final in which they were almost universally regarded as unfortunate to lose to a Celtic side they dominated for much of the 90 minutes.
If Rangers can overcome Hearts at Tynecastle this evening to secure a place in the Scottish Cup semi-finals, a tournament in which they were eliminated at home by Aberdeen at the quarter-final stage 12 months ago, then they will have surpassed every performance marker from Gerrard's debut campaign.
The Europa League advancements have been the biggest feather in Gerrard's cap. Building on last season's run to the group stage, Rangers have enjoyed an even greater boost to their prestige and finances with this year's march to the last 16, where the enticing challenge of Bayer Leverkusen now awaits. A record of 15 wins and just three defeats from his 30 European matches so far speaks volumes about Gerrard's potential to develop into a manager of the highest calibre.
The Rangers board, who in December handed Gerrard and his staff contract extensions until 2024, are unlikely to have had that faith in him shaken by the recent diminution of this season's title hopes.
Seeing the Scottish Cup in the Ibrox trophy room for the first time since 2009 would vindicate that faith. But, win, lose or draw in Gorgie tonight, Gerrard has earned the right to stick around.