Smokin' hot Billy Gilmour - Scottish tall tales and what recent Brighton rebirth means for Rangers and Celtic chat and national team
It is a rebirth for the nation. It is no stretch to suggest that the delirium generated within Billy Gilmour's Scottish homeland two years ago over his long-predicted emergence assumed astronomical proportions.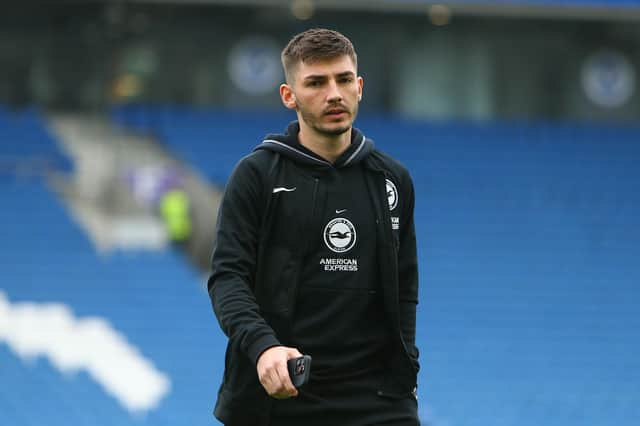 The midfielder was then on his way to becoming talked-up as the most talented prospect the country had produced for two decades. A result of a trio of eye-catching Chelsea showings that allowed the 19-year-old to collect a Champions League winners medal as an unused substitute before he proved pivotal to Scotland running the show against England at Wembley in the delayed Euro 2020 finals. The football world seemed his oyster … only for grit, and more grit, to corrupt that in the intervening period. So much so, indeed, the claims issued in the summer of 2021 over the career trajectory of a toaty teenager had started to feel like they might have edged into the realm of tall tales.
Suddenly, though, it is possible to believe the hype all over again. Gilmour has been the hottest of properties since his early teens in the Rangers youth academy. In fact, it was exactly six years ago last week that it was announced he would be going to London to seek his footballing fortune, earning the Ibrox club a £550,000 development fee. Yet not even in his initial rise to prominence in 2021 did he prove as smokin' as he seems now.
Until a month ago, this campaign appeared set to be another lost to the caprices of the game for the Irvine-born playmaker. His £8m move to Brighton from Chelsea last summer was supposed to be the step down to provide the platform to propel forward a career that had stalled with a torturous loan season with relegated Norwich City. A series of unfortunate events provide little hope of that over the first nine months of this campaign. A long-term ankle problem cemented the feeling the fates weren't his friends. A notion initially taking root thanks to the managerial switch that resulted from the departure of the man who had signed him. Graham Potter quickly leaving for the Stamford Bridge club from where he had travelled in the opposite direction to be replaced by Roberto de Zerbi.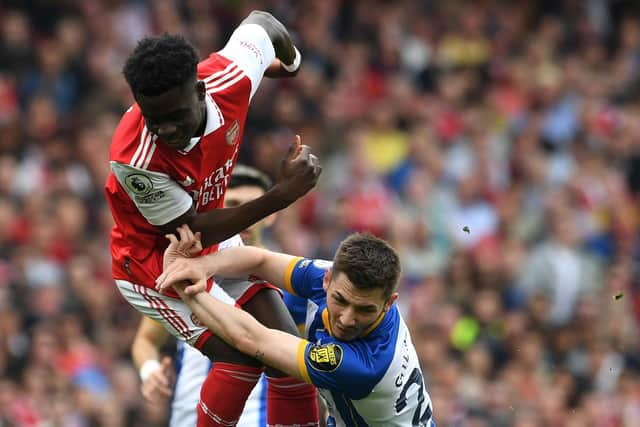 By mid-March, the Italian had shown so little appetite for giving Gilmour game minutes that a potential loan move to Rangers was being touted to offer the now 21-year-old some desperately needed sanctuary. And status. Heck, even Celtic were mentioned in dispatches as a potential temporary home that would allow him to hone his seemingly atrophying talents. That was then. In the space of four matches, the club situation for the Scotland international has changed beyond all recognition. It is arguable whether Gilmour – even in excelling for Steve Clarke's men in his first flowering – has produced as classy and commanding a display as the hour-long outing central to administering the last rites to Arsenal's slender title prospects on Sunday. The 3-0 thumping at the Emirates ensuring the south coast club's hopes of a first European qualification remain in rude health.
For the midfielder, it merely built on the foundations he has been laying to emerge from the shadows since he proved a surprise starter when Brighton hosted Wolves three weeks ago. Ahead of that dream encounter for him – allowed to strut his stuff for the whole 90 as a 6-0 mauling was dished out – he had endured a nightmarish time. The sum total of 161 minutes was his contribution to his team's startling English Premier League campaign. Or, to put it another way, approaching half the time he has been making waves on the pitch in the subsequent three weeks. Gilmour jumped from the Wolves whacking to an important starting role in a 1-0 home win over a Manchester United pushing for the Champions League-place earning top four in the set-up. Indeed, the only one of Brighton's past four encounters just happened to be their 5-1 filleting away to relegation-threatened Everton a week ago. Gilmour introduced only 12 minutes from the end of that horrorshow.
As important to the immediate future of the schemer might be what De Zerbi had to say in the post-match following his team's flattening of Arsenal. The Brighton manager as good as admitted that much-vaunted midfielder pair Alex Mac Allister and Moises Caicedo would be lost in the summer. The Argentinian World Cup winner Mac Allister linked with a £70m move to Liverpool, while Arsenal and Chelsea have been credited with a willingness to fork out eye-watering sums to acquire Caicedo. At a club that pursue moneyball methods under owner Tony Bloom, a professional gambler and entrepreneur, such asset-management could allow Gilmour to cash in. That is because it is now inconceivable he would now be considered for any loan moves as there are such uncertainties over those in his department of the side, against whom currently he is more than holding his own.
Not just good news for the player himself, or a captivated public north who want to see one of their own make good on mountainous capabilities. Abilities which, coming in such a diminutive package, render him redolent of mythologised past Scottish greats. National manager Clarke, always a fully paid up member of the Gilmour fan club, will also have delighted in the player's recent renaissance. It presents the prospect that he will be able to combine the Brighton man with Celtic captain Callum McGregor and scoring sensation Scott McTominay as a central midfield three for the monumentally-important Euro 2024 qualifier away to Norway in a month's time. A trio who would cover so many bases as Erling Haaland et al are faced up, it engenders a mix of renewed anticipation and, yes, relief that when it comes to bases Gilmour no longer appears stuck on first.
Comments
 0 comments
Want to join the conversation? Please or to comment on this article.