Rangers winger Ryan Kent on red alert ahead of Euro tie
Former Liverpool ace predicts difficult tie in Gibraltar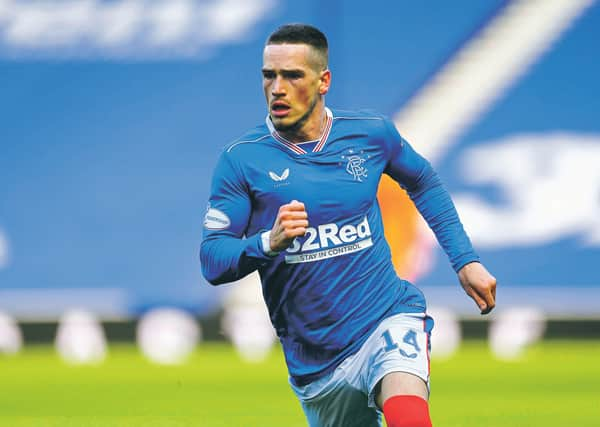 Ryan Kent faced some criticism last term when he spoke of the release Rangers players enjoyed in European competition.
On the domestic front, where the pressure is unrelenting as they strive to halt Celtic's dominance, they go into most matches as favourites and that, he said, can take its toll.
And while their title challenge eventually faltered, burdened by lower expectations on the bigger stage, they managed to progress to the last 16 of the Europa League, with the Ibrox winger netting a goal against Braga to help book that spot.
But, the competition offers no such escape this week as the squad travel to Gibraltar for their second qualifying round match-up with Lincoln Red Imps on Thursday.
In the current single-tie format, on a plastic pitch, with no support, against a side with everything to win and little to lose, it remains a game where the Glasgow side cannot countenance defeat.
In this one there will be no underdog status for Steven Gerrard's men against a team who stunned Celtic four years ago, and the pressure to progress is high.
"In a sense this could be the most difficult part of the competition," admits Kent. "You can get caught out being complacent against teams where you think you should definitely be winning but we won't overlook any team that we come across in the competition, especially at this stage.
"All the players are aware what it means to the club, what it means to the fans, to qualify for the Europa League group stages. We will give everything in every game.
"We'll prepare for this game like we would any other, give 100 per cent and hopefully come away with the result."
He has experience to draw on, both of European demands at Ibrox and the precariousness of early ties, he also knows what it is like to be part of an upset, having been one of the Liverpool youngsters who was almost on the wrong end of a FA Cup giant-killing in 2016, when Exeter forced a replay. That memory is enough to offer ongoing warning of how things can go sideways.
"I was one of quite a few young 
lads making their debut for Liverpool against Exeter in the FA Cup and a lot of lads weren't used to playing.
"That's what is great about this stage of the competition – there can always be upsets and that's what makes it exciting but it's up to us not to be complacent about who we're up against."
If he was a raw youngster when Exeter nearly embarrassed him, he says there is enough knowledge in the Rangers dressing room, at coaching and playing level, to ensure the approach is right for Thursday's start to this season's European campaign.
"Obviously, it was a dream come true at the time to make my Liverpool debut but with this team now we've got a solid pre-season under our belt and a solid start to the season.
"There's a lot of chemistry in the team and everyone knows it's an important fixture and competition for the football club and it's up to us not to let people down.
"The squad is definitely improving with players fighting for every position which is pushing everyone forward and everyone has experience of European football so we know what's required to qualify in the group stage."
And while it is a different type of pressure, Kent says there are still expectations to be dealt with. Their own.
"There isn't as much expectation to do well in this competition as there is domestically. We know where we stand in this competition but there's no reason we can't kick on and progress further than we have so far.
"In the past two seasons that I've been here, the gaffer has instilled confidence in the players that we can go and achieve something in this competition.
"We're looking to kick on each season and improve from the last.
"On a personal level as well it's a competition I want to achieve something in and put myself up against the best opposition in Europe.
"It's exciting for the players to be a part of and all the players are aware it's a difficult task but on the back of last season there's no reason why we can't progress further than we did last season."
Comments
 0 comments
Want to join the conversation? Please or to comment on this article.