Rangers told what they need to beat Napoli as Luciano Spalletti 'sees good things' in Ibrox club
Rangers manager Giovanni van Bronckhorst has called on his players to take on Napoli "without fear".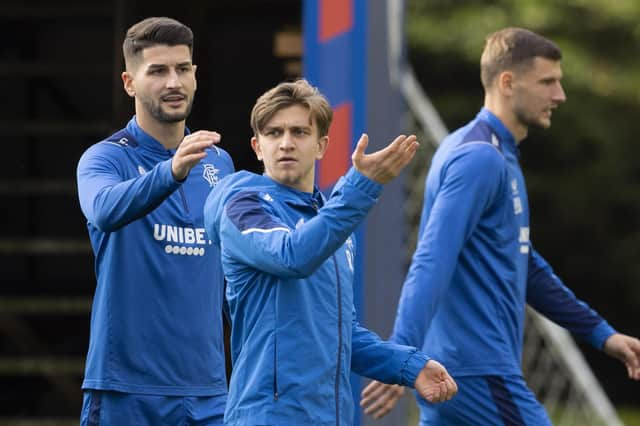 The Ibrox club travel to Naples for their Champions League matchday five encounter on Wednesday sitting bottom of Group A without a goal and a point and on the back of Saturday's disappointing 1-1 league draw at home to Livingston. That result, alongside heavy defeats on the continent, has increased pressure on Van Bronckhorst and his team as they prepare to take on the Serie A leaders and one of the form teams in Europe on their home turf.
Napoli, who have already qualified for the knock-out stages of the tournament, are looking to secure top spot, while Rangers need at least a point to have a fighting chance of finishing third in the group and dropping into the Europa League. Van Bronckhorst admits the club are facing a challenging time, but knows a win will lift some of the gloom around Ibrox.
"It's been a difficult period, but the best way to get out of it is to get a good result," said Van Bronckhorst. "We are facing a strong team, in an important stadium and we have to give our best. They have won 11 games in a row but we already know that. What we can do is give our best. You need character to play certain matches, we face a strong team but we have to take the field without fear. We have to play our best and try to bring home a positive result.
"Game management is very important against a tough team. We have to be defensively solid and attack well in our moments in possession. It is important we are dangerous on the ball to get a positive result. It is an important game, we face a team that attacks sharply and precisely. Our strategy will be to keep a solid defence and try to hurt in transition. If you just close down you inevitably end up suffering, so we should be good at restart.
Meanwhile, Napoli manager Luciano Spalletti is adamant there is no chance of his side writing Rangers off as Champions League whipping boys, insisting his team will give Giovanni van Bronckhorst's struggling side maximum respect.
"Recently I have been paying attention to the matches of Rangers and honestly I see good things," said the Napoli coach. "My colleague, Van Bronckhorst, is a very solid manager who often comes up with very good solutions. In the game against Liverpool (the 7-1 defeat at Ibrox), at the end of the first half it was 1-1 and they also created many opportunities to score.
"I would like to stress that thinking that we are going up against an easy team and will have an easy game is a mistake we will definitely not make. Our goal is to give our best and show that we have the mindset and DNA to be champions."
Napoli could secure top spot in the group if they win on Wednesday and Liverpool slip up against Ajax.
"In every game we try to build on our momentum and show all of our qualities. If we win tomorrow it could prove to be pivotal ahead of going to Liverpool and in our aspirations to finish top of the group," Spalletti said.
"Winning tomorrow is definitely important because it means we will be on 15 points and we might be able to use goal difference to our advantage against Liverpool."