Rangers reveal meeting with SPFL chairman and possible cinch thawing but renew Sky tender questions
Rangers in-coming chief executive James Bisgrove has intimated that there could be a new spirit of detente in the fractious relationship between the club and the SPFL hierarchy.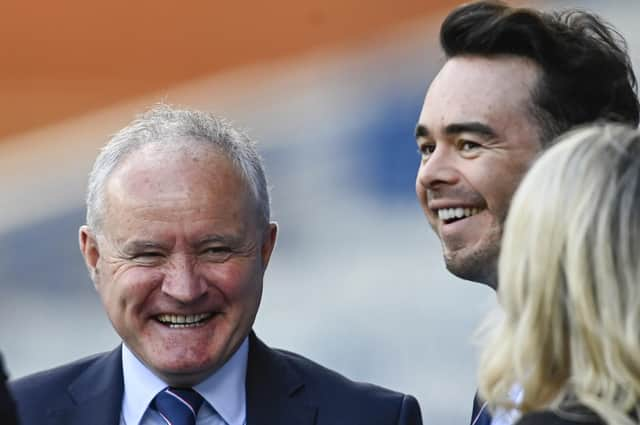 However, in revealing that new Rangers chairman John Bennett had last week broken bread with his counterpart at the governing body Murdoch MacLennan, Bisgrove renewed the challenge made by Rangers over the backdrop to the recently re-negotiated television deal with Sky. An agreement they feel has been placed in sharp focus by the contrast with the hugely improved offer from the broadcaster obtained by the English Football League a fortnight ago.
"What we will absolutely do, John and I – and we've already started to do – is we will engage and communicate with stakeholders right across football, whether it's UEFA, ECA or the other Premiership clubs," he said. "And John won't mind me sharing that last week he had dinner with the chairman of the SPFL so that dialogue is there. But I think at the same time Rangers will always robustly defend our perspective and our position if we don't believe something is right – whether that's related to governance or a TV deal."I think if you compare the new Sky deal to the EFL deal then there are question marks that we have got around that. Then, you know, we will portray those views but we want to do so in a way that is building relationships as we go and we'll see where those conversations are going. What we won't do is bury our head in the sand and not have conversations. We will be prepared to engage and communicate.
"I think the first thing to recognise on Sky is that they are is a brilliant partner for Scottish football. You look at them as a broadcaster and what they deliver is fantastic, there is a reason they broadcast the Premier League in its home country, arguably the greatest league in the world. We had questions that we raised in a very open forum with the other Premiership clubs over how the new deal was constructed. We didn't feel there was a sufficient tender process and we felt that the tender process is the best way to extract value from the market because you create that competitive tension."If you look at the new EFL deal and the way that they went about it, they ran a tender process. They had an ITT [invitation to tender] and an RFP [request for proposal] and they managed to generate a rise of increase of 50 per cent, from £110million to nearly £200m. The SPFL went from £25m to £28m, ten percent. That's where we feel disappointed because we want, as a club and for Scottish football, we want maximum value in terms of broadcasters, sponsors and every aspect of the game. We will air those views and hope others will agree with us. We will try and go about it in the right way and try and explain our opinion and be constructive in the way that we do that."
On that front, Bisgrove did not rule out the possibility of Rangers ending their opt-out over displaying branding of top flight sponsors cinch – which the club do not feature owing to a perceived conflict of interest with now departed chairman Douglas Park's own business interests. "We need to see where the conversation goes in terms of the dialogue but it's a dialogue we are prepared to have," he said.
Comments
 0 comments
Want to join the conversation? Please or to comment on this article.