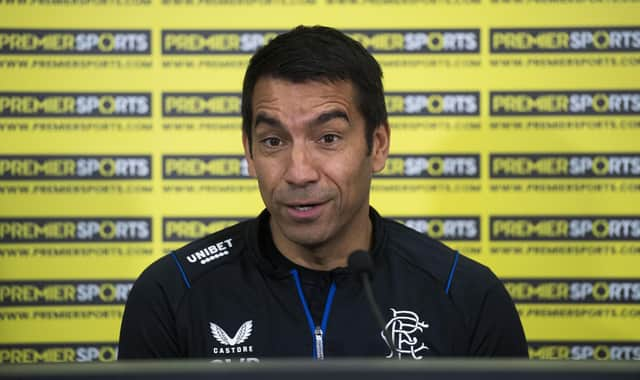 Dundee are the first visitors to Ibrox since Rangers suffered such a seismic defeat to Liverpool seven days ago. A 7-1 defeat, their worst-ever at home, isn't something that can be simply shrugged off – and nor should it be.
There are bound to be some signs of a hangover even given the narrow win over Motherwell in the interim and the compositely lowly nature of the opposition.
Dundee might once have reached the European Cup semi-final – indeed, 60 years ago this month they roared into the quarter finals with a 4-1 win over Anderlecht – but those days are long ago now.
Even domestic success has eluded the Dens Park club in recent memory. It's been nearly half-a-century since they lifted a major honour. That was the League Cup, the competition that brings them to Ibrox this evening. Currently fourth in the Championship, they pose a very different challenge compared to Liverpool last week.
Nevertheless, Rangers' motivation remains strong. The League Cup was the first trophy Giovanni van Bronckhorst lifted as a player at Rangers, when the Ibrox side beat St Johnstone 2-1 in November 1998.
The Rangers manager is bound to make several changes, including, perhaps, at goalkeeper. Might he give veteran Allan McGregor, beaten by a speculative free kick at Fir Park on Sunday, a rest and bring back Jon McLaughlin, or even turn to Robby McCrorie? "I will sleep on it," said Van Bronckhorst.
Dundee did have their own 'Liverpool' moment at Ibrox en route to winning their only Scottish title in 1961-62. A 5-1 win over Rangers at Ibrox in November was a statement of intent. Alan Gilzean played the part of Mo Salah with a second half hat-trick (he also scored in the first half).
But that was then, this is now. Leon King, for example, won't have to worry about Salah this evening – or indeed Alan Gilzean. Dundee don't have strikers of quite the same quality these days. Few clubs do.
That's not to say it will be easy for King, but this might be a night where he can avoid taking centre stage and continue bedding himself in. It's been a dizzying season so far for the 18-year-old, who found himself on the back pages again on Monday after Motherwell's complaint that he had avoided a late red card after felling Stuart McKinstry 30 yards from goal. McKinstry himself was among the most vocal.
"He has to say that," smiled the sure-footed King about his friend, with whom he has played in Scotland age-group games. The Rangers defender is taking it all in his stride.
"I have not had much time to think about the games I have played in," said King. "The games have been coming so thick and fast. But once we get a wee bit of a break, I will be able to look back and actually reflect what has happened in a hectic few weeks."
A week ago, on the eve of Liverpool's first-ever competitive game at Ibrox, their manager Jurgen Klopp spoke very warmly about King. Most 18-year-olds, when thrust into the white heat of an Anfield Champions League night, as King had been the previous week, would have been happy, the Liverpool manager opined, "to simply avoid falling over the ball".
King, on the other hand, overcame any nerves and caught the eye of many, Klopp included. His inexperience was betrayed only by the concession of a second-half penalty when he found himself on the wrong side of the mercurial Luiz Diaz. He found the going a lot tougher in the return game at Ibrox when he was sent on cold near the end of the first-half after an injury to Connor Goldson. Liverpool scored six second-half goals. Some wondered whether more experienced Ibrox men, never mind King, might ever recover. The teenager proved his mettle in Motherwell.
"He started the week before (at Anfield) when we played with five at the back and the spaces are a bit smaller and (you are) closer to your other defenders," reflected Van Bronckhorst. "It was much more difficult (last) Wednesday but he will only learn from these games.
"He is strong," he added. "Of course you help him after the game with things he could do better, things he did well. That's the process I like as a manager – to have contact with your players, to make them better individually."
Van Bronckhorst has no worries about King. Neither has he any doubts about what's in store for the defender, who will only improve. "His ceiling will be very high because of his own character and his own motivation," said the manager. "We are just here to help him in his development and to make sure he becomes a better player every game he plays.
"I think he was the first player I took into the team last season," he continued. "That is why we built the squad for this season – to give him more game time. Now he is getting a lot of game time. He is getting better and better and his development is going faster because he is playing against (Roberto) Firmino and (Darwin) Nunez, he is playing in the league. That is very positive for him. I am really confident in his performances."
A win is a win. And it is all about reaching the semi-final by hook or by crook. But this is one occasion where the home supporters will also demand doing so with a bit of style. After being on the receiving end in recent weeks, Rangers fans will expect their team to be the ones dealing out a comprehensive defeat en route to a Hampden semi-final.