Beale in McLaughlin flap
The continued rotation of his goalkeepers by Rangers manager Michael Beale came under fresh scrutiny after Jon McLaughlin – returned to the side at the expense of Allan McGregor – looked none-too-clever in failing to deal with the cross that ensued from a short corner move and allowed Jordan White to head in to then put the encounter back in the balance. Beale is normally pretty sure-footed himself when dealing with such issues in post-match media duties, but there wasn't the sense he was on such solid ground in how he tackled the issue. Not least because, when switching to McLaughlin from McGregor in side's 2-0 victory away to Dundee United a month ago, he said it was McLaughlin's strength when defending corners and free-kick that had earned him the nod.
"Listen, I thought we were slow coming out to a short corner," Beale said when asked if McLaughlin had a confidence issue over cross balls in seeming to be spooked by them throughout the County clash. "We were winning the game 1-0 at home, we're comfortable in the game, Jon's not had much to do. And then we switch off at a short corner, they deliver it and … where are the centre halves? Where's Jon? It's a collective thing. As strong as we were in midweek in set plays to go and score two goals, we've let ourselves down today and then we're having to chase a game that was in our hands."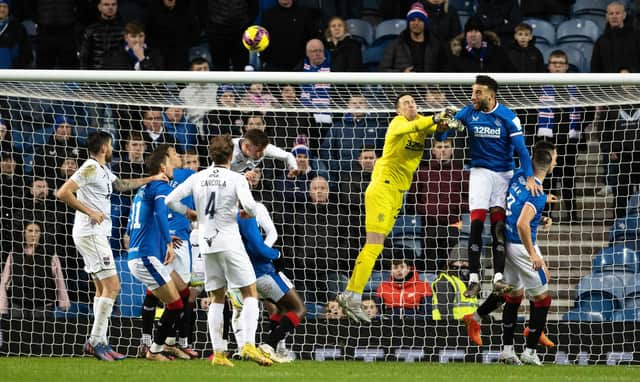 Of course, the difference between the midweek 3-0 thumping of Hearts and the County game was that McGregor was between the posts … on the week of his 41st birthday, mind. Which seemed to lead to some mixed messages from Beale over the entire goalkeeping situation. "This week we've had two games and a late night midweek," said Beale. "I felt Jon was the fresher goalie coming into today. He didn't have much to do in the game and I'll continue to rotate them. The schedule is opening up a bit now so there won't be an issue with fatigue with any player. I'm trying to get us through a tough schedule, that's why I'm rotating. I'm assessing the keepers with a view to what I'll do in the summer.
"Robby [McCrorie]'s injury hasn't healed and he's still three or four weeks away which is disappointing. It's hard for him to show me what he can do. Jon's always there. We all know Allan isn't getting any younger but he's our number one right now. If I feel he needs a rest, Jon is always able. Have we lost any games with him? He's not the issue. We conceded a lousy goal off a set-play but we all need a shake for that."
Morelos the misjudged miscreant
It is an inescapable fact that Alfredo Morelos' surly demeanour and oft-times obstreperous nature can make it difficult for him to elicit sympathy. Yet the striker deserves that for what he has been on the wrong end of this week. Neil McCann's "idiot" comment over the Colombian celebrating in front of a Hearts support slaughtering him was exhibit A. Strikers producing ear-cupping taunts as they make for opposition fans are ten-a-penny in the game, and few players are taunted as remorselessly from the stands as the 28-year-old.
Exhibit B, meanwhile, was the caution referee Euan Anderson brandished Morelos in the 80th minute of the County confrontation for catching Ross Callachan. It was the most minor of infringements, a slightly mistimed, genuine attempt to win the ball. It was never worthy of a yellow. It represented the second time in a few weeks that Morelos has appeared to suffer such a decision, with the booking he picked up against Kilmarnock recently in the truly puzzling bracket. Like every other player, Morelos deserves to be judged on the here and now. Not on his previous – at one time grave – inability to operate within the laws of the game.
Lundstram right, then wrong, in big screen botch
A major breakthrough seemed to arrive in the John Lundstram name-game when the midfielder's moniker was spelled correctly in the official team sheet distributed to the media – so not as Lundstrum as it has been throughout this season. Only for the poor fella's enforced departure from the fray with a rolled ankle after 11 minutes to then see the big screens at Ibrox communicate his withdrawal for Malik Tillman by describing him as John Lundstrum once more. Is that what you call a 'u' turn?