Rangers reaction: Michael Beale subjected to Celtic celebrations, outlier in penalty stakes, St Mirren's three sides here to stay
Rangers defeated St Mirren 3-0 in Paisley to end their 2022/23 season on a high note.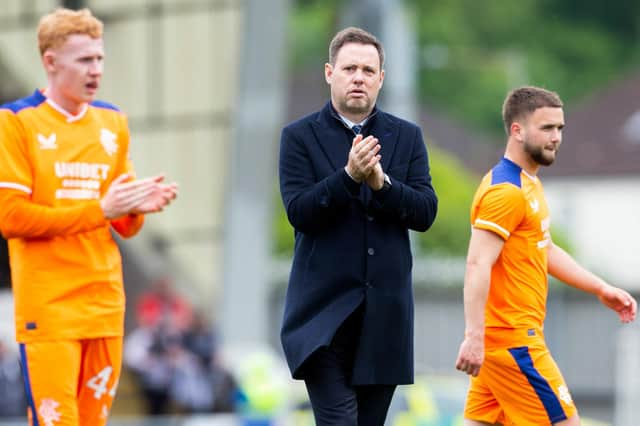 It was a comfortable afternoon for the visitors and we pick out three observations from the match at the SMiSA Stadium ...
Get the picture
The volume was on mute and the picture was somewhat fuzzy but Michael Beale couldn't have helped noticing the footage of Celtic celebrating their title on the TV stationed immediately to his left as he sat down to do his post-match media interviews inside the SMISA Stadium. Here's what you could have won. And in another year they just might have. In the past decade Rangers' final tally of 92 points would have been good enough to finish the season as champions in 2019, 2018, 2016 and 2013 while they would only have lost out on the 2015 title on goal difference. Plenty, then, for Beale and his players to be positive about ahead of next season.
(Not) on the spot
A fairly quiet afternoon for Robby McCrorie and his defence saw Rangers safely through to the end of the season as the only Premiership side not to concede a penalty. Not since Lewis Ferguson slotted away his spot kick for Aberdeen in January 2022 have the Ibrox side been penalised in the league and that statistic rarely looked like changing on a day when St Mirren rarely ventured into the Rangers box. In contrast Aberdeen gave away 12 penalties over the course of the season, with Hibs and St Mirren next on 11, and Celtic down in fifth having conceded seven (that were all converted). Every other team in the division conceded at least three penalties over the term, making Rangers the obvious outlier.
Fan-tastic
There were more than a few quizzical looks when Saturday's official attendance was given as 7,490 given the number of empty seats dotted around three sides of the stadium. Overall, though, St Mirren's willingness to embrace a "if you secure it, they will come" mentality last summer has paid off in spades. Electing to give supporters of all visiting clubs – including Celtic and Rangers – just one stand was an undoubted financial risk but the combination of a winning team and strong community initiatives have helped to deliver record attendances all season. The three stands for home fans policy is definitely here to stay.