Rangers reaction: Michael Beale cries foul over two key Celtic moments - 'we deserved a bit more'
Rangers manager Michael Beale claimed his side were undone by VAR failing to get involved after watching his side edged out 3-2 at Celtic Park.
The Englishman also made a demand for "respect" for his team following their commendable endeavours in front of a home-fan only crowd. In how his players stood up to that challenge – save for two desperate defensive lapses that led to the second and third goals – Beale believes they can match their rivals when the pair face off in the Scottish Cup semi-final on April 30. James Tavernier's second goal, to reduce the arrears to 3-2 and earn him his 100th goal for the club, ensured the visitors stayed in the contest until the end, in contrast to allowing games to run away from them in Glasgow's east end in recent seasons.
The Ibrox manager took heart from these aspects but was unhappy at VAR seeing no clear and obvious error with referee Kevin Clancy adjudging Alfredo Morelos to have pushed Alistair Johnston when knocking the ball into the net from a corner with the contest goalless only 20 minutes in. And after opening the second half level following a Tavernier free-kick strike on the interval, Beale also questioned why a claimed handball by Jota in the lead-up to Celtic's second wasn't reviewed by VAR.
"VAR decisions were harsh on us," Beale said. "The first goal, you look at Alfredo's shirt, it's twisted round his back and I don't think their player is trying to play the ball. Only one player is trying to play the ball. There was a lot going on with the two players, so why pick on our player in that moment? Kevin sees it there and then, so the referee on the pitch has to see what he gives. They are very fussy about that.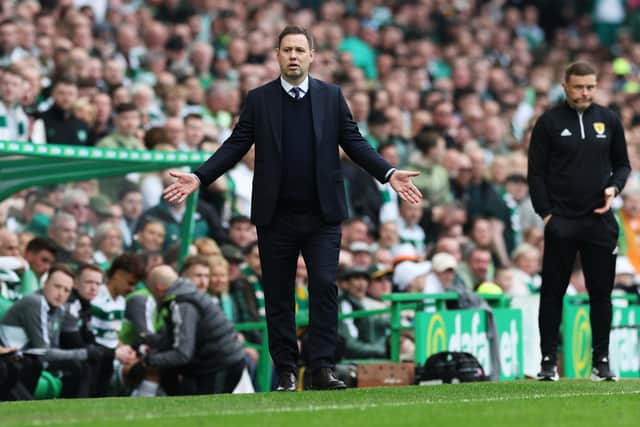 "I asked if it was for a foul on Joe Hart or a foul by Alfredo and they said it was a foul by Alfredo, that's what I'm disappointed by. The guys who are outside in the studio are seeing it and replaying it, and everyone else watching it back — all I would ask is, look at the number on the back of Alfredo's shirt, who's pulling who? They're both holding. One's trying to play the ball, one I don't think is trying to play the ball, he's trying to stop Alfredo. If you look again at the chance Alfredo has at the start of the second half where he heads it against Ryan Jack, watch Johnston in the same moment. So, OK, we lose the game but I think it's a bit of feedback for them because it's a big decision in the game.
"[As when] Ben Davies makes a mistake with a clearance up in the air, heads it against Jota and it hits his arm. If it hits arm, I know it's not outside his body but to not get one of the two is harsh. You go back to the game, the two mistakes cost us but they're not the only mistakes. We had chances up the other end where we could have been a bit more decisive. I thought my team played well throughout and probably deserved a bit more from the result.
"Listen, we've work to do. We have made an improvement, I think everyone can see an improved Rangers team in terms of the energy and the commitment. We certainly need to recruit for it in the summer. We need to come out of the summer a lot stronger. I'm a defender of the players, I manage the team, I don't think the gap's massive but the reality is we are behind in the league and you would be deemed a fool saying words like that. But that is genuinely what I believe.
"We need to continue to recruit. In the short term, we have seven league games left. We didn't deserve to lose today but we've got to get back on and get over this, and if we cut out one or two mistakes then the semi-final will be really interesting. I think you can see, there were two good football teams today, there are two good football teams in this country, not one. And my players have got to keep showing it on the pitch and grab a bit of respect back because there is a bit of disrespect for a team that has lost six league games in 107.
"OK, so it's a good football team. I would say that the result was in our hands today because we made two massive errors. I didn't see Celtic making the errors we made, so that's frustrating. If we can eradicate that, we are on the right road."