Rangers reaction: Fans are leaving far too early and it's baffling, Borna Barisic turns into Terry Butcher
We pick out two talking points from Rangers' 2-0 win over Dundee United at Ibrox ...
Why the fan exodus
It's hardly a new phenomenon but home fans streaming out of Ibrox long before the end of Rangers' 2-0 win over Dundee United on Saturday did seem utterly barmy. OK, it was not the most compelling of spectacles, but it was the side's 10th league win in a row since drawing with Celtic in January. The players deserved to end a match that secured this sequence with far more of the home fans that made up the vast majority of a crowd of 49,969 still in attendance.
And more than this, one of the club's modern greats, Allan McGregor, was making his 500th appearance for the club. It means he has edged ahead of legendary 'keeper Jerry Dawson in the all-time Ibrox appearance list. McGregor is now in 17th place. If ever there was a time and place for him to take a well-deserved lap of honour this was it. But with fans starting to depart around the 80-minute mark, the stands were looking very bare indeed by the time referee Don Robertson called a halt to the proceedings.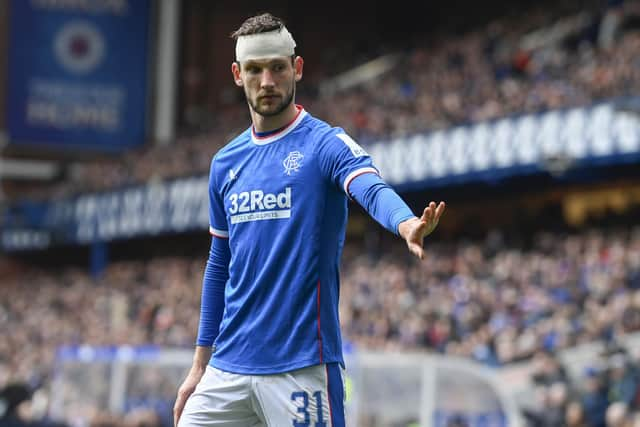 McGregor did hail those who had remained and he was applauded in turn after a trouble-free afternoon between the sticks. But perhaps the biggest reason for fans to stay on was the chance that Malik Tillman might bag a hat-trick. No Rangers player has done so this season. And there seemed every chance that Tillman might notch one here after his second goal came just before the hour mark. He was looking very much in the mood.
Obviously manager Michael Beale eventually nixed this prospect. He reasoned that ensuring Tillman was not injured before this weekend's trip to face Celtic took priority over letting him try and score his third of the afternoon. Beale replaced him with Antonio Colak after 85 minutes. But still, supporters were already starting to drift out of Ibrox long before Tillman's number came up. And it just seems a bit baffling. Not everyone had an urgent appointment to attend, surely.
Barisic, Butcher and Roberts
It was like the 1980s all over again at Ibrox. Borna Barisic was seeing stars in the first half after a clash with Kai Fotheringham and spent the rest of the match doing his best impression of Terry Butcher, who sported a similar large bandage around his head on several occasions, for Rangers as well as, famously, for England. Barisic, who has recently become a father for the first time, looked every inch the warrior as he played on with some blood – though not to Butcher levels – seeping through the material.
The left-back even went close with a header late on that made many of those looking on wince. But perhaps the biggest burst of nostalgia came at half-time. On a day when Allan McGregor was being celebrated it was fitting that one of his 'goalkeeping' predecessors at Ibrox had turned up to make a guest appearance. Yes, that's right, Graham Roberts, who once famously led the singing after taking over between the sticks in place of the red carded Chris Woods during a notorious Old Firm clash at Ibrox in 1987, was in town. Perhaps it was just as well that the only thing Roberts – normally a defender – was conducting this time around was the half-time Union Jackpot draw.
"It was one of the best times of my life. There were certain games I played that I really enjoyed … and I think the fans enjoyed it as well!" Roberts recalled, with reference, one presumes, to tousy battles with Celtic and perhaps even Aberdeen. "To come here and win the league was amazing …" he added. Roberts was a member of the Rangers team that won the Premier Division title in 1987 – the Ibrox side's first title since 1978. He left the club after only 18 months after falling out – as Butcher did – with Graeme Souness. Roberts has often spoken about his regret over this.
Now 63, he looked in decent fettle but he had been hopeful of enjoying a few more goals on his latest return visit to Ibrox. "It was obvious they were going to come and defend," Roberts said somewhat dismissively with reference to Dundee United. "But we have got the goal now and hopefully we can score four more in the second half ..."