Rangers reaction: Biggest disappointment, Ibrox duo question, unusual announcements, McCall surprise
Rangers squeezed into the quarter-final of the Scottish Cup with a 3-2 win over Partick Thistle at Ibrox in a game which had plenty of talking points, controversy and excitement.
Sportsmanship v gamesmanship
"Allan McGrgeor, I thought, wasn't going to let him put it in the net." Ian McCall said what a lot of people must have been thinking when Scott Tiffoney ran through on goal, unchallenged, to equalise for Partick Thistle. The Rangers goalkeeper wanted to make it uncomfortable and forced the player to his right. For a split second, it seemed he was going to do what the vast majority of the home crowd wanted to see, and prevent an equaliser. Only, the Thistle attacker was, in the end, allowed to pass into an empty net. It came after Malik Tillman had been unaware that the visitors were going to give the ball back after it was put out of play. He stole it off Kevin Holt before running through to put Rangers ahead. There was plenty of commotion before Michael Beale communicated to his players the Jags would be allowed to score.
The Rangers boss explained why, speaking of standards and not wanting the incident to hang over Tillman's head. McCall hailed the class of Beale and revealed there was no "ill-feeling" towards the American. A lot of common sense and a brave call from Beale considering the position the team were in and the reaction from Ibrox. But imagine McGregor, who produced an excellent first-half save, had decided to thwart Tiffoney, diving at his feet, picking the ball up and then continuing to play. Imagine the confusion. There would be wild celebrations amongst the home crowd, anger amongst the visiting players and fans and plenty of looks from the Rangers outfield players towards their manager, unsure what to do next. It is likely no one would be overly keen on challenging McGregor. For the neutral it would have been brilliant, hilarious even. You want to be entertained and what better way than a bit of drama brought to you by gamesmanship. In the end, sportsmanship won out. Unfortunately.
Michael Beale revealed prior to the match that Alex Lowry was in line for a start until a knock in training meant he had to sit out the encounter. However, you have to wonder what Adam Devine and more so Leon King were thinking as they sat on the bench for the entirety of the match. James Tavernier has not had a great campaign. The Rangers captain has still put up impressive attacking numbers but his influence on the team has diminished in comparison to recent years and especially last season. There is a lack of dynamism to his game, his decision making hasn't been of a high standard and there are times where he has been too loose in possession and in attacking areas. Devine filled in impressively at left-back but he is a right-back and Beale has previously made mention of him providing Tavernier with competition. Sunday would have been an ideal situation. As it would have been for Leon King to fill in for Connor Goldson. There is a lot of hype around the young centre-back. A very promising talent who has perhaps been given a tad too much hype. Yet, he is a long-term project. The same cannot be said for James Sands. He doesn't look assured at centre-back, not dominant enough, and isn't good enough to play in the Rangers midfield considering the competition. It would, surely, be much more beneficial to give King first-team minutes after a break from first-team action.
Antonio Colak was handed just his second Rangers start since November and repaid his manager with a goal, taking him to 15 in 30 appearances since joining in the summer. Yet, the Croatian didn't show enough with his all-round game to suggest he will be starting ahead of Alfredo Morelos on a regular basis. With creative players like Ianis Hagi, Malik Tillman and Todd Cantwell playing behind him he is not the type of player to move, laterally and vertically, to create space and link. He is a striker who operates close to goal and within the width of the penalty area, one who thrives on chances, as he did with Nicolas Raskin's excellent cross. Beale noted: "We are playing at home and I didn't think there would be much space so Ianis and Todd Cantwell could be creative around Tony." Colak will score goals but right now he is a very effective squad player rather than first-team starter.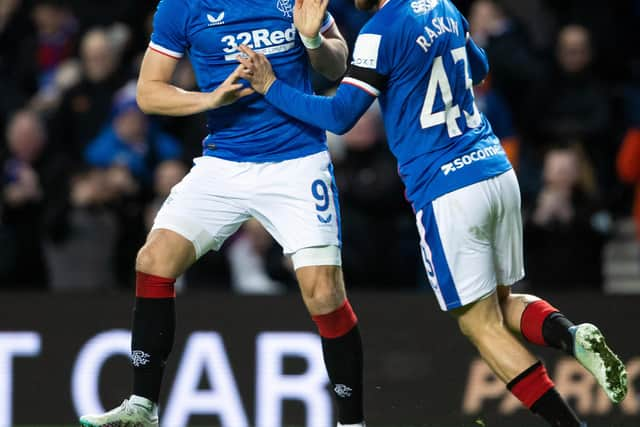 As for Nicolas Raskin, he delivered an encouraging performance, the best behind that of Malik Tillman. He is not someone who is going to sit, patrol and control at the base of the midfield but he is someone who will engage, get involved and look to play forward which is an attribute that can, on occasion, be missing from the Rangers midfield. It was he who attempted to take the game by the scruff of the neck when the team were struggling and deserved his assist for Colak's goal and nearly got a second with a fine ball to Ryan Kent. He is someone Rangers fans should enjoy watching and team-mates playing with.
When the Ibrox announcer was reading out the teams ahead of the game before he even got to the Rangers starting XI he announced Michael Beale to the crowd. Fair enough, he is the manager. But before the fans could applaud Allan McGregor's name three more followed. The two assistant managers – Neil Banfield and Damian Matthew – then the development coach Harry Watling. It appeared a very unusual thing to do before you realise all are sponsored, the latter by Caroline Crawford. You only have to spare a thought for head of performance Jack Ade, and his sponsor Molly Crawford, whose name wasn't read out... unless this writer completely missed it.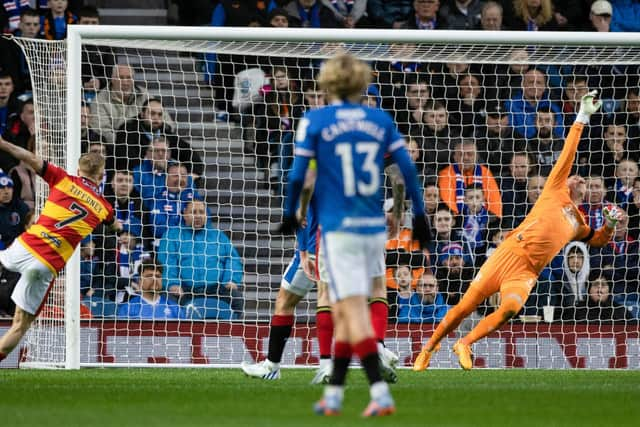 From the outside looking in, the decision for Partick Thistle to part company with Ian McCall and his coaching staff following a very encouraging display against Rangers was a huge shock. The Jags were excellent in the first half and deservedly took a half-time lead. A lead which perhaps should have been greater. The game plan worked perfectly. They ensured there were no gaps between the lines, engaged Ianis Hagi and Todd Cantwell to the point Beale admitted he had to make changes to go more direct. With the ball they were composed and committed players forward in support of Brian Graham. It was their best performance in weeks. And that may well be the issue. Taking a temperature check of Thistle fans after the game suggests they weren't angry about the decision but the timing. Supporters rightly praised McCall for his role in getting the team back into the second tier and providing a steady hand when it has been anything but off the field. Yet, questions were being asked amongst the support whether a change was necessary for a promotion push with recent defeats to Cove Rangers and Hamilton Accies at home. Still, Sunday showed there was plenty to be encouraged about heading into the final period of the season. A strange, strange day.
Comments
 0 comments
Want to join the conversation? Please or to comment on this article.