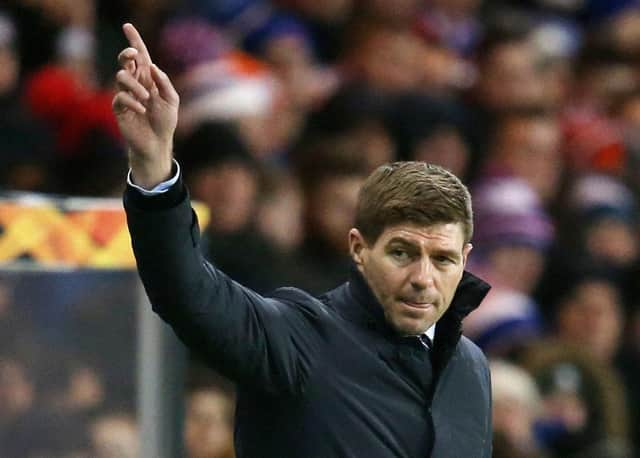 Steven Gerrard and his Rangers squad are almost certainly facing the prospect of another campaign without any silverware. Picture: Andrew Milligan/PA Wire
But one former Ibrox hero has already reached a firm conclusion on the major deficiency in Gerrard's squad who are almost certainly facing the prospect of another campaign without any silverware.
Ian Ferguson, who played in every season of Rangers' nine-in-a-row era from 1989 to 1997, was renowned for his ferocious commitment and relentless winning mentality in the heart of midfield.
Those are qualities he says were non-negotiable under the management of Graeme Souness and then Walter Smith as Rangers exerted their dominance of Scottish football during that period.
Ian Ferguson was renowned for his ferocious commitment.
As much as he admires the progress made under Gerrard since the summer of 2018, Ferguson believes the former England captain must look to recruit more players capable of coping with the mental demands which surround Rangers.
"We have not got that balance in the team at the moment where we have got these players that will go out there and run through a brick wall for you," Ferguson told the Four Lads Had a Dream podcast.
"We need players that are going to be doing that and taking Rangers forward. When Graeme Souness took over, he wanted his players to follow him and I am sure Steven is the same. So he needs to get those players and find the bargains and get us back to winning ways. We need to be winning cups at Ibrox, we need to be winning leagues at Ibrox because we have not had anything for the last two 
years [under Gerrard]. He gave us all a little bit of hope but we have fallen at the last hurdle. We need to take a look at ourselves, dust ourselves down and go again. Getting a better quality of player is what we need at this moment in time, and I know that costs money and we don't have a lot of money.
"So we need to be creative and find the players in the lower leagues or lower divisions that you get the right type in."
Ferguson admits he felt Rangers were on the brink of ending Celtic's current monopoly of domestic silverware when they won the Old Firm match 2-1 at Parkhead at the end of December, only to slump badly since the winter break and fall 13 points behind the champions before Scottish football was suspended because of the coronavirus pandemic.
"I think at the moment Steven has brought belief back to us," he said. "When you consider where we were under Pedro Caixinha and Mark Warburton, Steven has brought a better quality of player in.
"Up until Christmas there, he got us all excited. We were sitting near the top of the league, we had just beaten Celtic and then for whatever reason, I don't know what has happened, they have come back from the break and it has gone pear-shaped.
"The players that are there have got to realise that the Rangers jersey is a very heavy jersey to wear because of the demands and expectations from the crowd. You have got to be winning.
"That is what players have got to understand. When you come into this club, you have got to be winning.
"You are two games away from a crisis and I am sure they know that now with a lot of the flak that is coming a lot of people's way at the moment.
"We need people that when they come through that door and wear that jersey, they are going out knowing that they have got to win.
"You are not going to a team, and no disrespect to some of the other teams in the league, but some of them are happy to win two games and get beat in three games and two another two games. We can't do that at Rangers."